Tomb Raider Underworld - Game Review for Windows PC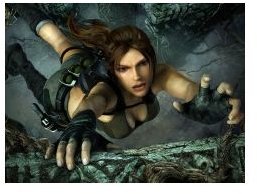 Who?
Of course, this only answer can be Lara. Very surprising eh? She will lead us to very exotic places, swim through seas and run all over the world not just to investigate but also revive ancient myths.
In search of her mother, following a series accidental events and being in the right place at the right time, Lara ended in the Underworld. She is guided by signs left from her father, and she is the only one who can read them. Our heroine finds portals to the Death Kingdom scattered all over the world. The game is of course the best until now, and Lara is more beautiful than ever. In addition, every fragment of the gameplay is a fine piece of workmanship and shows full dedication from the game designers. Every location is a big puzzle which just makes part of the whole picture.
Your adventure starts under the sea, in some forgotten ruins mixed up with Scandinavian Mythology. The only thing missing at first was a Kraken, but don't worry – it's there, and it's ready to give you a very fast ticket to this desired Underworld by killing you. Later on, you find yourself on a sinking ship where you have to use the acrobatic skills of Lara to escape.
The duration of every fragment is long enough to be interesting and challenging but short enough to not get you bored. It's just perfect. And they are all unique and remarkable in their own way. The gameplay is very interactive and the atmosphere is very dynamic. I won't ruin then fun out of the game by spoiling everything, but you will find yourself tied up in the great myths and legends of humankind.
Why?
The story is complete and follows decent logic. It's so realistically represented that it won't leave an unanswered question, if you are impatient about something, you will find your answer very soon. The authors were very nice to include a movie that will explain everything you missed or you forgot from the previous parts. If this is not enough, maybe you should run to the store and find the masterpiece with Angelina Jolie.
Another interesting feature is that everything that happens is getting written in Lara's diary. You can read it later on as a book and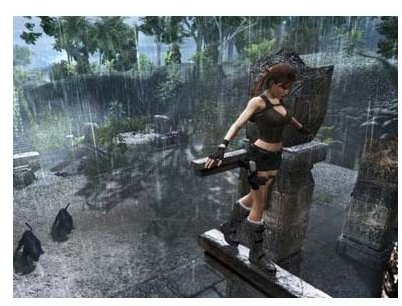 clarify the picture of what is happening around you. There are also explanations of everything you touch and see – no need to ask Google constantly.
There is also a hint system, in case you get stuck. At first Lara just gives you a hint on what you have to do, and if you still can't get it, she can tell you directly. This might ruin the fun of some gamers, so I suggest you not use it, unless you are really, really stuck. You can change the difficulty at any time, if you are frustrated with the hardness or it's just too easy for your skills.
What?
What else you can do? Practically everything. Full freedom. No uncensored stuff though, my applogies to naked Lara fans.
You can shoot with both hands, you can shoot while hanging off walls, you can shoot two enemies at once, which is quite useful when it comes to bats for example. You can kick while you shoot, the grenade system is improved, because if you remember it was a legendary failure in Legend. One major part of the gameplay is the adrenaline meter: when it's full you can use one shot to kill an enemy more creatively, and with more flair.
In the beginning of every mission you also choose your arsenal and clothes. When it comes to gadgets, there are quite a few like the sonar, which gives you a scan of the terrain around you and funcitons as compass as well. However, this item is disabled in some missions.
Why not?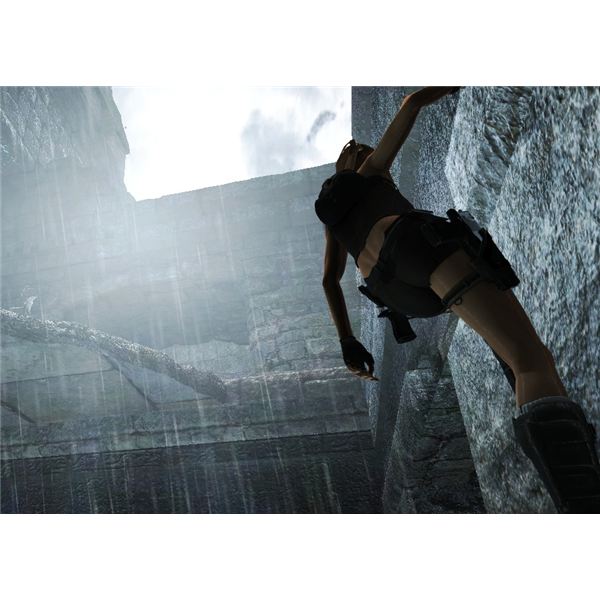 Tthe game gets both positive and negative critics. I personally like it a lot, as will many fans of the series. Some think the game is too easy, some don't like the camera, but after all, these are small problems that are easily outstripped by the grat plot and action.
The graphics are very detailed and beautiful, even the critics share this opinion. The textures were perfect, and I didn't see any glitches. Quite the contrary – I had some very pleasant play hours in a unique game where you even move away the plants that are on your way. When you have a spider on you, you can stomp it or even shoot it.
Two words: Buy it!
Recommended System Requirements:
OS: Windows XP/Vista
Processor: Intel Core 2 DUO @ 2.2 GHz or Athlon 64 X2 4400+
Memory: 2 GB
Hard Drive: 8 GB Free
Video Memory: nVidia GeForce 9800 GTX /ATI HD4800
Sound Card: DirectX Compatible
DirectX: 9.0c or 10