The Best Team Fortress 2 Skins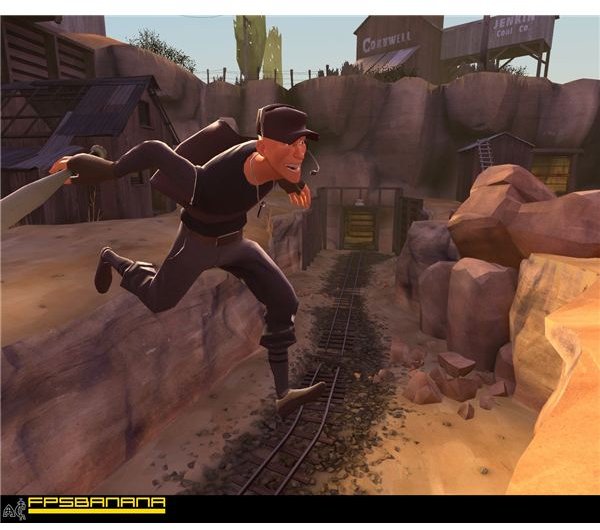 The Best Team Fortress 2 Skins - Introduction
One of the great joys of PC gaming is the endless hours that can be spent modding character models and textures to personal taste and for general amusement. Factor in Team Fortress 2, a game that is frankly mad as a fish, and you have a recipe for some of the most entertaining and creative character meddling around. In this article, we'll have a look at some of the best Team Fortress 2 skins to be found at top modding site FPSBanana, as well as how to install Team Fortress 2 skins on the PC.
Adopted's World War 2 Complete Pack
War is, of course, hell, and if you wish Team Fortress 2 to reflect that grim reality, then look no further than the fantastic World War II skin pack from TF2 modder Adopted, featuring lovingly crafted US Marines uniforms for the BLU team, and Nazi outfits for the RED. Any Team Fortress 2 player who is BLU for life will undoubtedly agree that these outfits are entirely appropriate.
Emperor Doom's Superheroes vs The Naziverse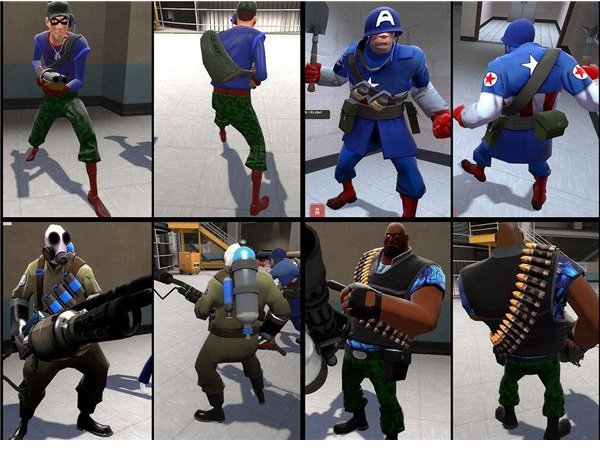 Sticking with the "REDs are Nazis" theme, but with a more fantastical twist, Emperor Doom's Team Fortress 2 skins masterpiece features some superb recreations of classic comic book characters from Captain America to the Punisher, with a TF2 twist. Watch our plucky BLU heroes save the world from evil RED domination!
Mr Lobo's Lulz Masks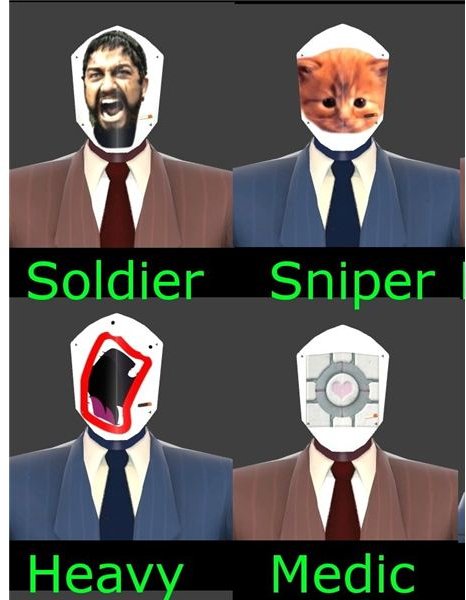 Bored of the default Spy masks? Want to give your team mates a good laugh as you swish past them disguised as the enemy? The Lulz Masks skins pack from Mr Lobo is the perfect antidote to Spy-mask boredom, featuring some of the most inspired mask designs for the different classes. The Lulz pack should be a definite download for any TF2 Spy fans.
Juan's Dark Knight Pack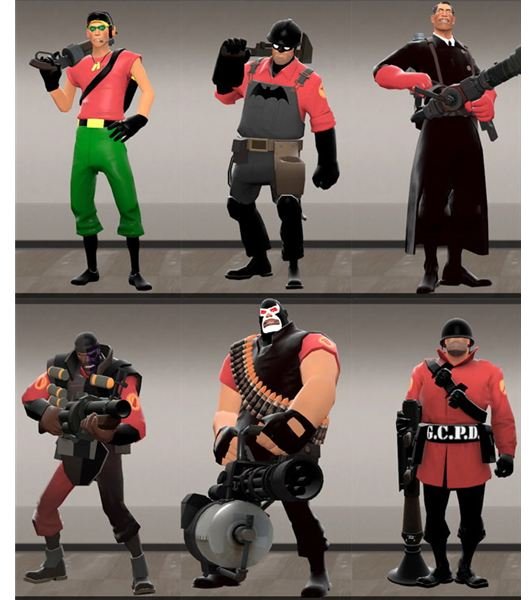 More comic-related Team Fortress 2 skins makeovers, this time featuring a cast of classic characters from the Batman comic and film franchise. Juan has pulled off some fantastic detailed texturing work on these skins, particular stand-outs being the Bane Heavy and the Joker Sniper. Nice to see the Engineer revealed to be the true hero of the tale for once - he's not just a spanner-monkey, he's a caped crusader as well!
How to Install Team Fortress 2 Skins
Team Fortress 2 skins and skin packs will come in an archive format, either .zip or .rar. Use the appropriate software to extract the content of your skin archive to your desktop. Next, locate your "team fortress 2\tf" folder in your "steam\steamapps" directory, and copy the "materials" and/or "models" folders from the skins archive into the "tf" folder.
Launch Team Fortress 2 from Steam, and your new skins should be there for you to enjoy.
Conclusion
There are few games on any platform with an art style as brilliantly realized as Team Fortress 2. Valve's designers got so much right in the creation of the game - but, then again, you would hope so since they took the best part of a decade over it. The great thing about this selection of TF2 skin packs is that they stay true to the bonkers aesthetic of the "vanilla" game while still having bags of their own personality. If you love TF2, you owe it yourself to check out some of these Team Fortress 2 skins.