Star Trek Online Referral Program: Recruit a Friend and Earn an Exclusive Ship, Pet, and Bridge Officer

Recruit a Friend to Star Trek Online
Fans of World of Warcraft's Referral Program now playing Star Trek Online will be pleased to learn that Cryptic has announced a similar referral program for their new addiction. Players who refer their friends to the game can receive exclusive items and bonuses, as well as bonus features for both the referrer and the recruit when grouped together.
So, if you've got a friend who's interested in the game, there's never been a better chance to send them an invite. Just look at all the fine rewards you can earn:
Bonuses While Grouped Together
When grouped with your Star Trek Online recruit, you'll receive three special in-game bonuses to improve your leveling efficiency and enable you to get together quickly.
The first, a special travel power similar to Transwarp, allows you to instantly travel to your friend's location. Useful when you're off in far corner of the galaxy leveling and your friend logs on and needs your help to find the S.S. Azura.
Both ships will also receive a 5% bonus to both Captain and Bridge Officer skills when you're in a group together. This bonus is only available for the first 15 days.
You'll both receive a 5% bonus to damage when teamed up, as well. This too is only available for 15 days.
Star Trek Online Referral Program Bonuses

When you refer a friend and they purchase and register their game, you'll receive some cool exclusive bonuses: the exclusive "Courier" title and a Holographic Tribble pet.
After your friend pays their first month's subscription fee, you'll receive several additional bonuses:
First is a new title, "Recruiter," only available to those who refer a friend to the game.
Recruiters will also receive an exclusive Holographic Bridge Officer (available to both the Klingon and Federation factions), with abilities superior to those of standard officers available in the game.
You'll also receive 400 Cryptic points for the referral, redeemable in the C-Store for bonuses like respecs, exclusive ship parts, playable species, character slots, and more.
Referring Multiple Friends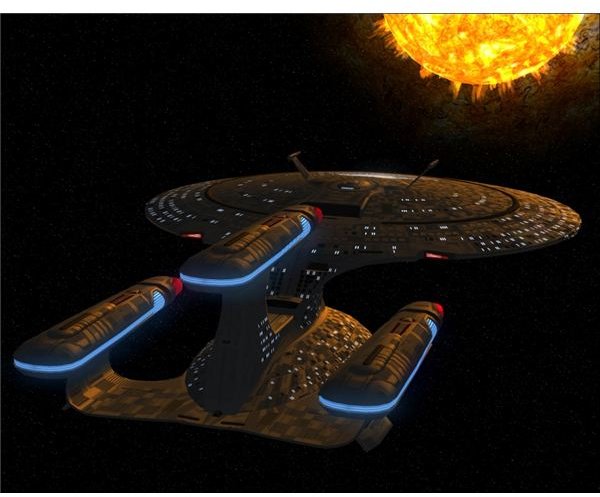 The rewards don't stop at just one referral. For each additional player that you recruit who signs up and pays for their first month you'll receive an additional 400 Cryptic points.
Refer a total of five new subscribers to the game and you'll unlock the exclusive "Master Recruiter" title. The title is nice, but Master Recruiters also gain access to one of the coolest ship designs in the game, the upgraded Galaxy class ship first seen as Admiral Riker's flagship in the Star Trek: The Next Generation finale, "All Good Things." This mean-looking vessel sports a third nacelle and is instantly distinguishable for other in-game models.
If Star Trek Online players are anywhere as obsessed with earning exclusive rewards as those in World of Warcraft, it would not surprise me at all to see quite a few players referring themselves and purchasing a second account just to get access to these items.
The "All Good Things" Galaxy Class is definitely one of the coolest rewards available for the game. I'm not sure it's worth the price of five additional copies of the game and five first months' subscription fees, but I'm betting there probably is someone out there who is.
Well played, Cryptic. Well played.