Guide for Football Superstars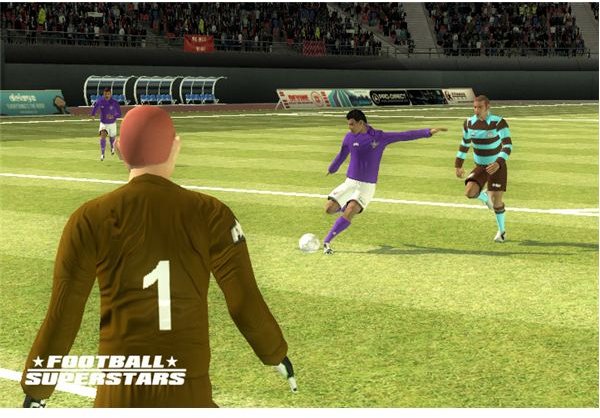 Football Superstars
Football Superstars is an excellent MMO game for fans of the greatest sport in the world. It is free to play with paid membership options which allow extras. This is an immersive world of soccer which challenges you to rise through the ranks from obscurity to stardom. You can read more about the game in our Football Superstars review.
At first, as with the majority of MMO games, Football Superstars can be a bit confusing. You have read up on the basic controls before you attempt to embark on a match or it will prove a frustrating experience. The control system is not intuitive but when you begin to understand the concept you will find you can do surprising things with the ball. This article will serve as a basic guide to get you started with the game.
Friendly Community
Sometimes MMO players can be jerks and Football Superstars has its share but most players are very welcoming to noobs. The game does have a friendly community so you shouldn't be afraid to ask for help if you need it. You'll find people milling around the stadium of your chosen club and you can chat to other players quite easily, just don't expect an instant response if you are in the middle of a game.
Getting Started
The basic set up of Football Superstars is easy and painless and the game will give you plenty of hints and tips to guide you through the early stages. Once your character is created and you have entered the world you may find yourself confused about how to progress.
First of all you should play the Tutorials which can be accessed via the two characters facing you when you first spawn into the game. They are the Football Coach and the Lifestyle Coach. It is a slow introduction but believe me you will be glad you did it when you enter your first match. With the basic controls and concepts mastered you'll want to play a kickabout match to hone your skills against human opponents.
Match Types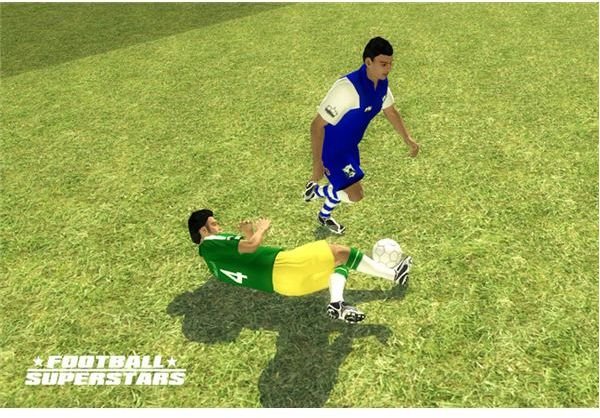 There are three types of matches in Football Superstars. There are Kickabout matches, FS Club matches and Player managed club matches. You can access a kickabout or practice game via an organiser and you'll find them lurking on the training pitch and in your clubhouse. Clicking on them will take you to a lobby where you can find other people waiting to play a game. Have a few matches until you are confident about tackling, dribbling, passing and scoring. You will find that your skills increase after each session and you need to build them up a bit before you attempt to take on a real match. You won't earn any FSD (money) or experience for playing in these games but it is important to master the controls and build your skills.
The main type of match you will be interested in is the FS Club matches but you should avoid them until you are performing well in kickabout matches. FS Club matches allow you to play for your chosen club and earn FSD, experience and increase your skill levels. You can play various lengths of game and various team sizes. When you think you are ready you can access them via your Nokia PDA by clicking the Match Request logo.
Player Managed Club matches can be accessed by clicking the PMC logo on your Nokia PDA. This will alert your human manager that you are available. It is possible to manage clubs in Football Superstars but you will have to sign up to a paid account. Playing in these matches will increase your skills and earn you fame.
Skill Trainers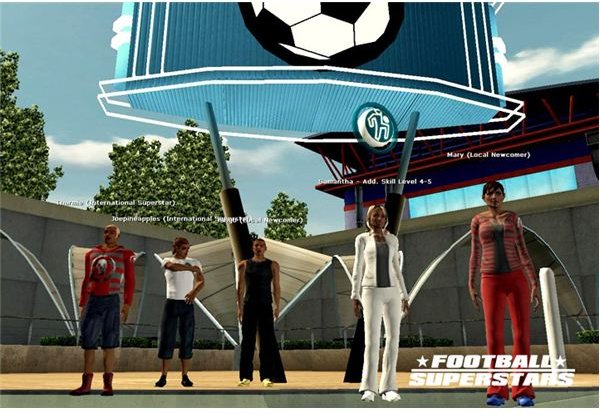 Instead of laboriously playing games to increase your skills you can also take a shortcut and go to a trainer. Skill Trainers of various types can be found dotted around the game world and they each specialise in a particular skill set such as Defence Skills. It will cost you, often a lot of FSD to buy skills but they are a great shortcut to improving your performances. You can also train in a gym or sports centre to boost your skill levels but you'll need to subscribe if you want access to this feature.
Fame in Football Superstars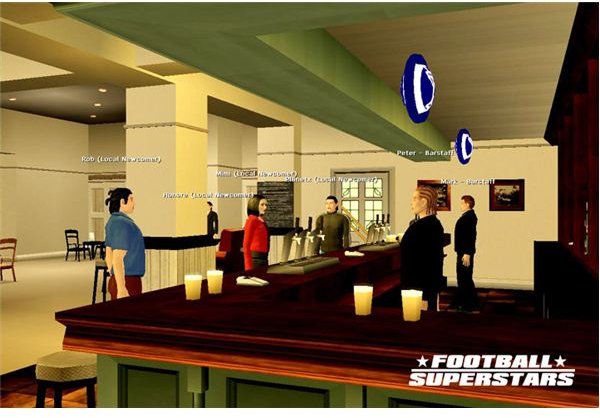 There is an off the pitch angle to Football Superstars and the game challenges you to become a star in the world outside the stadiums. You will earn some Fame from playing in matches but you'll also find you can quickly boost your Fame by hanging around in bars and drinking. The bars have a tiered system so the bouncers will only allow you into the most exclusive spots once you are a famous celebrity.
The mechanic for the fame system is based on building thirst by playing matches, and then buying drinks to quench the thirst which in turn boosts your fame. Drinks cost varying amounts of FSD and it is an expensive business to hang around in bars. You will gradually start to climb the ranks from Local Newcomer all the way up to International Superstar if you work hard enough. There are 28 rungs on the ladder and it takes dedication to make it to the top.
Interviews
When you begin to earn a bit of Fame you'll find that journalists become interested in you and you can take part in interviews to increase your profile further. Once again the interview system in Football Superstars is tiered with radio, newspaper and television journalists at local, national and international level. You need a certain number of interview minutes to boost up fame grades but interviews will cost you Fame Points.
The World of Football Superstars
You can also buy new clothes in the boutiques and you can travel around the world using the underground system. Some areas are more affluent than others and there are trendy spots where you'll earn fame faster. It is tough at first to build up FSD and Fame and everything seems to be priced extremely high but stick with it. There is a definite gentle curve and as you climb it you will find it becomes easier to improve at an accelerated rate.
There is a lot more to the game than is outlined here but this should be enough to set you on the path to football stardom. Future articles will deal with some of these topics in greater detail. Now get those boots on and start practicing.
This post is part of the series: Football Superstars
A collection of articles on Football Superstars.