Stripped Down Football Games PC - Awesome Soccer World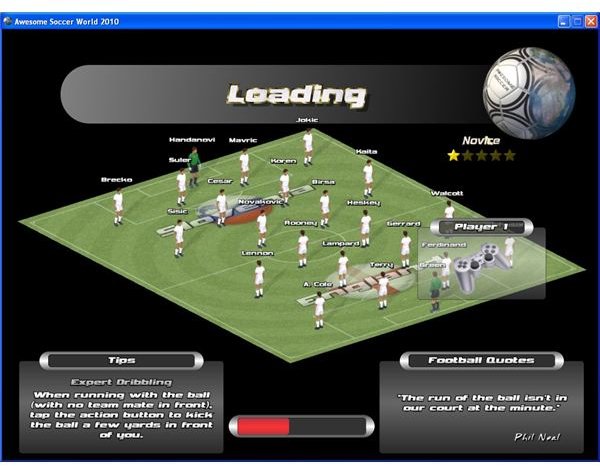 Looking for Football Games for PC?
Summer is here, the FIFA World Cup is playing – what better time to get your soccer fix between matches than with a football game?
There are so many football games available for PC, from the FIFA series to the Pro Evolution Soccer series (ignoring the "which is best" argument), stopping off at retro titles like Sensible Soccer on the way. Retro games had less about them in terms of manipulating joy pads and displaying skill – Kick Off, Striker and Sensible Soccer were more about frantic, attacking football.
This is the starting point for Awesome Soccer World 2010, a World Cup/international tournament version of the great Awesome Soccer, reviewed on Brighthub in December 2009.
Buy Football PC Games Online
Available for PCs running Windows or Linux, Awesome Soccer World is available for just $7.99 from www.red27studios.com.
Despite the low price, this game is certainly worth buying; even if you opt not to, you can still try the free demo version available from the same site.
Awesome Soccer World, like the earlier version of this PC football game runs on systems with a low spec. Anyone with a PC running Windows 98 or later will be able to enjoy the game as long as their setup is equipped with a 1.4 GHz processor, 512 MB of RAM and at least a 64 MB video card.
I initially had problems setting the game up, thanks to a graphical quirk, but thanks to the dedicated, prompt and knowledgeable technical support I was able to quickly resolve this and push on with playing the game.
User Interface and Controls (3 out of 5)
The beauty of the Awesome Soccer games is their simplicity. No need to recall complicated button combinations to perform dazzling football skills that would come without thought to the world's most talented footballers – just point and click!
Using the arrow keys, a game pad or joystick you can engage with the game, but the setup and configuration of competitions and matches takes place via mouse. I'm not a big fan of swapping controls in this manner, but with a game like this it is a necessary evil.
The whole game enjoys very polished presentation for what is after all a low budget, independent affair – not too far removed from the traditional "console" look, the Awesome Soccer World menus allow for easy and intuitive game setup, allowing a change to skill level, match length and controls as well as the expected team selection tasks.
Refreshing Gameplay (4 out of 5)
A variety of competitions are available in Awesome Soccer World 2010, with preset tournaments and leagues as well as an editor for making custom league and cup competitions. One of the preset tournaments is the World 2010 World Cup in South Africa.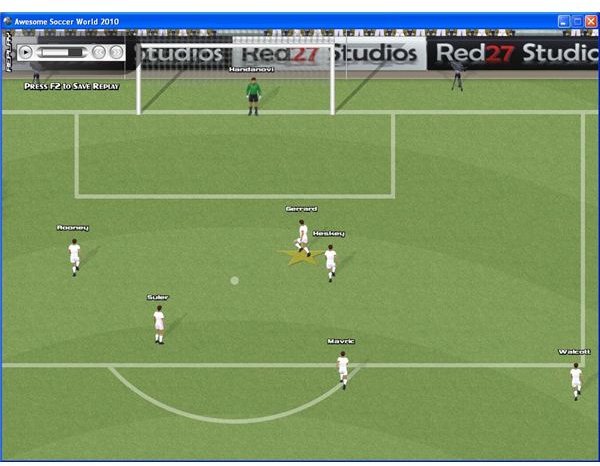 With teams in the correct groups and squads based on those announced at start of May, there is a good degree of real-world synergy here. Opting to use a game pad over the keyboard is a good option – there is a school of thought however that suggests that a retro "Quickshot" style joystick would be best. These are now available to purchase online with USB connectors, so this is worth thinking about.
The act of playing football with Awesome Soccer World 2010 is much the same as with the predecessor – your team succeeds by passing the ball between players and shooting at goal.
Tackling opposition men is difficult at times – this is based on the star ratings for various qualities each player possesses, as well as the difficulty level that can be set at the start of a game.
Sounds and Graphics (3 out of 5)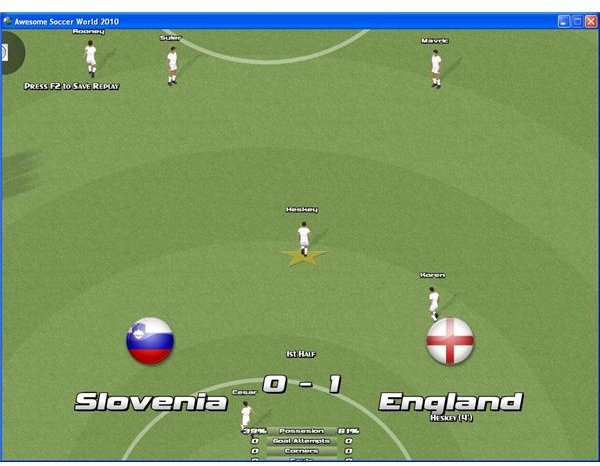 Awesome Soccer World 2010 isn't PES, and it isn't FIFA. It is best looked on as a modern day equivalent of Sensible World of Soccer, and as such has a similar feel, not to mention stripped down graphics and sound.
While basic compared to the real-world photographic face mappings found in the FIFA Soccer series, Awesome Soccer World features a top-down view of 22 players who in most cases don't have the right skin tone or hair colour. There's even a lack of synchronisation between movement and ball control - but if you're in the middle of a vital match against a human opponent, you're only going to care about possession, tackling, passing and shooting.
Similarly, while crowd noise is competent and evocative, it doesn't permeate the game. Bizarre slide tackle sound effects and the inability to resize the player radar aside, Awesome Soccer World 2010 is a football game for PC that plays to its strengths.
Final Score (4 out of 5)
A great enhancement to its predecessor, Awesome Soccer World brings the glory and passion of World Cup soccer to your PC. Essentially this is a well presented game with graphics you would expect to find on a browser-based game, but with the speed and control that only a fully installed game could deliver. The echoes of 16 bit classics Kick Off and Sensible Soccer are evident; in fact they're strongly felt in almost every screen, from setting the match length and choosing a formation to scoring some totally audacious goals.
If you're still shaking your head in wonder at how I can get enthused over what looks like a 16-bit console game well… look – this game is basic, fun, stripped down football without the bells and whistles of pretentious World Cup, Champions League, Premier League sponsorship and tie-ins.
Kudos to Red27Studios for attempting to take arcade soccer games in a refreshing direction.