Football Superstars Review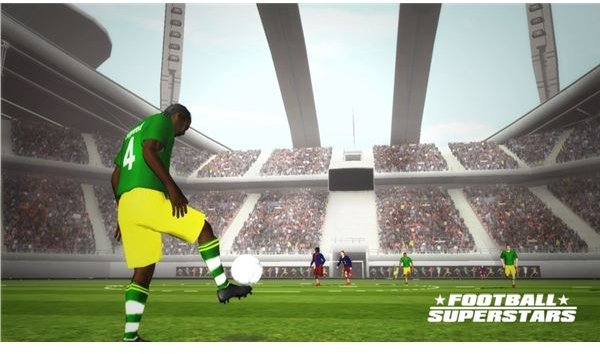 Football
Football Superstars is a completely free massively multiplayer online game set in a world obsessed with the greatest sport there is. For all the Americans out there I should explain I'm talking about soccer. In this unusual MMO you take on the role of a footballer and try to develop your skills and gain fame and fortune in the virtual world.
Considering the popularity of football this is a great idea for an MMO. Franchises like Pro Evolution Soccer and Fifa are hugely popular and so are the management simulations like Football Manager. Football Superstars offers something a bit different and it is free to download, install and play.
Set-Up (4 out of 5)
The installation takes a while but it is relatively pain free. You will need to register for a free account before you can install the game but it is quick and easy. You'll soon find yourself setting up your character and the process is much like any MMO game. You can choose your gender, facial features and hairstyle and then pick some clothing and a club to join. The character editor is not the greatest but there is enough variation on offer and it is simple to use. Once you are ready to enter the world I strongly suggest you try out the tutorial which is accessible via an AI character standing in front of you when you first spawn in.
Game-Play (4 out of 5)
At first I thought the controls were awful although I did make the mistake of entering a practice game before playing the tutorial. It feels awkward to begin with and almost drove me to violence. For football fans used to using a game-pad on their console the change to keyboard and mouse can be jarring. All I can say is persist with it for a while because after a few games you'll start to get the hang of the controls. You'll master the camera control and you'll be challenging for possession and enjoying the thrill of a well placed through ball or the elation of banging the ball into the back of the net.
You can access practice games through AI dotted around at your club's training ground and this is a nice immersive touch. You can also access official matches but make sure you get some practice in first or you will find it to be a nasty experience. The majority of your menu options are accessible through a mock mobile phone interface and you can move around with standard WASD controls.
The controls for the matches themselves take a bit of getting used to. Once again it is WASD for movement and Shift for a burst of sprint. By right clicking the mouse and dragging you can look around without changing your character direction, when you let go your character will turn to face that direction. To hit the ball you use the Space Bar for passing and left click and hold on the mouse for shooting or free hitting. There are cursor icons to indicate whether you will hit a high or low ball and whether your shot is lined up on target. You can also use left click for a standing tackle and space for a sliding tackle when you lose the ball. After some practice this reveals itself to be a clever control system with plenty of depth.
Long Term Appeal (4 out of 5)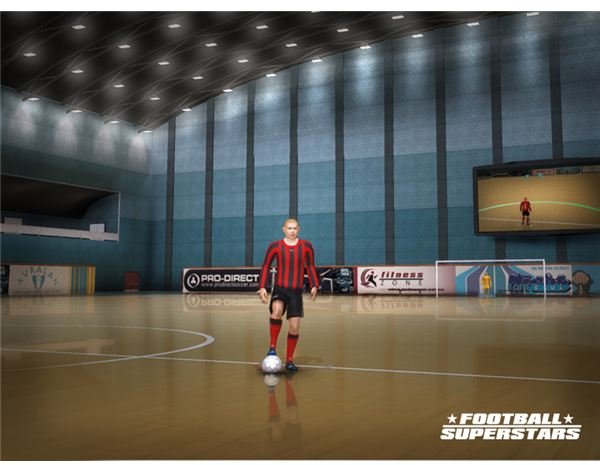 Once you have mastered the basics you can start to think about tricks. However playing great football is not just about nailing the controls. This is an MMO after all and so your character can level up. You gain skills through experience and you can also buy training sessions which equip you with specific skills like shooting accuracy or speed. It is important you start out playing with other novices because high level players will effortlessly run rings around you. To train up a skill it is as simple as finding a skills trainer ad paying for the new skill but they cost quite a lot of money. Beyond that you'll need to play games to build up skills and earn more cash in wages.
Part of the game is about the wider world and you can explore and visit clubs, restaurants and pubs. Buying drinks will boost your fame and if you increase your talents you will become famous. Reporters will want to photograph and interview you and everyone will want to talk to you in the local night spots. There are 28 levels of fame in all from local newcomer up to superstar. You can also buy new clothes for your character from various boutiques and there is a metro system for travelling around.
There are a number of features only available to premium subscribers. It costs £5.99 per month to subscribe and you'll get an unlimited inventory if you do. The biggest draw for subscribers is the ability to create your own club and manage other players to success. You'll need to save up 50,000 in game currency and subscribe to get access to this feature but it allows you to create your own team, logo and strip, employ staff and players and manage games against other player managed teams.
Graphics (3 out of 5)
Graphically speaking Football Superstars is fairly attractive. Considering it is free to play I was impressed by the visuals. The character models are not especially detailed but there is a good variety and there are loads of fashion choices. The world is obviously based on the real world and the environments are well realised. There is nothing spectacular going on here in terms of visual effects and the developers obviously don't have the budget for photo realism but the game looks good. The animations on the pitch are the most important thing and you can pull off various nifty tricks and manoeuvres once you level up your character a bit. The animation is fluid and apart from the odd glitch there are passages of play that look smooth and convincing.
Sound (2 out of 5)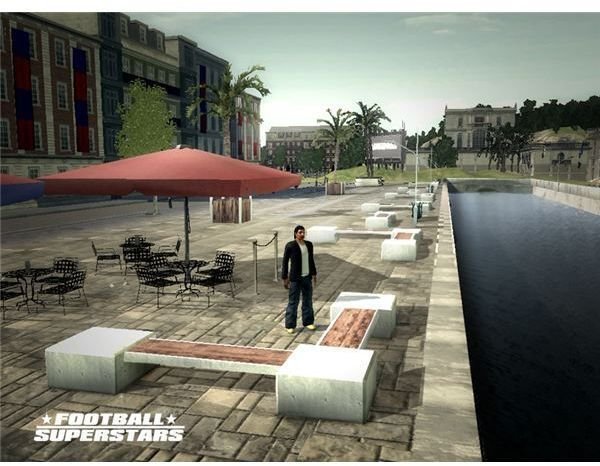 The sound is fairly sparse. There is some introductory music which sets the scene nicely. Once in the game there are some basic sound effects, feet striking the ball, whistles, and shouts. Wandering around the world the ambient sound is quite muted. Unfortunately during my second game there was a sound glitch which resulted in a constant shriek and whistle noise, eager to continue the game I had to turn the speakers off. It righted itself at the end of the match. The game also supports microphones and this helps a great deal when communicating with team mates.
Overall (4 out of 5)
Football Superstars is still a little rough around the edges and the world seems sparsely populated but there is no reason this shouldn't attract a healthy base of players. For a free to play MMO game it really surpassed my expectations. If you give it a chance and persist beyond that initial frustration barrier you'll find a rewarding game that will spark the football passion in any fan.
This post is part of the series: Football Superstars
A collection of articles on Football Superstars.