BattleSwarm Vs. CrimeCraft: Third-Person Shooter (MMOFPS) Comparison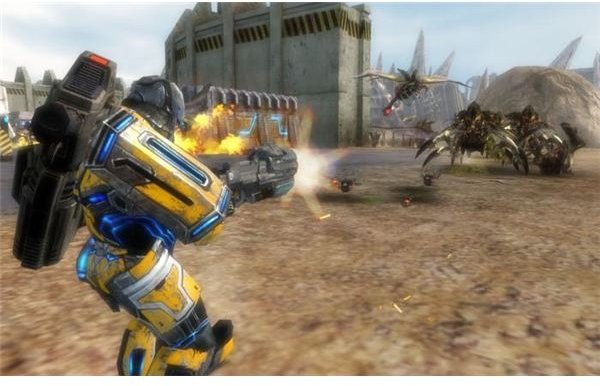 The Contenders
Everyone loves a good battleground bout and it's all because it's tough to gauge where a game stands in comparison to other games simply by reading a review. This battleground bout sees two technically proficient MMOTPS games going head-to-head and will ultimately determine which game best suits what you're looking for out of a MMO third-person shooter. This match-up consists of the third-person, action-packed, post-apocalyptic MMO, CrimeCraft, going one-on-one with the first ever MMOTPS versus MMORTS, Starcraft meets Starship Troopers game, BattleSwarm: Field of Honor. Like all other bouts, this will be a three-rounder that covers the likes of Gameplay, Concept and Originality. All right, enough going over the rules, let's get this started.
Round 1: Gameplay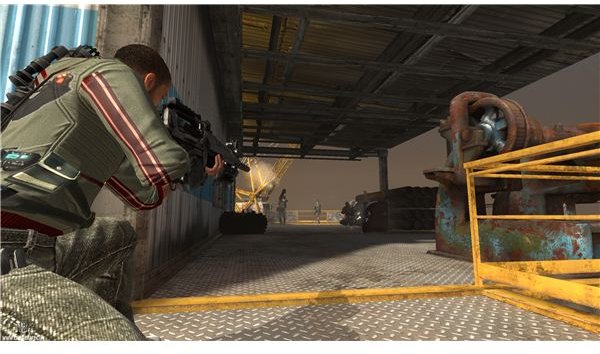 CrimeCraft: If there's one thing Vogster nailed down hard when designing CrimeCraft, it was the intense PvP and PvE scenarios. The game is a nifty hardcore shooter that offers team-based play, lots of cover fire, looting and quests all set in a crime-ridden future. The combat maps all take place outside the city's safe-zone and reflect a distinct, violence-engulfed society. For paying players there are experience increase incentives, more weapons, more loot to recover and it's easier to kill opponents. Nevertheless, the actual gunplay functionality is pretty much full proof of fault and this makes the game an interesting experience. Landing headshots requires a little patience and a bit of timing (depending on the weapon) and utilizing the environment for cover and teamwork gives CrimeCraft a real edge over many other third-person shooters out there.
BattleSwarm: Considering that playing as the bugs is a real-time strategy game, through and through, it would only make sense to compare the shooting portions of the game with CrimeCraft. In that regard, BattleSwarm is no slouch. The game actually carries close gameplay similarities and pacing to the likes of Gears of War. The weapons are varied and diverse and their effects are a real payoff during combat. Much like CrimeCraft, players will level during combat and can loot for new items and gear while battling foes on the battlefield. My only complaint about BattleSwarm is that when facing off against other humans in the deathmatch modes, many of the weapons feel vastly under-powered in comparison to taking on the bugs and it can leave a lot of gamers feeling like that aspect of the game is lacking.
The Verdict: When it comes to the shooting mechanics and the overall feel of visceral combat, I'm going to have to give the edge to CrimeCraft. BattleSwarm may feature hundreds of bugs on the screen at once and a lot of intense team-oriented combat, but CrimeCraft – if only by a neck hair – takes the lead with it's slightly more polished and gritty shooting experience.
Round 2: Concept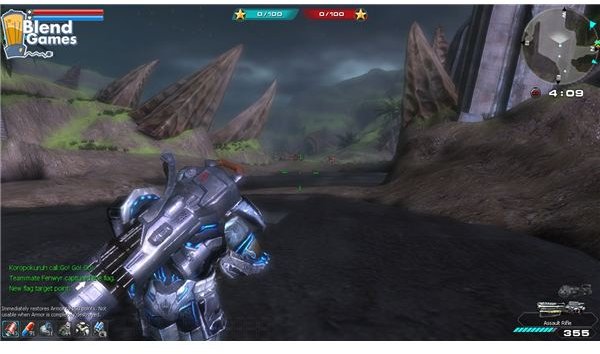 CrimeCraft: Unlike many other action-oriented MMOs out there where gamers stick to lobbies, and join rooms before getting into the action, CrimeCraft actually starts players in a city that can be explored, just like any other MMORPG. Players can gather quests, queue up a combat mission or just hang out with friends or guild mates in the spacious urban environments. There are also a variety of weapons and clothes, each with their own pros and cons, which can be upgraded or designed from scratch using the in-game crafting system. The downside is that many of the creative functions of the game are entirely limited and withheld from non-paying gamers. Even if a player obtains a premium item during a combat mission, the player is restricted from using it, which makes CrimeCraft a bit of a bummer for anyone who doesn't pay regularly.
BattleSwarm: With "free to play" as part of its selling model, it's easy to get started in BattleSwarm and have a blast without feeling like there's an obligation to go premium. The option to obtain cash shop items is always available but it's also possible to obtain premium goods via the gift boxes that can be looted within the game. Add in the option to play as either humans or bugs (MMOFPS or MMORTS) and BattleSwarm begins looking bigger and brighter by the sentence. The option to customize and enhance new parts and items using a simple yet addictive chip crafting system is a neat touch to the typical crafting system, and having easy access to PvP and PvE scenarios gives BattleSwarm an added synergy to its already impressive array of features.
The Verdict: Even though CrimeCraft sports a very detailed, and partially populated city environment for players to walk around in when they aren't in combat, it doesn't quite measure up to some of the features offered in BattleSwarm. Hence, BattleSwarm comes out miles ahead in this category with its many accessible features that are available to boot, very helpful tutorials, and a free-to-play module that isn't overshadowed by the need to subscribe to the game in order to access many basic features.
Round 3: Originality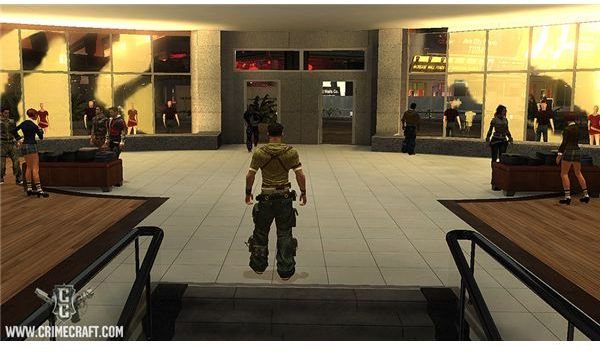 CrimeCraft: There's a lot of new concepts tossed around in Vogster's real-time action MMO: the ability to craft clothes and armor that actually shows up on the character; the ability to form guilds that can impact the city, including ending up in news headlines and advertisements; taking on missions like a typical MMO but having combat setup like a triple-A action game; and the ability to craft and sell weapons to other players. It's no small feat making a game that stands on its own two legs and apart from the rest of the competition. There were definitely some good ideas put into CrimeCraft despite always having the subscription cloud looming over the head of freebie gamers.
BattleSwarm: There is nothing that's not original about BattleSwarm: Field of Honor. The game is a hybrid MMOTPS versus MMORTS. It's the first game of its kind but doesn't stop with the premise of pitting human controlled soldiers against bug commanders who are also controlled by humans. The chip crafting system and looting mechanic help push the boundaries in the game's replay appeal and the low system requirements for a beautifully rendered game makes it a very unique MMO and video game. Toss in the option to create guilds, level up, increase stats and earn individualized title ranks gives BattleSwarm an extra edge over a lot of other third-person shooters out there.
The Verdict: It's an extremely tough call to make, especially given that CrimeCraft is one of the few action MMO games that allow players to freely walk around the city and interact with NPCs. However, BattleSwarm introduces a concept that completely overhauls the video game landscape and implemented features not seen or experienced in any other game on the market. With that said, BattleSwarm walks away with this round.
The Winner: BattleSwarm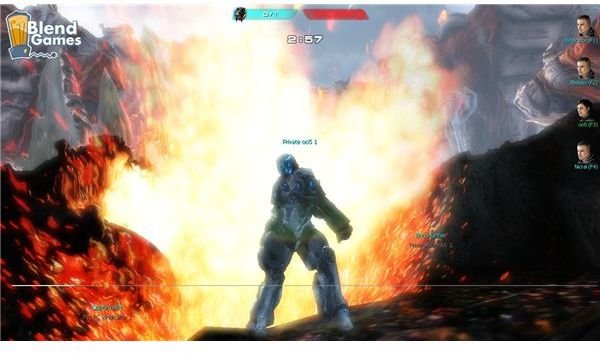 It wasn't a clear-cut victory but gamers who really enjoy an original shooting experience but different from everything else out there will have something worth trying with Reality Gap's BattleSwarm: Field of Honor. And while CrimeCraft may have the better shooting mechanics, gamers won't be left wanting much else to shoot at once they take to the field and start laying waste to dozens of bugs every couple of minutes. Add in the option to switch up the experience and play the game as a bug commander with RTS functionality and you have yourself a game with many-a-hours worth of replay in store.
You can learn more about both games by visiting the official websites below.
Official BattleSwarm: Field of Honor Website
This post is part of the series: MMOTPS Battleground
A battleground where massive multiplayer onilne third-person shooter games are pitted against each other.