G.R.I.D. 24hr Le Mans Helpful Hints, Tips, and Tricks for the Xbox 360 Game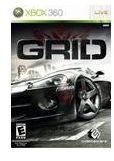 G.R.I.D. For The Xbox 360
Code Masters new Xbox 360 game, G.R.I.D., is the latest in the series of race driver games that sees you take on all driving styles and locations, to say that G.R.I.D. is a big game is an understatement, because even when you have completed all the challenges in this Xbox 360 game there is still plenty of things to do in the game, for instance you can then take your newly acquired driving skills and take on the best that online play has to offer, or if you are like me then you will want to replay all those sections that you feel you never got top marks for. But enough rambling what I want to do is give you some helpful hints on how to win the 24hr Le Mans races that come up at the end of every season. So let's begin.
Sand Types in G.R.I.D.
There are two types of sand in the 24hr Le Mans races in G.R.I.D., one you can drive on and one that you really do not want to drive over! Just for clarification the red sand is the one you can drive over and the brown sand is the one you do not want to drive over. Take advantage of the red sand as much as possible, this will then get you better lap times and keep you ahead of the pack.
Brake Warning Lights
Pay particular attention to the brake warning lights so that you do end up going to fast round a difficult bend or s bend, slowing your speed down as much as possible without slowing your overall lap time down is the key to getting better times and winning races, going full speed round bends that your are not too familiar with will just end up throwing off the corner, and then the time it takes to recover will lose you vital seconds of your race time.
Do not use all your Flashbacks until the last few laps
Obviously if you use all your flashbacks up at the beginning stages of the race you are then left at the mercy of fading tire wear and difficult car handling which will pretty much mean a slow race time or even worse the end of the race completely. So the best strategy is to save your flashbacks until the last few laps when you will need those most.
Don't Panic!
Try not to panic and try to say relaxed but at the same time do not lose concentration, because the race is very long you might have the tendency to lose concentration for a split second or two which can mean coming off at a bend or not even seeing the corner coming. You need a fine balance between relaxation and concentration to make it to the end of the race the champ.
Overall
Those are my helpful hints on how to successfully make it through the 24hr Le Mans race on GRID for the Xbox 360 as the winner! By following those tips above you will improve your chances no end, so you will not have to dread the 24hr le mans but at the end of every season look forward to demolishing the competition!