Text Link Remote Review: Texting On The PS2 With Remote Ease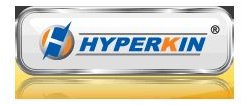 Thumb Text With The Best
If you're like me you are probably used to typing with your thumbs or one hand when it comes to sending text messages. Probably you're better at it than I because all the years of being forced to spell words correctly still applies whenever I write anything down - making it pretty tough to use those cool abbreviations most "texters" find appealing (at least I have no issues with adding icons when texting from my iPhone).
None of this seems to apply when I'm using my Playstation 3 - let's be honest, I just plain hate that onscreen keyboard. Not just because it's so difficult to use, or that the positioning of most of the "extra" keys aren't where my hindbrain says they should be - but mostly because working a gamepad is just not the same.
(5 out of 5)
Consequently, I was intrigued when Hyperkin tossed the Text Link Remote my way. Of course I caught it (plastic isn't impervious to damage, natch) and its look certainly was puzzling, if familiar.
Mostly I was hoping it would alleviate my texting problems when using the PS3. Turns out it did.
What Kind Of Remote Is This? (5 out of 5)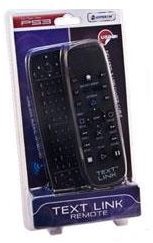 The Text Link Remote is a one piece unit that looks much like a small remote control from a portable DVD player (I would have gone with a different name, but who am I?). But in a nod back to the "Total Recall" movie and Arnold – grafted onto the left side of the remote is a sliding tray with a full array of keys in the expected (and desired) QWERTY arrangement. The left side of the tray features a direction pad while the right side has PS2-specific buttons that mimic controls on a gamepad. Dual analog sticks complete the gamepad simulation.
The tray slides inside of the DVD remote - making it totally unobtrusive until needed. Yes that does make the remote a bit thicker than it would be otherwise but so what? And having fingernails helps to pull the tray back out but there's always something, isn't there?
Setting Up The Text Link Remote (4 out of 5)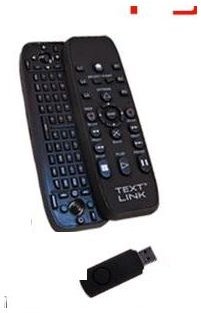 Setting up the Text Link Remote is pretty simple. There's a rechargeable battery that you hook up to USB port for power - using a computer or iPod AC charger works as well as directly into a USB port on the PS3 - but the Text Link Remote is used wirelessly so kill the USB cable once you've juiced up (a USB cable is included with the package).
You insert a USB receiver into one of the PS3's USB slots, it pairs up with the Text Link Remote quickly. You're not using Bluetooth but radio-frequency which I have always found to be more efficient (just remember that this can be affected by wireless networks) helped along by the fact that you're not going to run to the bathroom while working the RF-powered remote (well, most of the time anyway…).
Once you've hooked up the receiver and the Text Link Remote is activated, you now have a remote control to use for functions like playing Blu-ray discs, etc. Then when you need to input text, like entering a redeem code or texting someone, a quick pull of the tray out of the Text Link Remote puts you in gear.
Better Than Good - A Lot Better - In My Opinion (5 out of 5)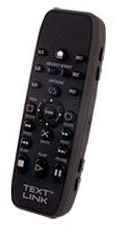 Overall, I found using the Text Link Remote easier and more efficient than navigating with a gamepad, not to mention the fact that it eliminates the need to have the Sony Bluetooth remote always at hand. Entering codes for PS3 games becomes a lot easier too.
The gamepad aspects work well, although someone with large hands like myself can see the advantage of keeping a wireless gamepad nearby. But as an all purpose device for working the PS3, not to mention easing the burden of text messaging one heck of a lot, it's hard not to like the Text Link Remote.
Oh, I guess I should add you can have it in any color you want – as long as that color is black.