Keep Your Game Going With New Wireless PS3 Controllers Such As The Ferrari RF Wireless PS3 Controllers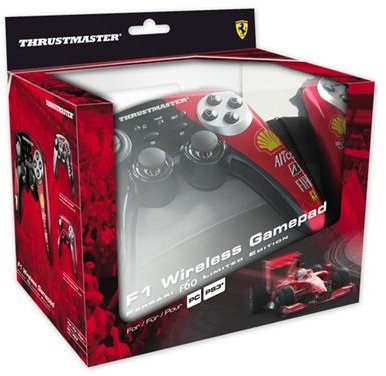 What's Game Got to Do With it?
Anybody who says that there's no difference between a wired and a wireless PS3 controllers needs to get out of Dodge now. Have you ever gotten so twisted up from a driving game or trying to blast every last Zombie in a 360 degree arc that you felt like whiplash had set in? Then you know that the freedom of movement that wireless PS3 controllers give can't be understated. Or underutilized when that PS3 gets kicked on.
Thrustmaster gives you the F60 - a limited edition Ferrari wireless gamepad that might look nice in the box but plays nicer once it's taken out. The F60 also makes the standard PS3 wireless controller look like the stuff left over in the stables (do we have to get graphic?).
Whip It Out - This PS3 Wireless Controller, That Is (5 out of 5)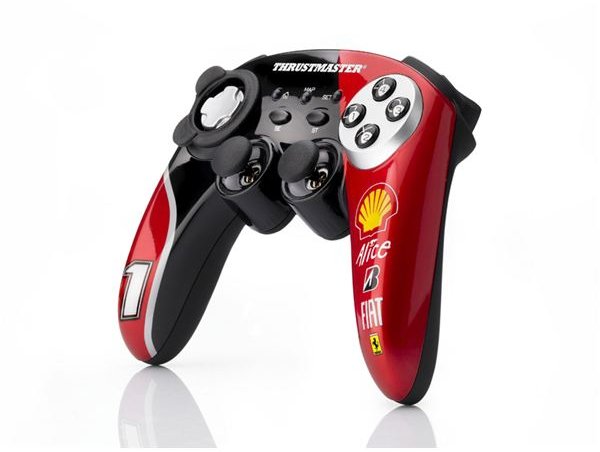 The F60's not all that big - it seems a tad smaller than the factory PS3 model. But that's good because every button and knob and trigger are where they're supposed to be, and for smaller hands it's a better grip. Bigger hands will find the controls closer and more accessible too. There's a nice feeling to the controls; the buttons have a springy click to them; the triggers a solid press; the analog sticks just enough resistance to being pushed. Even the "hidden" L2 and R2 buttons on the gamepad's underside give a positive response when pressed.
Two 'AAA's power the whole shebang and there's an on/off switch and glowing blue light to indicate power is coursing through. Energy saving circuitry built in, of course.
I should mention that the F60 works the PS3 the same way the factory controller does, but having an optical wheel function and so much control navigation choices, things just keep zooming by your brain as you lock on what to do instead of thinking about it. But there's also a Home button and other control button settings so that you don't have to ever go near that console (except for inserting/removing a disc or turning the console on or off). That you can adjust and modify the way the controls work (no loading in a disc to do it either) is just another example of why this Gamepad rocks for a PS3 wireless controller.
Workin' the Game
About the only thing you have to do that the factory controller doesn't require is inserting the USB receiver into the first USB slot on the PS3. That's so the RF wireless can do its job of linking between the Gamepad and the PS3. Also you should remember to keep the small tab on the side set to PS3 and not PC. Why? Because the F1 can work with a PC just as easily as it does the PS3. Think of it as a freebie that you just might use some day. Unless you're a Mac person, that is.
A gamer's muscle memory should kick in quickly once play begins. The F60 didn't lose the signal once and I had no problem moving around in the same amount of space that the factory PS3 controller could work in. That's a good 20+ feet for playing which is more than enough distance for everything except trying to keep the controls going when a maddened opponent who just got creamed goes postal and takes off after you. That's when the auto cutoff of the batteries comes in handy. So when it comes to movement, this great PS3 wireless controller offers a wide range that's hard to beat in other wireless PS3 controllers.
The Look of Love - for Playing Games (5 out of 5)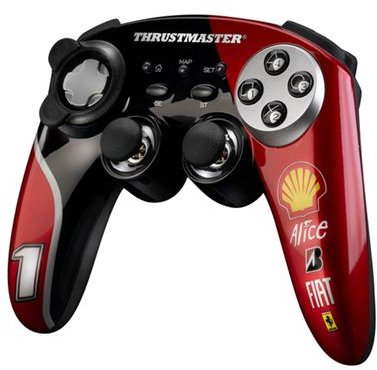 Definitely the best thing about the F1 Ferrari wireless gamepad is the look. No matt black finish here; the plastic gets a chrome finish in a firehouse red that screams out the Ferrari race car theme. A theme that is promoted by sponsor decals spotted across the gamepad. Granted you won't be spending a lot of time looking at it - not if you're playing games - but when the F1's just sitting there, it does command the kind of attention that most controllers can only dream of.
Don't get me wrong - the F1 is still made of plastic and it's not exactly NASCAR. But it does go quite a bit farther in giving you something cool to look at while you're showing everyone just how cool your gaming skills are.
Related links
Awesome Aftermarket PS3 Controllers