EA MMA Fighter List & Full Roster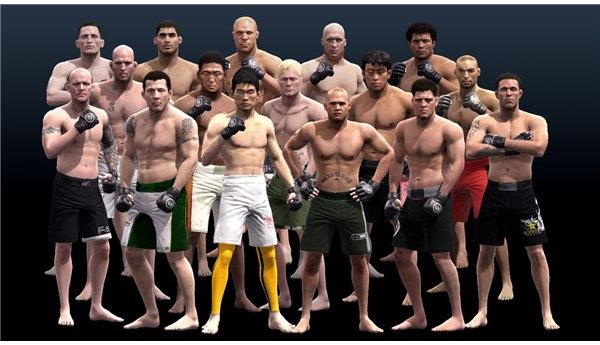 The soon to be released EA Sports MMA has a wealth of fighters to choose from. Its creators have tried to replicate the strength in depth of its main competitor, THQ's UFC Undisputed franchise, by having the likeness of 60 active & classic fighters in their EA MMA roster.
With such a high volume of both recognisable & unfamiliar faces found when selecting characters in-game, it is salient to point out these fighters, in order to inform both casual or hardcore MMA players of the full EA MMA fighter list. This article will serve as a complete EA MMA fighter list, detailing both the weight classes and names of every roster member, including some information on the real life MMA promotions licensed by EA also.
Like the UFC Undisputed series, there will be five separate weight classes in the game, with each fighter having at least one default division assigned to them. It is worth bringing up that some fighters (such as Dan Henderson), can fight at two weight classes, which will be reiterated out in the lists below. Furthermore, certain fighters will be unlocks found in-game, as well as DLC only additions like referee "Big" John McCarthy. Anyways, here is the full EA MMA fighter list with each weight class separated for easier reading;
Heavyweight EA MMA Roster
Fedor Emelianenko
Fabricio Werdum
Alistair Overeem (LHW)
Hidehiko Yoshida
Bobby Lashley
Brett Rogers
Andrei Arlovski
Josh Barnett
Randy Couture (LHW)
Tim Sylvia
Jeff Monson
Andreas Kraniotakes
Bob Sapp
Herschel Walker (DLC)
John McCarthy (DLC)
Light Heavyweight Division
"King Mo" Mohammed Lawal (HW)
Gegard Mousasi (MW)
Dan Henderson (MW)
Renato "Babalu" Sobral
Roger Gracie
Melvin Manhoef (MW)
Bas Rutten (HW)
Vladimir Matyushenko
Kevin Randleman (HW)
Ken Shamrock (HW)
Middleweight EA MMA Fighter List
Ronaldo "Jacare" Souza
Tim Kennedy
Robbie Lawler (WW)
Cung Le
Matt Lindland (LHW, WW)
Kazuo Misaki (WW)
Murilo "Ninja" Rua (LHW)
Frank Shamrock
Scott Smith (LHW)
Benji Radach
Luke Rockhold
Welterweight Division
Jake Shields (MW)
Nick Diaz (MW)
Jay Hieron
Tyron Woodley
Marius Zaromskis
Hayato "Mach" Sakurai (LW)
Joe Riggs (MW)
Nick Thompson (MW)
Frank Trigg (MW)
Lyman Good (MW)
Pat Miletich (MW)
Lightweight EA MMA Fighter List
Gilbert Melendez
Eddie Alvarez
Josh Thompson
Shinya Aoki (WW)
Tatsuya Kawajiri (WW)
Satoru Kitaoka
Mizuto Hirota
Gesias "JZ" Cavalcante
Vitor "Shaolin" Ribeiro
Kron Gracie
Joachim Hansen (WW)
Billy Evangelista
Classic Unlockables & DLC
Rickson Gracie
Frank Shamrock (DLC)
Randy Couture (UNLOCK)
Bas Rutten (UNLOCK)
EA MMA Fighter List & Promotion Information
That does it for the full EA MMA fighter list & roster. It seems many of the weight divisions lack depth in comparison to the UFC releases with light heavyweight to welterweight looking sparse. The chance to use fighter from both America & Japan is a big positive although only the Lightweight division seems to be utilising that dynamic with its strong Japanese representatives.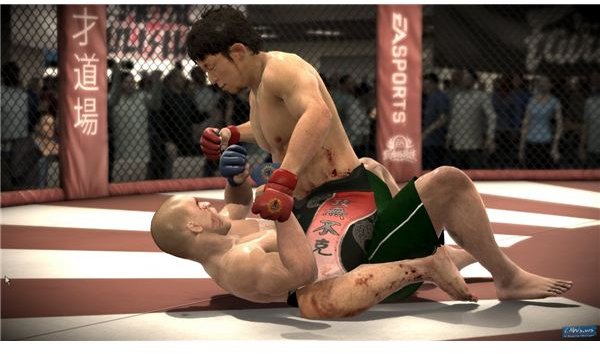 The license for the Japanese based MMA promotions may have fell away recently, but the Strikeforce banner is still prominent in the game, with the majority of the games roster fighting inside its promotional banner. The licenses may be missing on companies such as DREAM or World Victory Road's Sengoku brand, but the number of Japanese based fighters makes up for it, with fighter such as Shinya Aoki or Eddie Alvarez being included in the EA MMA roster. The game also sports two other fake promotions astride Strikeforce and the Japanese "Mystic", one in Brazil & the other in the UK, aptly named "Liga De Combate" and "United Fighters League".
With two amateur organisations rounding off the selection of locations, cages, rings & other setting specific options, there is plenty to be said for this amount of promotional competition in the game, as opposed to UFC's one brand beats all mentality. Even if the overall EA MMA fighter list is a bit tepid & perhaps somewhat bare on the ground in comparison to UFC, it should provide enough diversity to get enjoyment out of it, especially with the proposed expansiveness of the fighter creation mode.