Preview: UFC Undisputed 2010 Demo and Retail Release
UFC Undisputed 2010: Demo Preview
With the huge success of last years effort, THQ have once again produced another UFC-related venture, this time using the adage UFC Undisputed 2010. Coming out at the end of May and with the UFC Undisputed 2010 demo already available on both Xbox 360 and Playstation 3, its time to preview this upcoming MMA influenced game.
As stated, the UFC Undisputed 2010 demo has been released as of this writing, however I (like many other avid MMA enthusiasts) were privy to an early release of the demo and have been avidly trying to defeat Rashad Evans and Lyoto Machida via flying knee or spinning back fist during the incumbent period. With that said, lets discuss some of the new additions and improvements over one of the surprise hits of 2009.
Combat in the UFC Undisputed 2010 Demo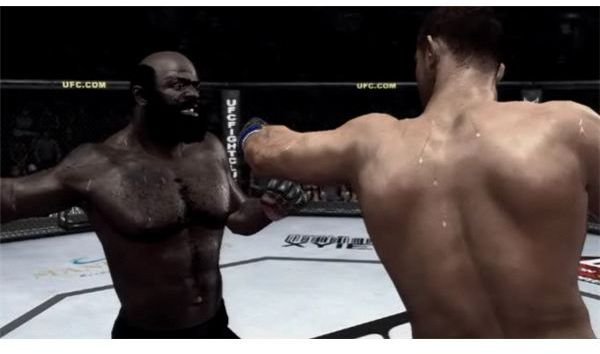 First off, the combat has seen a stark improvement, with slicker animations and invariably smoother transitions being implemented. The new sway system adds an air of Fight Night to the proceedings, with a mockingly brilliant bob & weave attribute to it, giving licence for Rampage Jackson to effectively level someone's head like a cinder block.
Also, the addition of a more fleshed out combo system, which is designed to flow better than the previous Street Fighter influenced combo input of UFC Undisputed 2009. This really helps the dynamic and often fluid appearance of the combat in comparison to last years effort and other, older MMA games.
UFC Undisputed 2010 Career Mode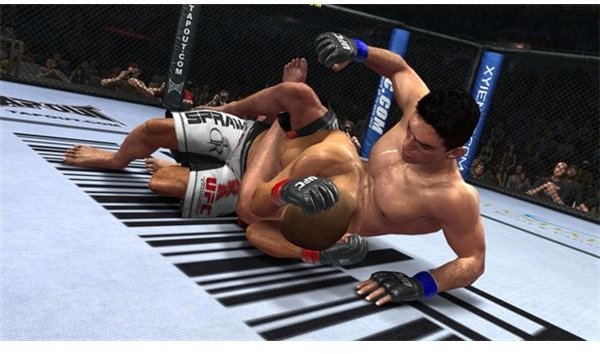 The career mode has been given a much needed overhaul, with fight camps, press interviews and more focused training. The depreciating skill values also comes into play, with a more balanced approach to stat levelling and management being required. Not to mention the regional feeder organisation known in-game as the WFA.
Do well enough fighting in the small promotion and UFC president Dana White will request a "chat" to negotiate some terms for your big time debut. The goal as ever is to take the UFC title for your respective weight class, competing against a wide UFC roster which will be detailed on page 2 of this article.
Preview: UFC Undisputed 2010 Demo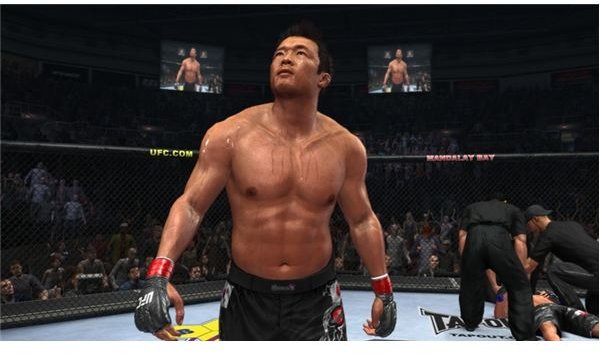 Further improvements come from the revamped online mode, now with online tournament capabilities and a tie-in community based website for the games followers, allowing for the creation of some nice 16 man grand prix's hearkening back to the halcyon years of PRIDE FC. The big fix from 2009's online play is the impacting nature of quitting an online match, whereby you quit just before the match has ended and no consequence is bore, instead a permanent mark is made on the online record for that profile.
In comparison to THQ's previous effort, UFC Undisputed 2010 looks like a completely different game. Building on the stringent framework has given the developers a cogent ruleset and engine to work with. This results in some fluid gameplay and solid aesthetic representations of the UFC culture and experience. With new fight styles and southpaw making an anticipated entry into the series, it seems the game could and probably will surpass its predecessor, even if 2011 will undoubtedly look even greater.
Continue to page 2 of this article for a rundown on the full UFC Undisputed 2010 roster list…
UFC Undisputed 2010 Roster List
The 5 separate weight classes each have 20 default characters on their lists. However, due to the announced DLC and Playstation exclusive characters, some weight classes will have a couple more entrants here and there. These additions will be denoted along with people who no longer fight with the UFC promotion.
Also, given the fact many fighters move up and down in weight on occasion, some fighters have been given allowance for two weight classes in the game. This will also be denoted as applicable. For a great video reveal of the roster lineup, check out this video detailing the devastatingly huge UFC Undisputed 2010 roster list.
CUT = No longer a member of the UFC promotion
DLC = Exclusive downloadable content
PS3 = PS3 Exclusive legendary fighters
HW, LHW, MW, WW, LW = Can fight at that weight class also
Bolded Name = Current champion of said weight class
Heavyweights of the UFC Unidsputed 2010 Roster List
Andrei Arlovski (CUT)
Antoni Hardonk
Antonio Rodrigo Nogueira
Brendan Schaub (DLC)
Brock Lesnar
Cain Velasquez
Cheick Kongo
Dan Severn (PS3)
Eddie Sanchez (CUT)
Fabricio Werdum (CUT)
Frank Mir, Gabriel Gonzaga
Heath Herring
James McSweeney (DLC)
Junior dos Santos
Justin McCully (CUT)
Kimbo Slice
Marcus Jones (DLC)
Mirko Cro Cop
Mostapha Al-Turk (CUT)
Pat Barry
Roy Nelson (DLC)
Shane Carwin
Stefan Struve
Todd Duffee
Light Heavyweights of the UFC Undisputed 2010 Roster List
Brandon Vera (HW)
Chuck Liddell
Forrest Griffin
Jason Brilz
Jon Jones
Keith Jardine
Krzysztof Soszynski
Luiz Arthur Cane
Lyoto Machida
Mark Coleman (HW)(CUT)
Matt Hamill
Mauricio "Shogun" Rua
Quinton "Rampage" Jackson
Rashad Evans
Rich Franklin (MW)
Ryan Bader
Stephan Bonnar
Steve Cantwell
Thiago Silva
Tito Ortiz
Middleweight in the UFC Undisputed 2010 Roster List
Alan Belcher
Anderson Silva (LHW)
Chael Sonnen
Chris Leben
Dan Henderson (LHW)(CUT)
Dan Miller
Demian Maia
Denis Kang (CUT)
Drew McFedries
Kendall Grove
Michael Bisping (LHW)
Nate Marquardt
Nate Quarry
Patrick Côté
Ricardo Almeida (WW)
Vitor Belfort (LHW)
Wanderlei Silva (LHW)
Wilson Gouveia (LHW)(CUT)
Yoshihiro Akiyama
Yushin Okami
Welterweights of the UFC Undisputed 2010 Roster List
Amir Sadollah
Anthony Johnson
Carlos Condit
Chris Lytle
Dan Hardy
Dong Hyun Kim
Dustin Hazelett
Frank Trigg (CUT)
Georges St-Pierre
James Wilks
Jon Fitch
Josh Koscheck
Karo Parisyan (CUT)
Marcus Davis
Martin Kampmann (MW)
Matt Hughes
Matt Serra (LW)
Mike Swick (MW)
Paulo Thiago
Royce Gracie (PS3)
Thiago Alves
Lightweight of the UFC Undisputed 2010 Roster List
BJ Penn (WW)
Caol Uno (CUT)
Clay Guida
Cole Miller
Dennis Siver
Diego Sanchez (WW)
Efrain Escudero
Frankie Edgar
Gray Maynard
Hermes Franca (CUT)
Jens Pulver (PS3)
Joe Lauzon
Joe Stevenson
Kenny Florian
Kurt Pellegrino
Nate Diaz
Ross Pearson
Sean Sherk (WW)
Spencer Fisher
Terry Etim
Tyson Griffin
There you have it, the full UFC Undisputed 2010 Roster List, chock-full of MMA superstars and great prospects alike. Given the ability to create 100 completely new personalities in the create-a-fighter mode will likely help to provide an insanely rich and diverse roster for this years installment.