A Mafia II Preview And Release Date Information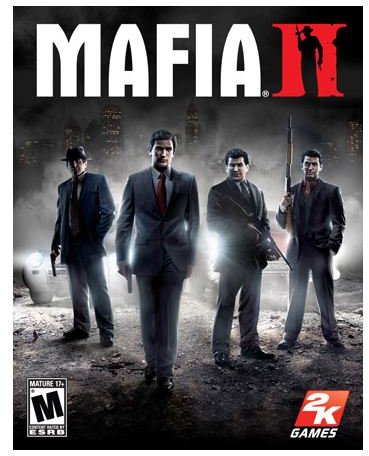 Mafia 2 Preview and Release Date Information
With one of the best PC games of all time to try and outdo, developers 2K Czech have a hard task ahead of them. Taking note of the cult success from the first Mafia game, released in 2002 on PC, PlayStation 2 and Xbox and selling over 2 million copies by 2008, the tumult of fan anticipation for a sequel led to some teaser trailers and information on the long awaited sequel being shown in 2007.
After a relatively gargatuan three-year development period; the game is finally being released next month on all platforms excluding the Wii. With that being said, here is a Mafia II preview including Mafia 2 release date information and other rumination on things like setting and gameplay elements.
Mafia 2 Developer: 2K Czech (formerly Illusion Softworks)
Mafia 2 Platform(s): Microsoft Windows, PlayStation2, Xbox 360
Mafia 2 Release Date: 08/24/10 (North America), 08/27/10 (PAL Regions)
Mafia II Preview: Setting and Premise
Taking leave of the personal quest of Tommy Angelo and his Saltieri family ties from the first game, players will control the returning home World War II veteran named Vito Scaletta, with Sicilian parentage and a selection of criminal acquaintances. The game is set in a ten year time span beginning after Vito arrives home after the war in 1945 and finds himself in the fictional city of Empire Bay (inspire by New York and San Francisco).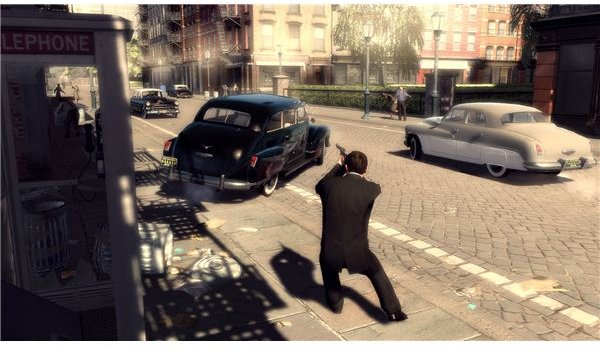 From there, he is reunited with his old friend Joe Barbaro, after finding his recently deceased father has debts amounting to $2000. Returning to the life of crime he indulged in before the war, Vito was saved from jail time thanks to military service, he starts to rise through the underworld criminal hierarchy with Joe and other ancillary characters the player will encounter.
The game, as of writing this Mafia II preview, has showcased the struggles of three separate mafia families. The Clemente, Falcone and Vinci families are all vying for power within Empire Bay and players will have to engage them on a regular basis in both combat and through cutscenes. The cutscenes have been stated to take up over two hours of game time and will be fully rendered with the in-game graphics engine as opposed to pre-rendered CGI or FMV sequences.
Mafia II Preview: Gameplay and Verisimilitude
Many era specific weapons will return from the first Mafia game or will be integrated into the post-WWII setting. A new cover system is being used to further admonish the combat of the game while a context sensitive action button is being used for cutscenes or other integral moments throughout the narrative. As with the first game, there will be an incredulous amount of realistic vehicles in the game, with licensed music also making an appearance although the capacity of which is still unknown.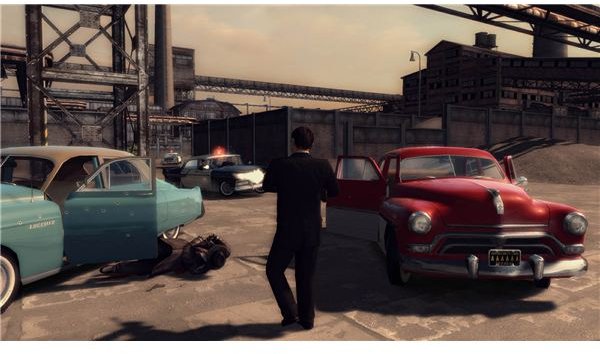 Surpassing the verisimilitude of the first Mafia game; the developers have incorporated some rather ingenious realism mechanics into the experience. This includes being able to buy food stuffs and drinks at restaurants to regain health, readable newspapers, contextual use of sinks, switches, chairs, radios and other items found around the 10 square mile city, hideout purchasing, customisable cars, piloting airplanes and training at gyms to upgrade fighting fidelity. Expect speeding tickets and other in-game law breaking mechanics to be full force also; furhter complementing the realism aspects of Mafia II.
Simply put, Mafia II looks to surpass the sandbox nature of predecessors like Grand Theft Auto and Crackdown, and it looks to have a good shot at accomplishing it. With so much going on in the actual sequel, not to mention this Mafia 2 preview, it looks to be one of the biggest game releases of this summer and perhaps the whole year of 2010.