Gran Turismo 5 Car List: The Cars So Far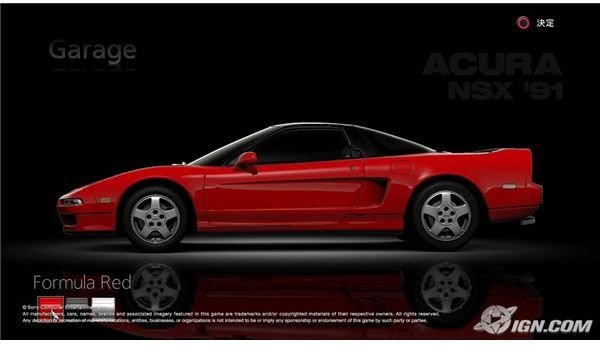 Gran Turismo 5 is finally on the horizon, and that means it is time to get excited about the cars that will be in the game.
So far, no official, final list of cars has been released. The cars that are on this list are vehicles that are thought to be in the game either because they were in previous Gran Turismo games, because they have been talked about in previews, or because they have been spotted in screenshots and videos.
This list will be updated with the full, final information once the game hits store shelves.
Acura
Honda's luxury brand is represented by the famous NSX.
Alfa Romeo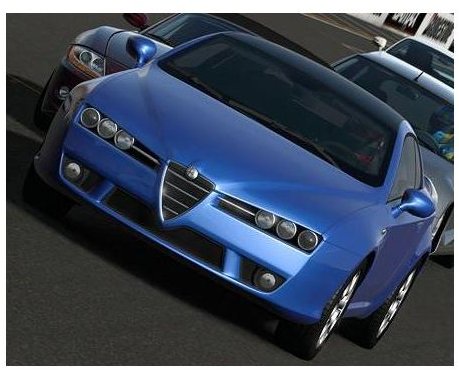 The classic Italian brand will be well represented in GT5.
147 TI 2.0 Twin Spark ('06)
8C Competizione ('09)
Brera Sky Window 3.2 JTS Q4 ('06)
Giulia Sprint Speciale ('63)
Giulia Sprint GTA 1600 ('65)
Spider 1600 Duetto ('66)
Alpine
The now defunct French racing and sports car manufacturer will have at least one car in Gran Turismo 5.
Aston Martin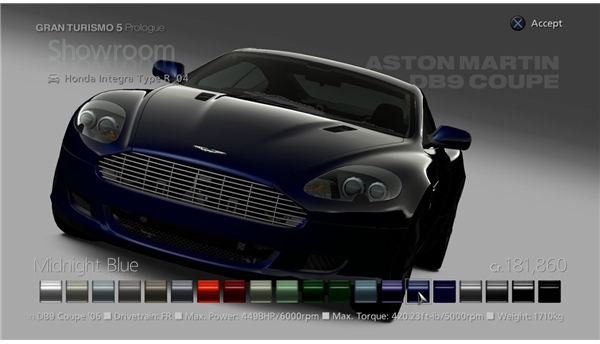 The UK luxury/performance auto maker has many cars rumored in GT5, but only one is confirmed.
Aston Martin DB9 Coupe '06
Audi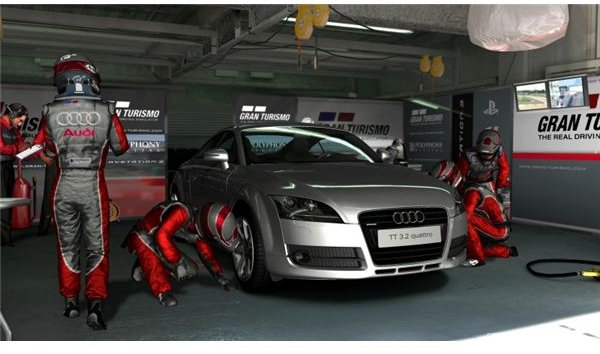 The popular German automaker has a huge list of rumored cars in GT5.
R8 R-Tronic '07
R8 LMS '09
R8 LMS PlayStation Abt Nur 24 '09
R8 PlayStation Team Oreca Le Mans '05
R10 TDI Le Mans '06
TT 3.2 Quattro '03
TT 3.2 Quattro '07
Bentley
Although Bentley is not known for performance cars as much as luxury, there will be at least one Bentley in GT5.
BMW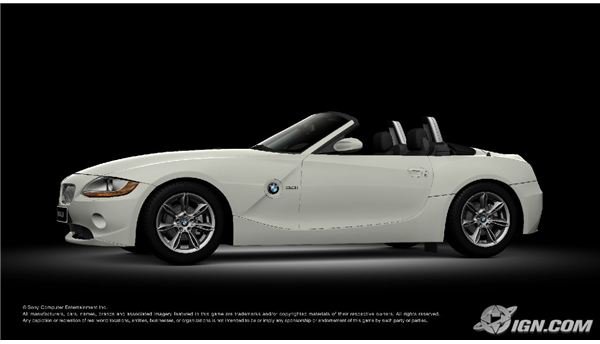 The well loved Ultimate Driving Machine has a huge list in GT5.
B135i Coupe '07
135tii Concept '08
M3 Coupe '07
M5 '05
V12 LMR '99
Z4 3.0i '03
Z4 M Coupe '08
Bugatti
The world's fastest car will be in GT5.
Chevorlet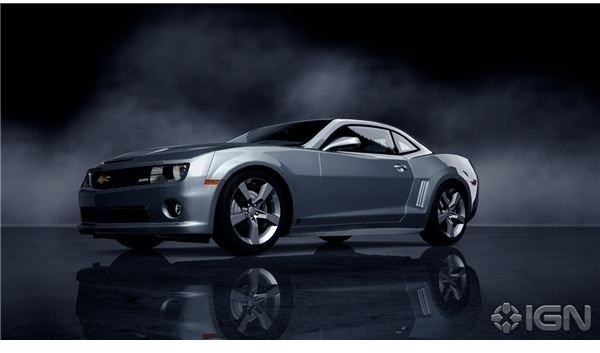 The classic American automaker will have a huge number of cars in GT5.
Camaro SS 350 '69
Camaro Z28 '69
Camaro SS '10
Chevelle SS 454 '70
Corvette Sting Ray Convertible (C3-gen) '69
Corvette Stingray L46 350 (C3-gen) '69
Corvette Z06 (C5-gen) '02
Corvette C5R '00
Corvette Z06 (C6-gen) '06
Corvette ZR-1 (C6-gen) '09
Citroen
This classic company has many cars to choose from in GT5.
C4 Coupe 2.0VTS '06
C4 WRC '08
GT Concept '08
Dodge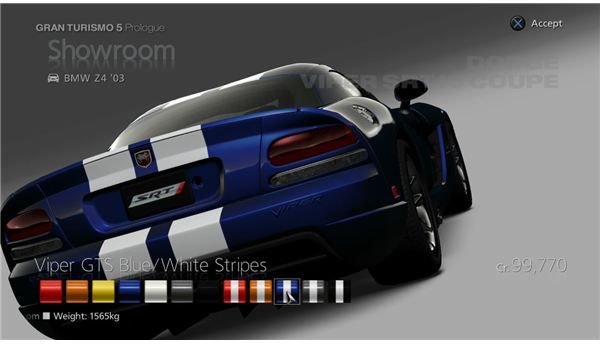 Dodge's lineup is full of Vipers and Challengers,
Challenger R/T '70
Challenger SRT8 '09
Charger 440 R/T '70
Charger Super Bee Hemi 426 Hemi '71
Viper GTS '02
Viper GTS-R Team Oreca '00
Viper SRT-10 Coupe
Viper ACR '08
Ferrari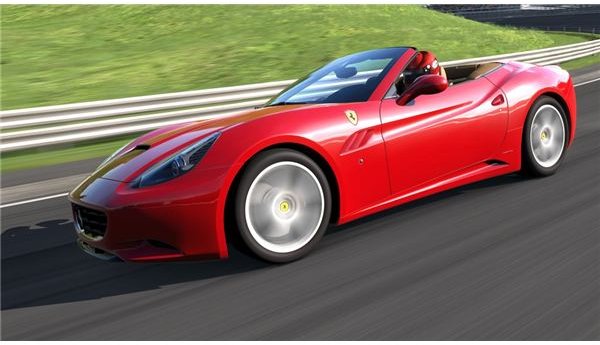 The Italian supercar company has many cars in GT5.
330 P3/4 '67
458 Italia '10
512BB '76
599GTB Fiorano '06
California '09
Enzo '02
F2007 '07
F40 '92
F430 '06
Fiat
Although more practical than Ferrari, Fiat's performance history is not forgotten in GT5.
Ford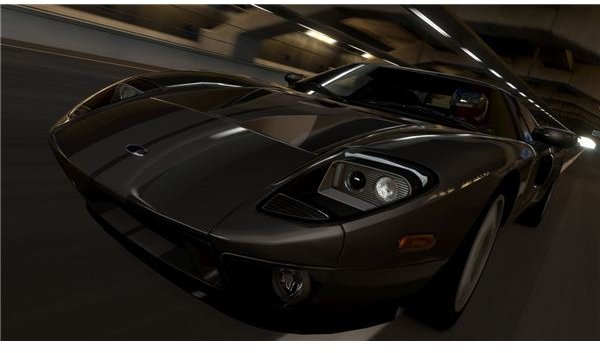 Ford enters GT5 with one of the biggest vehicle lineups in the entire game.
Focus ST '06
Focus RS WRC07 '08
Fusion #99 NASCAR '10
GT '05
GT LM Edition Spec-II Test Car
Mustang GT Premium '07
Honda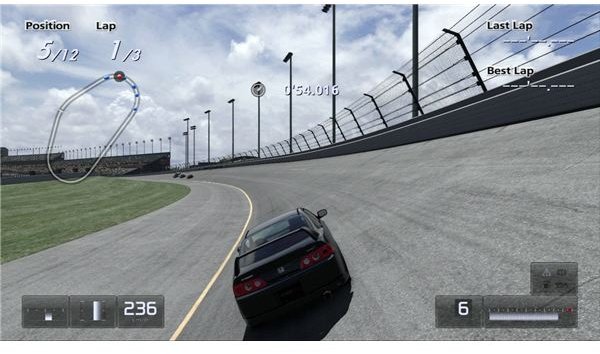 Honda's performance legacy is well respected in GT5.
Civic Hatchback (EK-gen)
CR-Z '10
Insight (2nd gen) '10
Integra Type-R (DC5-gen) '04
NSX Type-R (1st gen) '92
NSX Type-R (2nd gen) '02
NSX ARTA SuperGT '06
NSX Takata Dome SuperGT '06
NSX Raybrig SuperGT '06
S2000
Infiniti
Nissan's luxury brand has two confirmed cars so far
Infiniti G35 Coupe '03
Infiniti G37 Coupe '08
Jaguar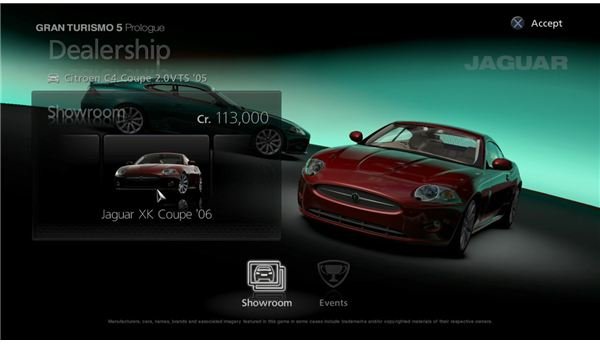 Jaguar has struggled as of late, but it continues to build great performance and luxury vehicles.
Jaguar XKR R-Performance ('02)
Jaguar XK Coupe ('06)
Lamborghini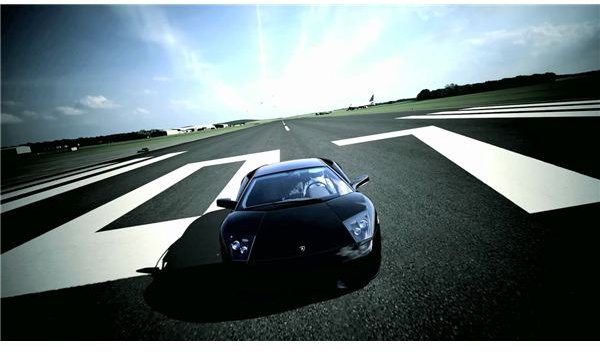 The famously insane Italian auto maker has a huge list of cars included in GT5.
Countach LP400 '74
Countach 25th Anniversary Edition '88
Gallardo LP560-4 '08
Murciélago LP640 '07
Lancia
Lancia has been in real trouble recently, but it has a history of performance rally cars that is hard to ignore.
Delta HF Intergrale Evoluzione '91
Stratos '73
Lexus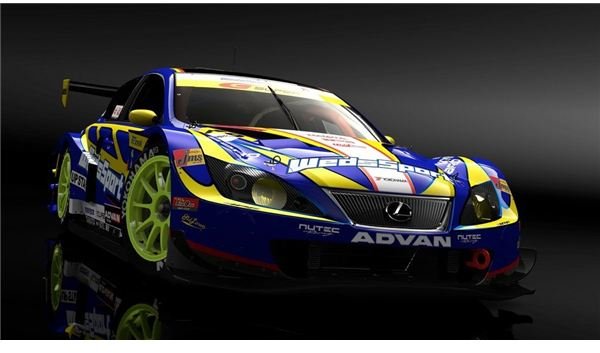 Toyota's luxury brand includes number race cars and even the exotic IS-F.
IS350 WedsSport SuperGT '08
IS-F '07
SC430 Bandai Direzza SuperGT '06
SC430 Petronas Tom's SuperGT '08
SC430 Denso Dunlop SARD SuperGT '08
Lotus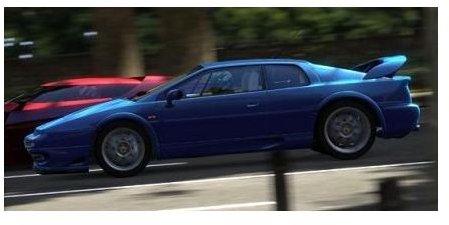 The famous lightweight sports cars are included in GT5.
Elise '96
Elise Sport 190 '96
Elise '00
Elise 111R '04
Esprit V8 '02
Evora '09
Mazda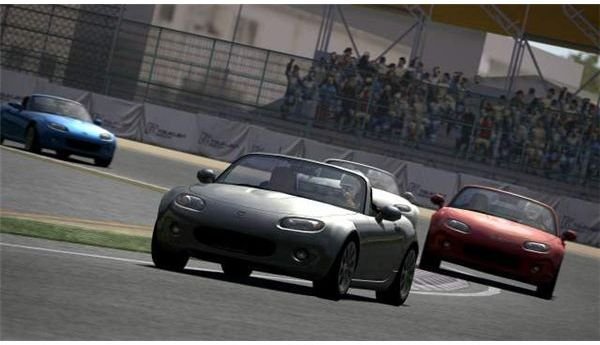 The Zoom-Zoom brand has numerous fast cars in a variety of classes.
787B Le Mans '91
Atenza Sport '07
Eunos Roadster (NA-gen) '89
Furai Concept
Roadster (NB-gen)
Roadster (NC-gen) '05
RX-7 Type-RS-R (FD-gen) '97
RX-7 Spirit-R Type-A (FD-gen) '02
RX-8 Type-S '03
McLaren
The no-holds-barred McLaren F1 is part of GT5.
Mercedes-Benz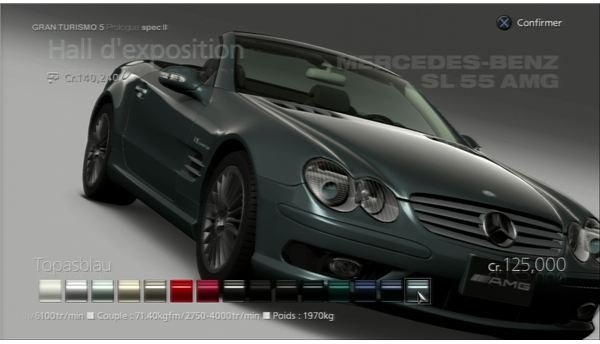 The popular German luxury brand's performance heritage is highlighted in GT5.
300SL Coupe '54
C63 AMG '08
CLK Touring Car '00
CLK-GTR '98
SL55 AMG '02
SLR McLaren '09
SLS AMG '10
Mitsubishi
Mitsubishi's rally heritage is respected with many cars in GT5.
Lancer Evolution IV GSR '96
Lancer Evolution IX GSR '05
Lancer Evolution X GSR Premium '07
Nissan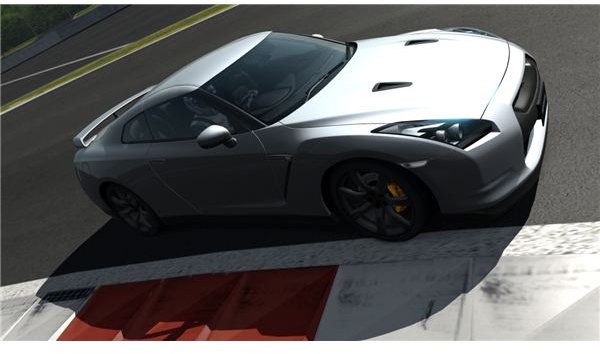 Nissan's long history of performance vehicles, as well as many affordable cars, have made its way into GT5.
350Z '03
Fairlady Z Version S (Z33-gen) '07
Fairlady Z (Z34-gen) '10
Fairlady Z Xanavi Nismo SuperGT '06
Fairlady Z Xanavi Nismo SuperGT '07
GT-R Proto concept '05
GT-R "Black Mask" prototype '07
GT-R '08
GT-R Spec-V '09
GT-R Xanavi Nismo SuperGT '08
GT-R Motul Autech SuperGT '08
GT-R Calsonic Impul SuperGT '08
GT-R Yellow Hat YMS Tomica SuperGT '08
Skyline GT-R V-Spec II (R32-gen) '94
Skyline GT-R V-Spec (R33-gen) '97
Skyline GT-R V-Spec Nur (R34-gen) '02
Skyline 370GT Type SP Coupe (V36-gen) '07
Skyline 350GT Type SP Sedan (V36-gen) '06
Skyline Coupe Concept '07
Peugeot
Looking for a European rally car or small racer? Then Peugeot probably has the car for you.
205 Turbo 16 Evolution '85
908 HDi FAP Team Peugeot Sport '10
Plymouth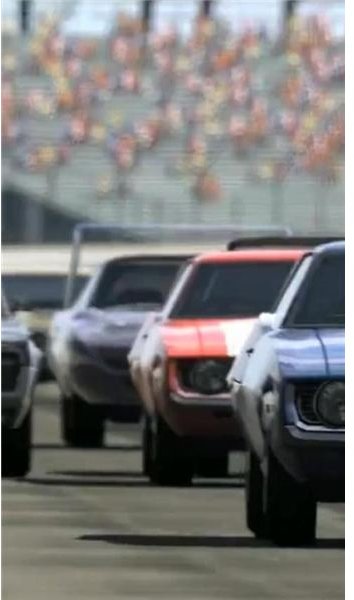 The defunct Chrylser spinoff has some of its older muscle cars represented in GT5.
Cuda 440 Six Pack '71
Superbird '70
Renault
The French auto maker has a couple performance vehicles included in GT5.
5 Maxi Turbo '85
Clio Renault Sport V6 24V '00
Subaru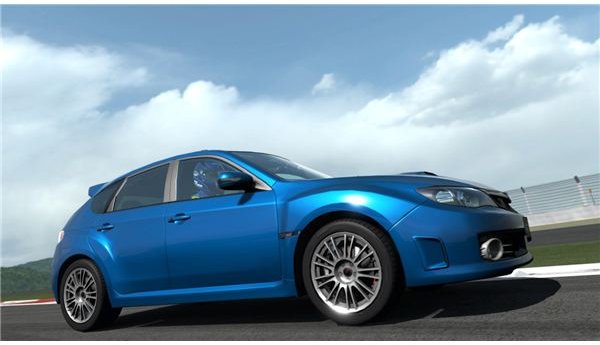 The maker of crazy all-wheel-drive sports cars will be included in GT5.
Impreza WRX STi Spec-C Type-RA (GD-III gen) '05
Impreza WRX STi BBS Wheel Option (GE gen) '08
Impreza WRC98 '98
Impreza WRC2008 '08
Suzuki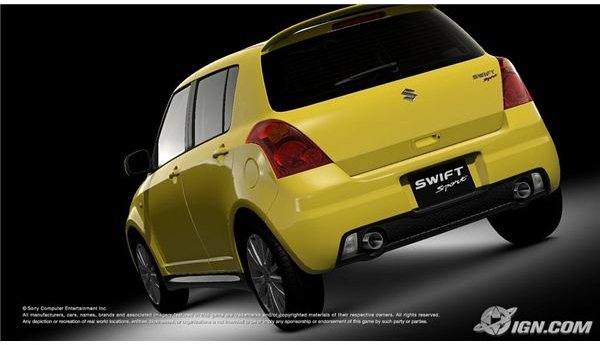 Although not know for super-fast cars, Suzuki has many small performance vehicles.
Cappuccino '95
Cervo SR '07
Swift Sport '07
SX4 WRC '08
Telsa
The new electric car manufacturer will be represented in GT5.
Toyota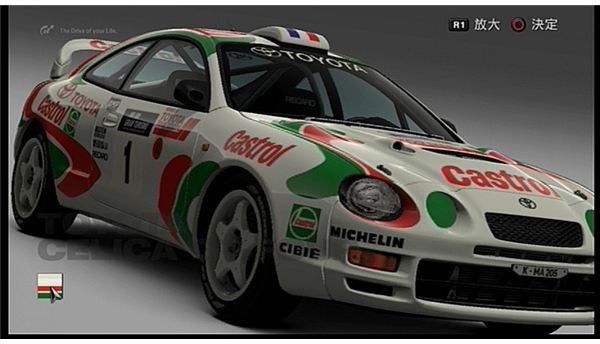 Although not well known for performance in the modern era, Toyota has built many performance cars in the past.
Celica GT-Four TTE WRC '95
FT-86 Concept '09
FT-86 G Sports Concept '10
Minolta 88C-V '89
Prius (3rd-gen) '10
Sprinter Trueno GT-Apex (AE86-gen) '83
Supra Castrol Tom's JGTC '97
Supra YellowHat YMS SuperGT '05
TVR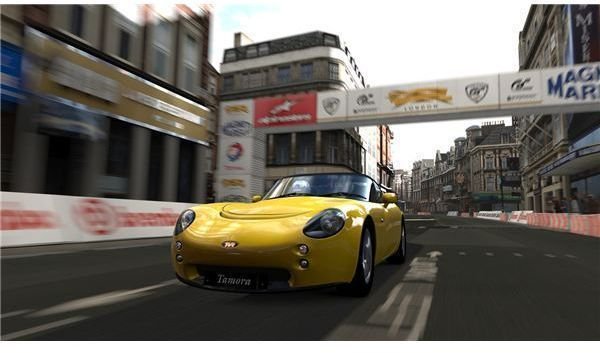 The insane supercar maker will has two cars confirmed for GT5.
Tamora '02
Tuscan Speed Six '00
Volkswagen
Volkswagen's practical performance hatchbacks are included in GT5.
Golf IV GTi '01
Golf V GTI '05