Custom Play Golf 2010 Review - CPG2010 PC Review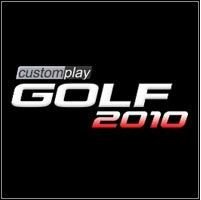 Introduction
There have been several golf game series released for the PC over the years, but none have quite managed to really capture the imagination of either golfers or casual gamers looking for a good golf sim. However, when Fusion Software launched their first foray into this genre with Custom Play Golf, the golf sim on the PC was taken to a new level.
Now in its third incarnation, Custom Play Golf 2010 is undoubtedly the Tiger Woods of the PC golf arena. It puts other golf games, such as Electronic Arts' series bearing golf's number one's endorsement, in the shade. Although not perfect, Custom Play Golf happily sits at the top of the leaderboard.
Custom Play Golf is, quite simply, a golf simulation which is as close to the real thing as you're likely to experience on the PC or any games console and it delivers a sound thrashing to rival golf sims. Custom Play Golf is a game packed with features which take the player to a completely different level of simulated golf action than has been available before.
The game features enhanced graphical effects including enhanced lighting, shadows and detail while the game mechanics are extremely easy to pick up.
Gameplay (4 out of 5)
Custom Play Golf is surprisingly easy to play and even novices to golf sims will soon be swinging away with aplomb on the virtual courses that are available.
With a choice of four separate mechanics to play shots, including standard 2 and 3 button mouse clicks, as well as mouse swing gameplay it's simply a case of finding which method works best. From a personal note, I prefer the 3-click method which involves clicking to start the backswing and again to set power, with a third click to strike through the ball.
The power meter is represented by a circular, coloured bar which appears to envelope around the golfer. The colours represent the strength at which you hit the ball and range from blue through a blue/red mix and into full red. When swinging the club, the goal is to stop the backswing before the indicator line enters the black area at the extreme tip of the swing arc, otherwise your shot will lose both power and accuracy. Setting the accuracy involves stopping the indicator line in the small yellow box at the base of the arc. Going either side of the yellow area will cause the shot to either hook or slice, depending on where you stop it.
Along the base of the screen are a series of information nodes, some of which can be altered to produce alternate shots. Click on the 'shot' node for example and you can change the default normal shot into a chip-and-run or a high flop shot. Similarly you can alter your stance to play a draw or fade by clicking the 'stance' node and moving the circular indicator to the desired location to set your shot type. Changing club is done in a similar fashion by clicking the 'club' node.
Putting is done in a similar manner to playing normal golf shots, except rather than a circular power indicator, there is a horizontal power bar and taking a putt works in the same way.
Custom Play Golf 2010 Screenshots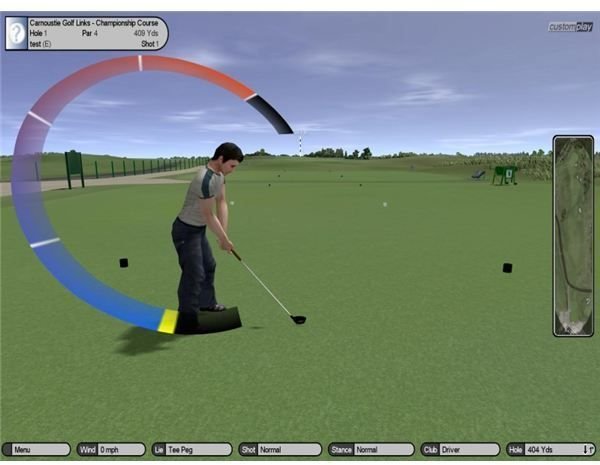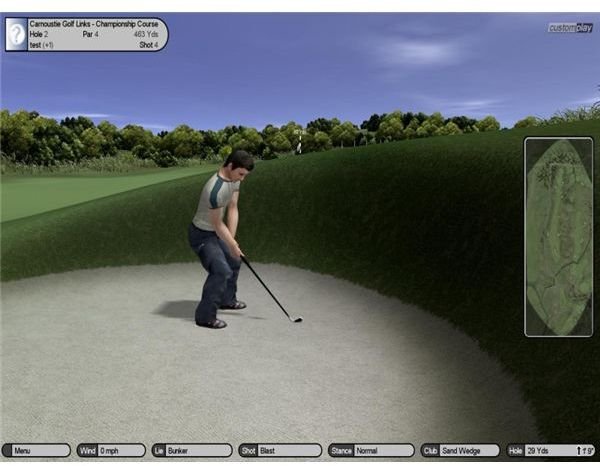 Graphics & Sound (5 out of 5)
Custom Play Golf 2010's graphics really are superb. Lighting and shadow effects have been enhanced in this latest version and provide added realism, while weather effects in the game are so real, you could almost experience them through the screen. When it rains in this game, you feel like you're going to get wet.
The sound in Custom Play Golf also offers players a realistic effect, from the chirping of birds down to the rustle of grass and the metallic ping from your clubs.
The only flaws in these areas are the occasional clipping of graphics when your on-screen golfer takes an unorthodox stance and appears to have sunk into the ground partly. There is also a slight inaccuracy on occasion about reporting the location of your ball. On a few occasions, the interface has told me my shot had ended in the rough, but on-screen the ball was clearly on the fairway. However, these are small annoyances and shouldn't be used to detract from the game.
Draw distance has been enhanced and now entire holes can be rendered into the distance to provide a realistic view of the hole while characters have been remodelled with new animations.
Game Modes (4 out of 5)
Custom Play Golf 2010 offers additional game modes over and above what was originally available in previous editions. In addition to stroke and match-play formats, there is also the option to play Stableford, Nearest the Pin, Par-3, Pitch-and-putt and even mini-golf and crazy golf.
Community (4 out of 5)
Custom Play Golf 2010's big selling point is its online community. Unlike other golf games on PC, CPG offers an extensive golf course designer which can be used to create entire golf courses to be played and shared with the community. This means the game is only limited by the creativity of its members designing new golf courses, or creating virtual renditions of real courses around the world.
Golf courses can be downloaded from the Custom Play Golf 2010 website along with new textures and models.
System Requirements (4 out of 5)
Custom Play Golf doesn't require a top-spec PC to provide a near-real golf experience.
The basic spec required to run Custom Play Golf 2 was a 2GHz processor, 512MB RAM and a 128MB 3D Graphics Card. However, due to the enhanced lighting and textures in CPG2010, then 1GB RAM and a 8800GT graphics card or better would be advised. For maximum detail, however, consider going even higher in this area.
Verdict (5 out of 5)
Custom Play Golf 2010 is perhaps the closest thing you'll experience to true-life golf on your PC. It's beautifully rendered, plays almost flawlessly and is limited only by the imagination of its members in terms of available courses to play. While it's a fun game to play, the real value comes from hooking up with other CPG players online for some virtual four-balls.
This is a must-play game for any golf fan, while even non-golfers will get some mileage from it.