Tiger Woods PGA Tour 09 All-Play Review for Nintendo Wii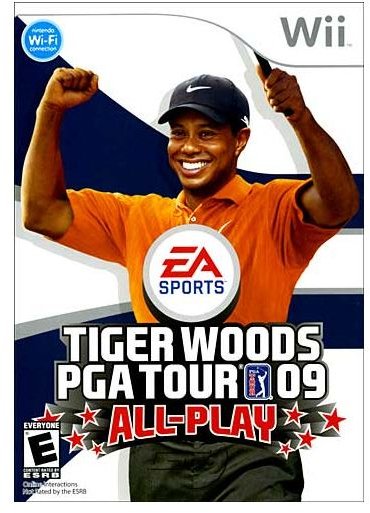 There is no shortage of golfing games available on the Nintendo Wii, with Tecmo's Super Swing Golf and its sequel and Capcom's We Love Golf!, as well as Carnival Games: Mini-Golf, Kidz Sports: Crazy Golf, and even the golf game included in Wii Sports all currently available. Clearly, then, for a golfing title to stand out from such a crowd, it has to do something really special. Fortunately for EA Sports, they know how to make pretty good sports games, and their entry into the golfing genre, Tiger Woods PGA Tour 09 All-Play, is an solid title that does so many things right that it makes it possible to overlook the flaws it does have.
Gameplay (5 out of 5)
Even though I recently reviewed the Nintendo Wii version of Madden NFL 09, with all of its amazing depth and its incredible array of features, I am nonetheless blown away by the massive amount of content Tiger Woods PGA Tour 09 All-Play contains. First of all, there's a high quality career mode that allows you to play through 50 different PGA Tour events, as well as the Tiger Challenge, which pits you against a variety of challenges from golfing greats such as Jim Furyk, Vijay Singh, Annika Sorenstam and even Tiger himself. Or if you prefer, you can just play a quick round using one of several different sets of rules, including Match Play, Stroke Play, Skins Game, Stableford and Modified Stableford Rules, Best Ball Challenge, Mini-Golf, a Target game and even a golfing take on the classic basketball game H-O-R-S-E.
Not enough for you? How about online multiplayer featuring simultaneous play for faster rounds, and that allows you to play either against gamers whose friend codes you have or against a random opponent from around the world? Or a new Golf Party mode that allows up to four players to complete in golf-themed minigames such as a Long Drive contest and even a game that has you try and duplicate Tiger's famous "juggling the golf ball on the end of the club" trick? Furthermore, the developers have included a really cool feature in which PGA Tour coach Hank Haney gives you advice and helps you correct errors in your swing, as well as the easier All-Play mode for beginners and brand new courses like Bay Hill in Orlando and Nevada's Wolf Creek, and you have an absolutely mind-blowing golfing game which really does seem to have something for all breeds of gamer.
Controls (3 out of 5)
Of course, all that content would be absolutely meaningless without decent controls, and Tiger Woods PGA Tour 09 All-Play fares pretty well in this regard. In order to swing the club, you point the Wiimote down, hold the B button and then perform a regular backswing and follow through. You can add spin to the ball while it is in the air by pressing and holding the control pad in any direction and shaking the remote. To change your target, tap A twice to get to the aiming circle, move it by holding B and dragging it (or use the control pad to move it). You can add draw or fade to your shots by clicking on the arrows next to the targeting circle, or by twisting your remote in the proper direction during your backswing. Putting is very similar, though different colors show you different height differentials and the interface is somewhat different.
For the most part, things work fine, with one glaring exception. Driving the ball is quick, easy, intuitive and responsive, and the game includes an excellent tutorial from Haney that teaches you all the basics. I thoroughly enjoyed hitting booming tee shots and landing them on the fairway, tweaking my shots to each individual hole, and working my way to the green. Once there, however, things fall apart. Putting is a major chore. For starters, the game sometimes even has trouble recognizing that I do indeed have the Wiimote in the proper position. Then the actual motion of the putt is choppy at best, as the game seems to have difficulty sensing the motions. It is immensely irritating to reach the green of a Par 5 in two shots only to wind up four-putting the whole because the game isn't properly reading my movements, and it nearly ruins an otherwise fantastic experience.
Graphics and Sound (4 out of 5)
Pretty solid effort here on the whole. The Create-A-Golfer engine used alongside Career Mode features a good amount of options to help you make a decent replica of yourself, while the pro models are good facsimiles of their PGA and LPGA Tour counterparts. The game also uses some real video clips during the Tiger challenge, which is a nice addition, and there's a slow motion effect that kicks in when you hit a really killer shot. That, I loved. The sound effects aren't bad, and I'm glad they decided to mostly feature toned-down instrumental tracks instead of the same hard-rock and rap stuff that usually permeates an EA Sports title. There's plenty of voice work, and most of its good. Haney's tips and the narration are excellent, but I can't say I'm crazy about the commentary team. They don't often have a lot to say, they have an annoying tendency to know predict right off the bat when a shot is going to go wrong or take a bad bounce, even if it looks good at first. For some reason, that really irked me.
Images
Overall Rating (4 out of 5)
For all of its cool features and the immense amount of content it contains, Tiger Woods PGA Tour 09 All-Play is essentially a game of extremes. When it's good, it's really good, and when it's bad, it's really bad. The euphoria of hitting an amazing chip-shot to earn an Eagle on a hole is equaled only by the immense frustration of finishing a hole with a Triple Bogey (or worse) while fighting the putting interface the whole time. Sometimes I loved it, sometimes I hated it. There were times I pumped my fist enthusiastically after finding the bottom of the cup with one of those signature slow-motion shots, and there were times when I struggled so badly on the green I felt like taking my Wiimote and chucking it through my TV screen. Hopefully EA can give the putting game a much-needed overhaul in next year's Wii version of their Tiger Woods game, but until then, I feel as though I can still recommend this game for at least a rental.