Free Downloadable Games - Abandonware and Classic PC Games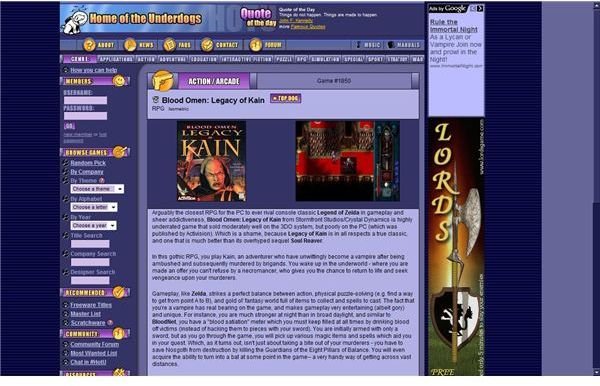 Free Downloadable Games and Abandonware
In this short series of articles we will discuss and discover great ways to both download and play classic PC games for free. Older games are often no longer available for legal purchase, meaning there isn't an outlet for them. Fortunately for avid video game enthusiasts websites which host or database abandoned software (abandonware hereafter) can be a rich source of classic PC games and provide some excellent experiences.
Abandonware games mainly exist due to either being discontinued by their publishers, requiring obsolete technologies, an expired copyright (placing the software into the public domain) or because of its non-existent support and legal ability to purchase the game anywhere.
When this occurs, the usually modus operandi of abandonware centric gaming web sites is to host the game or direct you to a site that has it for download. There are plenty of web sites that provide such a service for the avid retro PC gamer. In this mini-series of articles, we will look at some of the better places to find, download and play free classic PC games.
Take note that there are other articles on Bright Hub dealing with some of these classic PC games aswell as listing other places to download or play them for free. As linked in the paragraphs above and here.
Home of The Underdogs - Home of Classic PC Games
The largest collection of video game abandonware, freeware and shareware. Here is a great repository for anyone trying to find some free downloadable games and classic PC games. Not only do they host abandoned IP's and tout numerous free to play PC games, but they also give highly detailed analysis and in-depth reviews of almost every game in their expansive database.
Due to its size, the database is often very hard to get a grasp on, making it almost impossible to search and find a superlative game. If you know what you're looking for however, whether your cup of tea is Beneath a Steel Sky or Seven Days a Skeptic, the underdogs will certainly cover your needs. Of note is their hall of belated fame, which consists of a mammoth recommended list of games, as of now its at over 1000 freeware titles.
On top of this dizzying amount of information, downloads and recommendations, the underdogs also try to provide as many manuals and instruction for the games that they can, although many don't have any due to their independent release. Every individual game page also has author/creator names, system requirements, the themes or genre and a nice recommendation filter which shows 3 or 4 comparable experiences. Its quite a remarkable site and should probably strike any avid classic PC game player as the first stop for your abandonware game download needs.
The House of Games - Downloadable Abandonware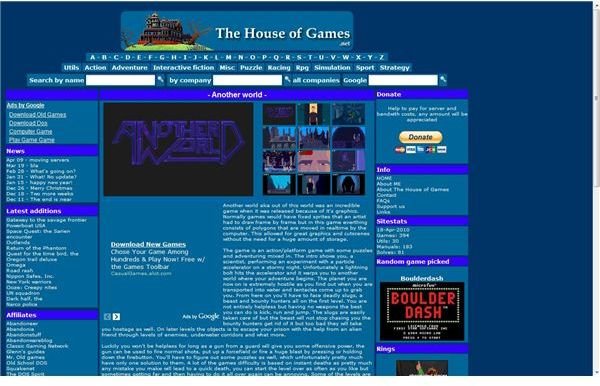 As a second entry into our look at abandonware and classic PC games available on the world wide web we have The House of Games. An eponymous site that has near 400 games, paling in comparison to behemoths like Underdogs or something we'll mention in part 2, with a review for each and a manual for around half of them. When checking the website out, you're presented with a message suggesting the author will try to complete all the games he adds before uploading them, which is quite a remarkable feat.
The reviews are often well written and give enough information to help make the decision on whether to play, download or invest any time into the title chosen. The site is also still relatively active, unlike the underdogs, and is still being updated and upgraded as time passes. Often games are the site are not available due to technological advancements. For instance, the use of floppy disks has long ceased, leaving a vacuum of games that will never be played without this site or ones like it.
In part 2 of this mini-series we will continue our look at some of the places to find classic PC games and free downloadable games while browsing the internet.
This post is part of the series: Abandonware and Classic PC Games
A two part article series discussing abandonware and some of the locations on the internet to find classic PC games for free download.