The Best Forza 3 Car List for Beginners on the Xbox 360: Cars to Help You Learn to Drive in Forza Motorsport 3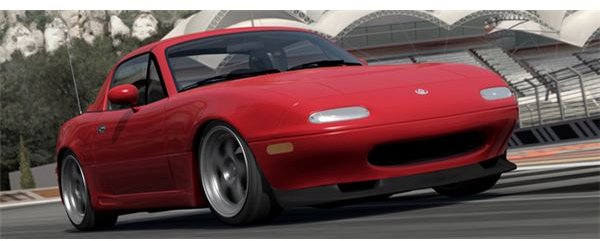 Back to the Track in Forza 3 - Champion of Racing Games
Forza 3 continues in the tradition of Forza 2 and provides one of the best racing games in the genre on any platform. There is plenty of white-knuckle racing to be had - but of course, games of this kind can be quite difficult for new players to get into. Forza Motorsport 3 already offers a huge number of assists for new players which can be turned on or off as desired, but one assist that the new player can use to help themselves is picking cars that are fairly easy to drive. This Forza 3 car list guide selects some of the most forgiving cars in the first few tiers so beginners can get on their feet.
Mazda Miata MX-5 Gen 1
When the Mazda Miata debuted in 1990, it started a revolution. As any driving enthusiast will tell you, the Mazda Miata re-invented the concept of small, agile roadsters. Although significantly down on power compared to some other F-class cars, the Mazda Miata's extremely low weight and outstanding response to driver inputs makes it one of the easiest cars to take corners with in Forza 3. It makes the front wheel drive cars given to the player after the tutorial feel like big, heavy pigs, and you'll likely need to re-calibrate your sense of what is possible in a hairpin turn.
The Mazda Miata is rear wheel drive, and it can get out of hand when pushed extremely hard. But that is also a strong point. The Miata is a superb car for learning how rear wheel drive vehicles handle in Forza Motorsports 3, and it is far more forgiving to sloppy driving than, say, a Porsche or even a Mustang.
Volkswagon GTI Mk5
The Volkswagon GTI Mk5 hyped by VW as a return to form. The GTI had become heavy and un-sporting over the years. Enthusiasts were puzzled, then, when the new GTI Mk5 did not seem to be much lighter or smaller than previous models - that is, until they drove it. Once the GTI Mk5 became available for purchase it quickly became apparent that this new GTI had brought back the fun to the car - and made it a great pick for racing games.
The heart of the GTI Mk5, and the reason it is great car for new players in Forza 3, is its engine. The turbo 4-banger in the Volkswagon GTI Mk5 is fairly unique among such engines in that it produces huge amounts of torque at a relatively low number of RPMs. This means that the GTI has kick-in-the-pants accelerate beyond what one would normally expect for each car. If you mis-shift in the GTI Mk5 it isn't a big deal. There is still plenty of omph to get you hurtling towards the finish line. The GTI Mk5 handles well, too. It under-steers gradually at the limit, but can be forced into oversteer as you become more experienced with it. This is why it's a great beginner car for any gamer in Forza Motorsport 3 for the Xbox 360.
Hyundai Genesis Coupe
Hyundai isn't exactly known for its sports cars. The Tiburon, the only sporting car it had previously made (which is also available in Forza 3) was seen as an also-ran overshadowed by better competitors. The Hyundai Genesis Coupe, has to be good for anyone to take notice. Well, pay attention - the Hyundai Genesis Coupe is a very good car, especially in Forza Motorsport 3.
Ranked at the top of D class in stock form, the Hyundai Genesis Coupe is easy to compare to the Nissan Z car variants, which are also real wheel drive and produce similar amounts of power. But while the Z cars tend to go into power oversteer if the throttle isn't babied when coming out of a corner, the Hyundai Genesis Coupe is extremely neutral. Push it too fast into the entry of a corner in Forza 3 and it will gently understeer. Push it too hard out of a corner and it will gently oversteer. The Hyundai Genesis Coupe is undoubtedly one of the easiest rear wheel drive cars to drive fast in the game, and it is a good upgrade for new players who own a Gen 1 Miata but needs something faster for new races in Forza Motorsports 3 racing games on the Xbox 360.
Mitsubishi Lancer Evolution X GSR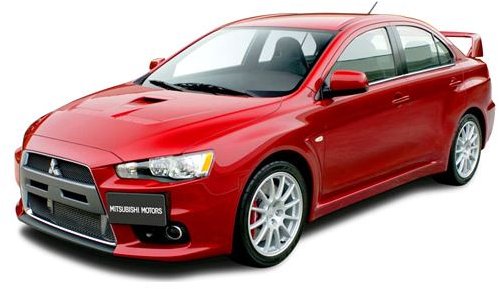 Moving on with our beginner's Forza 3 car list, is the Mitsubishi Lancer Evolution. This line of cars has become legendary for its otherworldly handling characteristics. This Evolution X GSR is the latest model of the line, and like all the Evo cars it has a superb all-wheel-drive system based off the systems Mitsubishi has used in rally cars. While the Subaru WRX variants are known for heavy understeer at their limits, the Evolution X is more neutral and thus easier to drive quickly. It veers towards understeer in some situations, but when putting the power on outside of a corner a mistake is punished by a forgiving four wheel drift.
The Evo X is a fast car, too, easily able to keep up with everything except for V8 powered muscle cars on long straights in Forza 3. Because it is all wheel drive, accidentally slipping off the course isn't a problem. The only negative to the Evo X is that it is bit on the portly side, and can be a bit hard to stop once if it gets truly sideways. A weight reduction upgrade can help cure that, however, and make the Evo X a superb car for C and B class racing in Forza Motorsport 3.
Nissan 370Z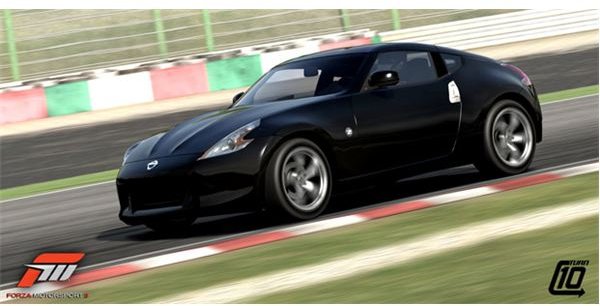 The Nissan 370Z is a powerful rear wheel drive car. Although some would rather not admit it, it is nearly as capable of a BMW M3 but costs about half as much to purchase. In fact, the M3 looks like something of an uncooth beast compared to the 370Z, as the M3 is heavier and less responsive to driver input. As a result, the 370Z is able to buzz through corners that would make the M3 - and many other big European and American sports cars - squeal in terror shortly before sending you into the nearest concrete barrier.
That isn't to say the 370Z is always easy to drive in Forza 3. It is easy to induce power oversteer and it is fast enough that you may enter corners too quickly without knowing it. However, the 370Z is much easier to drive than most other cars in the B class, and it is a good car to own before transitioning into A class, where just about every car is difficult to drive at its limits. Consider the 370Z the last hurrah of easy driving before you plunge into the fast and dangerous world of Ferrari, Porsche, and Lamborghini.
More Great Racing Games Fun
While Forza 3 offers some excellent racing games for any gamer, there are some other superb games out there that you will love too:
Burnout Paradise: Car Racing Game Review
Free Fun Games - Top Online Racing Games For Free
Need For Speed SHIFT Review for the Xbox 360
5 Super PS2 Racing Games That You Can Find On The Bargain Shelf