Fantasy Football Logos: The Best Site for Creating Custom Fantasy Football Helmet Logos
It can be hard to create an identity for your fantasy football team with nothing but a name to go by. Sure, many people come up with fantastic names, but a sweet custom logo to accompany it can be just the thing to create that intimidating persona you're attempting to craft for your fantasy endeavours.
Several prominent fantasy football sites (Yahoo! Sports chief among them) now allow players to upload their own custom logos for their teams. This is great for those with some artistic talent, but can be a bit of a challenge for those who can't draw a straight line.
This is where the Toyota Fantasy Enhancer comes in. Sure, the whole site is one big advertisement, but that doesn't change the fact that their logo creator tool is the best out there. While other sites offer a small selection of logos with limited customization options, the Fantasy Enhancer has enough options to satisfy even the most picky of team managers.
Custom Fantasy Football Logos
The interface for the creator is fairly straightforward, and should be familiar to anyone who's ever used MS Paint. You'll select from various clip art selections and use the tools at the top of the window to adjust your elements, add colors, flip them, or push them into the background.
The options are nearly endless. First, start with an element from the "main" tab. This will make up the basis of your logo, so pick something you'd be comfortable starting at as your mascot for the fantasy season.
Once your main graphic is selected and positioned where you'd like it, use the color tool to give it a customized look. Once that's done, explore the "cross elements" tab to add interesting elements like a massive lollipop or crossed crutches in the background. The "send backward" and "bring forward" tools can help you get just the look you want by ensuring that your main logo isn't obscured.
That done, move on to the "add-ons" tab to finalize your creation with some buck teeth or an eyepatch. Remember that you can position these elements anywhere you like, so they can be used in ways unintended by the original artists.
One thing to keep in mind is that this custom fantasy football logo will ultimately appear pretty small near your team name in the league lineup, so don't add too much detail, it'll just be impossible to see.
Download Your Fantasy Football Helmet Logo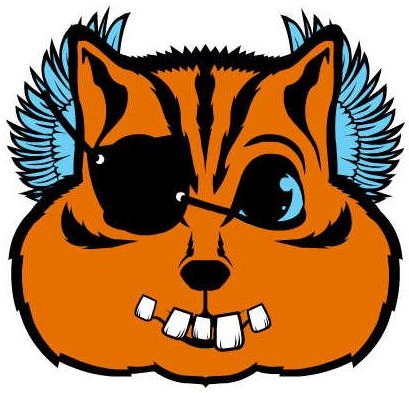 Once you've perfected your creation, click the "save" button in the top right corner to download your image or post it to facebook. The Fantasy Enhancer is designed for use with Yahoo! leagues, so you'll also have the option to head straight to your team settings and upload it if you have a team in a league on their site.
Otherwise, you'll simply have to upload your creation to your respective site's team settings and viola, you'll have the best-looking logo and be the envy of your league.