NBA2K10 Cheats, Achievements, Unlockables and More!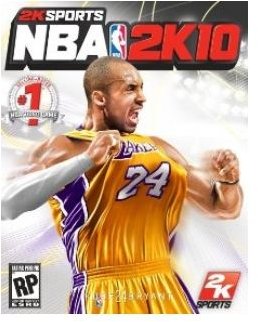 Visual Concepts vs EA Sports
The NBA 2K series, developed by Visual Concepts, is hugely popular amongst players of sport simulations due to realistic gameplay and complex AI choices by the opposition. It has always competed strongly with EA's NBA series of games, and has an equally large player-pool; similarly to the FIFA/PES debate, there have always been arguments on which series is the most realistic, which offers better AI and better gameplay.
Playing NBA 2K, particularly its latest incarnations, is most certainly a different experience than playing the games by EA sports; for one, it is much more difficult to score even at medium levels. Another difficult aspect comes in the form of AI-choices, meaning that the computer opposition is much more responsive and makes better decisions; you'll see better use of court-traps, double-teams and rotations and the PG's do not dominate like in the NBA series.
Because of all that you might decide that cheating is a better option for beating the game, instead of wasting time in trying to learn how to play it. Keep reading for NBA 2K10 cheats, unlockables and a megatrainer to give you that open-look!
Who Needs A Coach – Mega-Trainer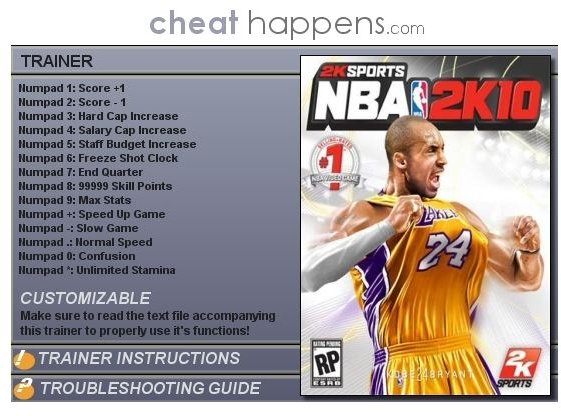 The Cheathappens.com mega-trainer is freely available for everyone and, as always, the coders have allowed for a variety of options in which aspects you can modify. This is done by launching the trainer and using the NUMPAD keys, as with all of the mega-trainers; the zipped file also includes instructions in case you have further problems.
Choose which version to download, depending on the patch you have applied to your game. Cheats include:
Numpad 1 – Increase your score by one. You may not notice the score changing as soon as you press it and of course you can press multiple times for an ample lead.
Numpad 3 – Increase your hard-cap so you can trade for better players or all-stars.
Numpad 6 – Freeze the shot-clock during gameplay, so that no shot-clock violation is possible and your offence can go on for as long as you want.
Numpad 7 - End the current quarter.
Numpad 8 – You get 99999 skill points ready for use
Codes For Unlockables
The following codes can unlock new jerseys, new teams and new balls. All you need to do is launch the game, go to "Options" then "Codes" and select the "Enter Code" option. The game will tell you what you have unlocked so you can enter the next code.
nba2k – Type it to unlock the NBA 2K development team.
2kchina – Unlock the 2K Sports China team.
2ksports – Used to unlock the 2K Sports team.
vcteam – Unlocks the Viusual Concepts (VC) squad. All these hidden teams are basically made up of different EA developers who worked on the game. With this you'll get Nat Marrinson, a twelve-year old kid related to Bruce Marrinson who works in the EA's VC dep.
payrespect – Unlocks the ABA ball.
eydonscar – You get another road Jersey for Grizzlies, Hawks, Mavericks and Rockets.
agsntrccai – You unlock the Bobcats racing-Jersey
aifnaatccv – You get Cleveland Cavaliers' "Cavfanatic" Jersey
asrdirmga – Unlocks the Hornets Mardi-Gras jersey
ycprtii – Trail Blazers RipCity Jersey
otnresla – Unlocks the All-star Jerseys.
riiasgerh – Unlocks the colourful St. Patricks' Day jersey for Bulls, Celtics, Knicks abd Raptors.
aihinntslgt – Latin Nights Jerseys for Bulls, Heat, Knicks, Lakers, Mavericks, Rockets, Spurs, Suns
nreogge – Nation Basketball Green Jerseys for Bobcats / Bulls / Nuggets
wasshcicsl – You unlock all "Hardwood Classics Nights" jerseys; for the Cavs, Utah Jazz, Orlando Magic, the Raptors, the Timberwolves, Portland Trail Blazers and the Warriors.
wydololoh – Unlocks secondary jerseys for Hornets, Orlando Magic and the Timberwolves.
Achievements
Achievements are the bread-and-butter of every sport/arcade game, and NBA 2K does not lack in those. There are a number of them, which you can find at this Cheatcc page, but we will list a few together with how to unlock them.
The Big Day – Get drafted in the 1st round of the NBA draft in My Player mode.
Keep Your Friends Close – Play some street-ball and win a pick-up Game in "My Player" mode.
My Air – You need to create your own exclusive "Air Jordans."
My Player of the Game – Be named "Player of the Game" (in an NBA game) in "My Player" mode.
My Every Day Player – Become a starter in the NBA in "My Player" mode.
Five by Five – You need to make five points or more in five different stats (i.e. five OR, five DR, five steals etc…) with any player in a game played by you.
Artillery – Make 15 or more 3's with any team, in a competitive game (time to bring Ray Allen on).
Block Party – Make 10 or more blocks with any team, in a game played by you.
Grand Theft – Record 10 or more steals with any team, in a game played by you.
Swat and Swipe – Record at least 5 blocks and 5 steals with any team, in a game played by you.
Smothering – Hold the opposing team's field-goal percentage below 40% with any team, in a game played by you.
The Closer – Hold the opposing team to 0 points in the final two minutes of regulation, in a game played by you.
G Performance – Score at least 48 points with Kevin Durant to set a new career high, in a game played by you.
G Dominance – Win by at least 50 points with any team, in a game played by you.
G Recovery – Play an entire game using manual substitutions, in a game played by you.
Air Apparent – Unlock all 40 Air Jordans.
Sprite Slam Dunk Showdown – Beat LeBron James in the "Sprite Slam Dunk Showdown."
This One Counts – Win one online ranked match.
Enjoy our NBA 2K10 cheats and remember: Hands down, man down.