Jurassic Park: Operation Genesis PC Review: A Unique Park Simulation Game for Dino Buffs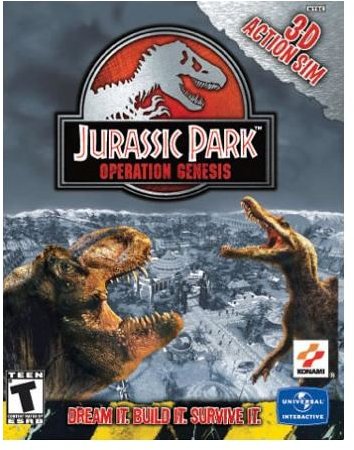 Jurassic Park: Operation Genesis (4 out of 5)
Amusement park simulation games like zoo tycoon, roller coaster tycoon, and sim theme park have always appealed to young and old alike. They are still considered one of the best selling themes on the PC gaming industry today. The entry of Jurassic Park: Operation Genesis PC game into the park sim genre was a welcome surprise for dinosaur and park simulation fans. The game was released on March 10, 2003 and is still played by many, thanks to its inimitable features, replayability, and attractive graphics.
Gameplay (4 out of 5)
Jurassic Park: Operation Genesis is based on the popular Micheal Crichton novel and Hollywood Box-Office hit movie Jurassic Park. The game puts you into the shoes of a manager who builds and runs a zoological park filled with various species of dinosaurs. The objectives of the game are similar to other zoo tycoon games: build a theme park, rake in cash (and as many people as possible), breed dinosaurs and take care of them, and perform many other odd jobs. But things won't be that easy, as some dinos might go into a rampage if not taken care of properly.
The one thing that makes Jurassic Park: Operation Genesis PC game different from other park simulation games is the ability to create dinosaurs from scratch. You will have to hire a team to hunt fossils and send them to other parts of the world to seek amber or dinosaur remnants. The remnants have to be sent to the genetics lab for extracting the DNA. You can then create a dinosaur from the genome of that species. This unique dino-hunting feature makes the game very different from other park sim games. There is lot of strategy involved as you have to spend your time and resources to select and buy fossils. Hatching dinosaurs will cost you dearly, but it can be a good investment for your theme park.
Operation Genesis allows you to create 25 different dinosaurs consisting of herbivore and carnivore species. The game boasts a detailed "dinopedia" that contains in-depth info about each species, such as their behavior patterns and their favorite foods. Some carnivore dinosaurs will love to hunt other dinos, so be careful while socializing dinosaurs. The "dinopedia" will surely help you in providing a detailed list of dinosaurs that can socialize and those that cannot.
The game has three modes: action missions, building a theme park with certain objectives, and a sandbox (open-ended) mode. Action missions consist of rescue and sniping missions, whereas the theme park building modes are mainly for creating your own theme park from scratch. Just download the game and see for yourselves the depth of gameplay. There are various Jurassic Park Operation Genesis download sites available.
There are different kinds of challenges in Operation Genesis. One of the most important challenges is to keep your park secure. You will have to provide a safe environment for both park visitors and dinosaurs by having security cameras all over the park and building electric fences to control rampaging dinos. You will also be prompted to build sentry guns for silencing uncontrollable dinosaurs. The in-game map will provide all necessary information about any flaws in your defenses. You can experiment with Operation Genesis game files to tweak your defenses and win any scenario. All you have to do is to add some new values and alter the game files. This in-depth Jurassic Park cheats list will help you achieve imminent victory very quickly.
You will also be prompted to build basic amenities and structures for your visitors to watch dinosaurs safely. The structures range from towers, vents and huge domes to view whereas amenities like restaurants and benches will attract more visitors. You can also add various tour packages for your visitors including the safari tour, a helicopter tour and a hot air balloon tour.
One of the most engaging aspects of the game is to perform rescue missions through helicopter for lost visitors and sniping uncontrollable carnivores from first person. You can also assign other AI helicopters for shooting and hunting.
Graphics (4 out of 5)
The Jurassic Park: Operation Genesis PC game has some very impressive graphics. The dinosaur movements and animations are well done. Just watch a brawl between two dinos and see what happens. The 3D graphics engine TOSHI did a very good job in rendering the lush grassy terrain. The dinosaur 3D modeling is equally impressive. You can clearly make a distinction between herbivore and carnivore dinosaur. The Brontosaurus' and Tyrannosaurs look great.
The environmental effects have a great overall 'weather' feel to the environment. Effects like rain, wind, lightning and thunder look very realistic. The game also has a great top-down perspective and lets you rotate the camera in any angle. You will be surprised to see the range of zoom options available. For a nice graphical experience, I would recommend you to tweak all graphical options to medium level rather than configuring it at an advance level.
Jurassic Park Operation Genesis Screenshots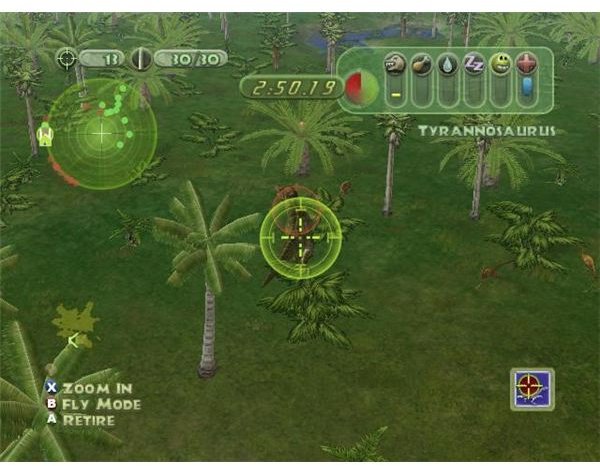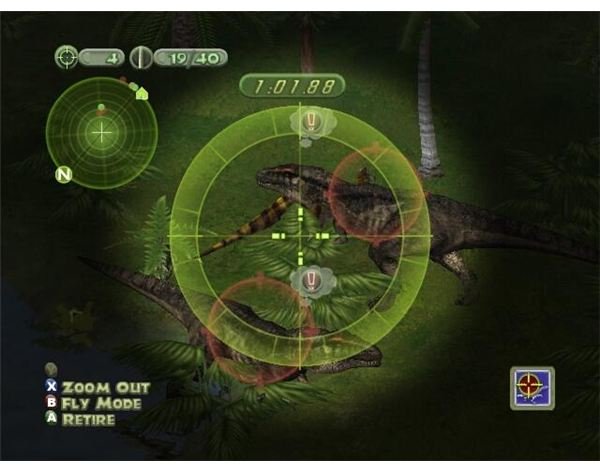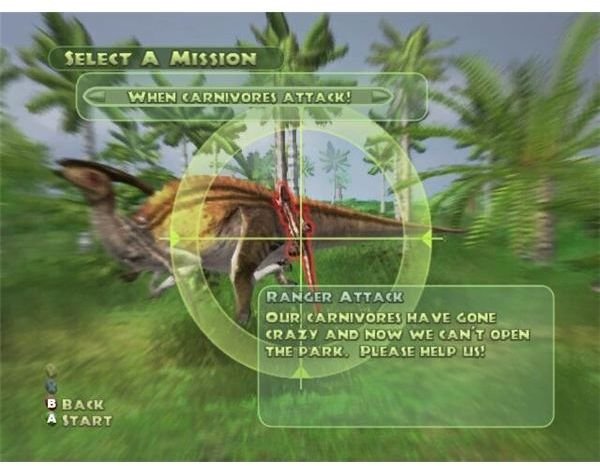 Sound (4 out of 5)
Jurassic Park: Operation Genesis has some impressive orchestrated music borrowed from the original motion picture. Each dinosaur makes a distinct noise whether it's hunting, sick, or frightened. The game also has characters from the motion picture. You will interact with Samuel L. Jackson and Sam Neil's 3D modeled character. The voice acting of these characters is nicely done, although the voices are not original. The voices are lent by stand-ins and not original characters.
Overall
The Jurassic Park: Operation Genesis PC game can be a nice addition to your park simulation games due to its gameplay depth and replayability. I loved the fossil hunting and the rescue missions, as they are some very unique features of the game.
There are various options and features to utilize. The zoom feature is by far the best compared to all games of this genre. The freedom to rotate camera angles adds more excitement and intense moments to Operation Genesis. The voice-acting should have been much better, but overall the noise each dinosaur makes is interesting to hear. The Developers have also released some mods for this game. Jurassic Park: Operation Genesis Mods are available in many sites for free.
System Requirements
Operating System: Windows 98/ME/XP
Processor: Pentium 2 400MHz
RAM: 128MB RAM
Hard Disk Space: 650MB
Video Card: 16MB 3D accelerator graphics card or DirectX 8.1 compatible driver
DirectX 8.1 compatible sound card