Best Xbox 360 Headsets, Wireless and Wired Accessories for Xbox 360 Communication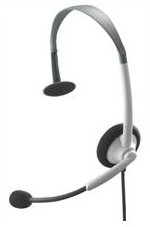 One of the greatest innovations of Live on the original Xbox was the seamless integration of voice chat into online play. Gone were the days of typing messages with an awkward software keyboard or relying on a few stock phrases for communication (I'm looking at you, Resident Evil: Outbreak).
The Xbox 360 continued this trend, even including a headset with most console systems so that no gamer needed to be without the ability to communicate during a gaming session.
For the truly hardcore gamer, however, the standard 360 Live headset is simply not enough. Check out these great Xbox 360 headsets, along with a quick rundown on the pack-in version, just for comparison sake.
Microsoft Xbox 360 Headset
The standard headset that is included with most 360 consoles is quite frankly the lowest common denominator in Xbox voice communications. It does allow you to communicate, but with other affordable higher-quality options on the market, there's not much to recommend it.
The over the head design is uncomfortable, the speaker is hard to hear, and the microphone is mediocre at best. The quality is definitely lacking, as these things break very easily.
Basically, use it only if you can't afford another headset, or keep it around for a buddy to use when you go online together.
Plantronics GameCom X30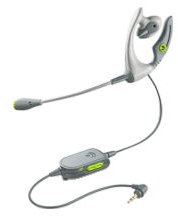 When it comes to headset manufacturers, there are few with a pedigree like Plantronics. When Neil Armstrong delivered his famous "one small step" line from the moon, it was through a Plantronics headset. It's hard to argue with the quality of a manufacturer with a legacy like that.
The GameCom X30 is an excellent low-cost solution for your 360 communication needs. For around 30 bucks, you get good sound quality, comfort, and reliability. The design is based on the Halo 2 Special edition headset for the original Xbox, but with an improved earpiece and aesthetic changes. The X30 has noise canceling and is very comfortable for those extended gaming sessions.
One oft-overlooked feature of all Plantronics' corded headsets is the fact that you can plug them into your cell phone as well as your 360. When your phone rings during an intense session of Halo 3, just unplug from the controller, plug into your phone, and keep right on destroying Covenant forces.
Microsoft Xbox 360 Wireless Headset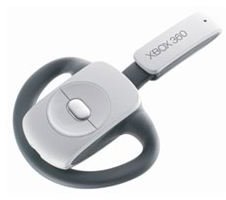 Microsoft's first-party wireless headset is pretty much the gold standard when it comes to Xbox 360 communications. The ergonomic design makes it comfortable to wear for long periods (the headset sports an 8-hour battery life) and the 30-foot range ensures that you can make that trip to the fridge without interrupting your conversation.
The volume controls are on the headset itself, and can be easily adjusted mid-session. For about the same price as a new Xbox 360 game, you can pick up this headset that will last you the lifetime of your system, without any cumbersome wires to deal with.
For gamers who can afford it, it's hard to do better than this headset.
There's a headset here for just about any gamer out there. For the total masochists, there's Microsoft's pack-in freebie headset. For the gamer looking for versatility and comfort at a reasonable price, there's the GameCom X30. For the 360 Owner looking for the Cadillac of headsets, or anyone who spends a lot of time communicating through their 360, there's the Microsoft Xbox 360 Wireless Headset.
More Xbox 360 Accessories
Want to know about more Xbox 360 accessories? Here are some other great articles here on the Console Channel about other Xbox 360 accessories that you can't be without:
Cheap Xbox 360 Accessories For You To Enjoy
Nyko Charge Station for the Xbox 360: Is It Worth The Dough?