Learn How To Install Addons For World Of Warcraft In Vista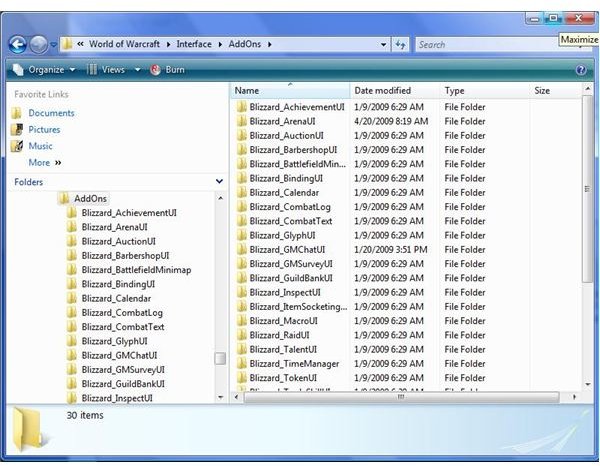 What Are Addons?
Addons are third party bits of code that fans of the game World of Warcraft have created in order to improve or enhance your gaming experience. They are not cheats, nor does Blizzard allow addons that "cheat the system". They have embraced the user community however, basically saying that if you want to create an addon, feel free to. They just want you to make sure that it does not try to alter the gameplay, cheat others, contain objectionable material, or cost anything. All in all, it's really nice that Blizzard has taken this approach, since it allows for the development of some really nice tools. The game is great already, but the addons you can download will raise your WoW experience to new heights.
Where Are These Addons?
If you do a search on Google, you'll find countless pages dealing with addons in WoW. Much like the popularity of the game itself, the addon resources have exploded to incredible proportions. The sheer number of addons is too great to explore here, but there are a few noteworthy addon sites that deserve mention. WoWInterface.com is one site that provides some great addons. WoWMatrix.com is another worthy site. Curse.com is a popular addon site, providing a program that is completely external to WoW itself. Their list of addons however, is stellar to say the least. You can also read some excellent articles regarding addons here, here, and here.
The Vista Difference
If you have not realized it by now, Windows Vista is different from any other flavor of Windows. This includes the installation of addons in WoW. Normally in Windows, you would place addon files in something like "c:\program files\World Of Warcraft\interface\addons" - assuming you did not change the default installation location. Vista is different however, so you will need to take the following steps to install an addon in Vista:
1. Download the addon you wish to install.
2. Extract or move the addon files to "c:\users\public\games\World Of Warcraft\interface\addons"
Once you have done this, the addons will be available when you launch the game. If you have installed to somewhere other than the default location, the path will be slightly different but should contain the same structure under the "World Of Warcraft" folder. Understand also, that if you are trying to install addons while WoW is running, they will not be ready to load until you exit and restart the game.
Time To Game In WoW
WoW is an awesome game, and addons are a nice enhancement to this. The fact that Blizzard has embraced these improvements is a great sign as well. Just because you're running Windows Vista however, doesn't mean you can't use this same functionality like everyone else. The install path is different, but the changes are minimal and not too difficult to deal with. If you've been playing WoW on Vista without addons, it's time for a change. Addons will completely alter your gaming experience, and there's no reason that Vista's peculiarities should hold you back.