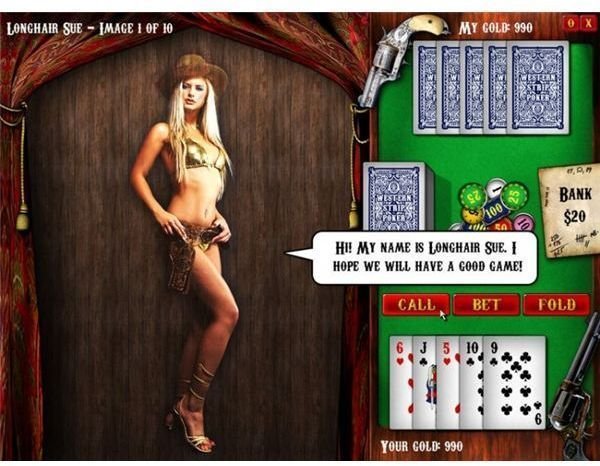 Moral Crusade on Games
For a long time moral crusaders expressed horror at various movies. They decried the violence and sex and questioned the impact it might have on impressionable youth. Nowadays it seems the videogames industry is top of their hit list. While violence has always been prevalent in games, sex and nudity has been relatively rare. Whenever it does pop up there are scores of ignorant detractors trying to drum up support for censorship. It is only relatively recently that developers have been able to include nudity and sex that bears any relation to the real thing in their games but it is still incredibly tame when compared to TV or movie sex. Why the outrage?
Early Games Nudity
There have been games with nudity since the beginning but it was so crudely done and so rare that it escaped much attention. Looking back at games like Custer's Revenge or the ridiculous Chiller now, the blocky pink nude bodies are laughably crude. Both those games quite rightly took more flack for their violent content and racism than they did for the nudity.
The first games to feature proper nudity were Strip Poker simulators. They would often use an actual photo and slowly reveal the nude model beneath if you won at cards. Then there was the age of the video footage (Full Motion Video or FMV) games like Phantasmagoria. It came on around 100 CD ROMs and allowed you to steer your way through a series of cut scenes with the odd saucy scene thrown in.
Sexy Games and Mods
Sexy games have traditionally been pretty rotten. The Leisure Suit Larry series always springs to mind but the early releases there were actually free of nudity, they just suggested it a lot. The more recent efforts have included nudity but it is cartoon style and the poor quality of the game is more worthy of vitriol than the nudity is.
Most recently the GTA series has been the main target of moral outrage. It started out with complaints over the violence but with the GTA: San Andreas "Hot Coffee" mod the cries for the game to be banned reached fever pitch. (I tried to sell my copy to EB, but they wouldn't take it because they were only allowed to sell a later version of the game which blocked the mod. -Ed.) Most of the people who called for the ban didn't seem to think they even needed to see the content to judge it. The thing is mods and nude patches for games have existed for years. The nude patch for The Sims was hugely popular and there was the dodgy looking Lara Croft in all her glory in Nude Raider as well! Berating a game for what modders come up with is about as apt as writing Play-Doh a letter complaining that some naughty children used it to make inappropriate anatomic approximations.
Is Interactivity the Problem?
The key problem for some seems to be the fact that games are interactive. Let's be honest, you can see the same level of nudity and a lot worse on a typical night of television programming. Even adverts commonly throw nudity into the mix nowadays and they depict real people. Add to that the prevalence of porn on the Internet and getting hot and bothered about a roughly modelled naked woman seems like overkill. Much of the outcry about the GTA "sex mod" was that it involved more than watching polygon-porn; apparently, pushing buttons on a controller and being able to change how the on-screen images copulate is more morally objectionable than passive observation.
Getting Warmer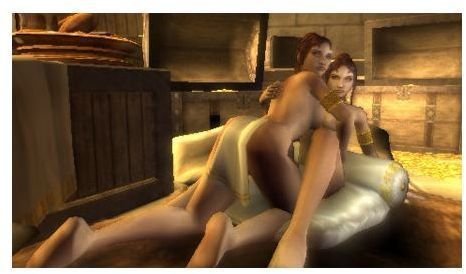 In the last few years developers have been adding more nudity into their games. The graphical standard has improved to the extent that some of it is actually approaching arousing (I'm thinking of the God of War threesomes (thanks for sharing that Simon -Ed.)). There was also the Playboy: The Mansion game for a bit of crude boob admiration. More recently there have been glimpses of nudity in Mass Effect and you'll find a lot of nudity and sex in MMO games but much of it is user created.
The other approach still exists. There are still games with real nude girls in them. Strip poker remains popular (you can even get Sexy Poker on the Wii) and there was the embarrassing The Guy Game, which was actually a quiz which rewarded correct answers with a topless shot of some drunken teens. It got banned because one of the girls was only 17. Classy. BMX XXX also had video footage of topless dancers.
Give Games a Break!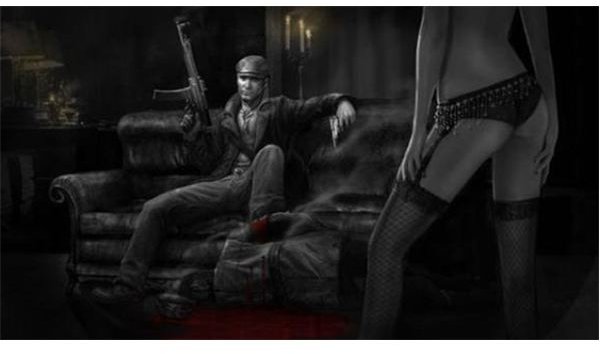 The Saboteur is a WWII game set in Paris, and it featured topless girls in the Belle de Nuit nightclub. but perhaps to pre-empt any moral outrage the developer Pandemic has included an option to switch off the nudity. Considering the game has a mature rating anyway it seems daft that they are doing this.
At the end of the day you can sign up for some form of armed service at the age of 16 in most countries, and be considered responsible enough to use a firearm to hunt even younger than that in some. You can also have sex with an actual naked woman (the age of consent in the UK is also 16, not that most kids wait that long) but you can't see a graphical representation of sex until you are 18. The news, the papers, TV shows and movies are full of sexy shenanigans, so why do games get so much flack? Could it be because the older generation, unfamiliar with games, think of them as "for kids" so the inclusion of mature content is deemed by them as aimed at children?
We have an age rating board (ESRB) carefully maintained by an industry association (ESA) in a system similar to, if not outright copied from, the systems used in the film industry (MPAA in the US). Like the motion picture industry, enforcement at the retail level is probably the hardest part of the system to implement. Ultimately, though, it is up to parents to decide what is suitable for their kids. They should be keeping an eye on the games their kids play just as they need to keep an eye on their web browsing and the movies they watch. With sex being used to sell everything else why can't games get in on the act? It is surely only a matter of time before the first big smash hit game to deal with sex head on makes an obscene amount of money.
References
Author's own experience.
Screenshots from Western Strip Poker, God of War and The Saboteur.