Trainer, Unlockables and Resident Evil 5 PC Cheats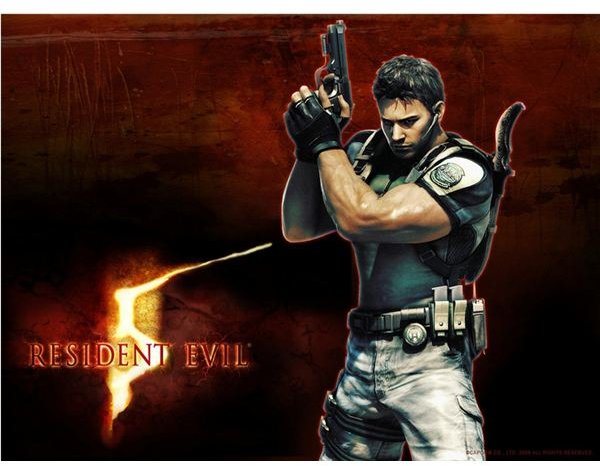 Resident Evil 5: PC Cheats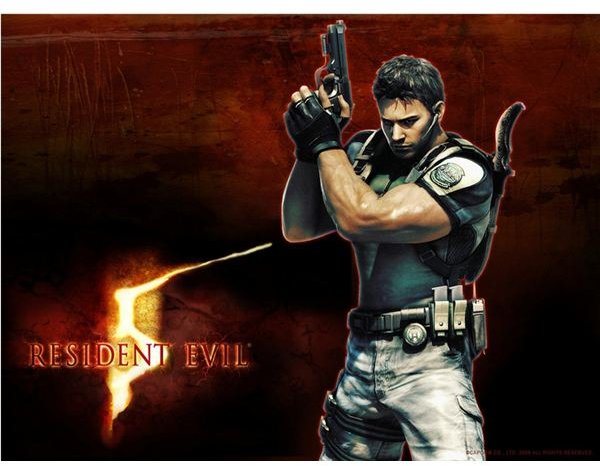 There are different ways to cheat in Resident evil 5; you can download a trainer, which will have things like unlimited health, ammo etc…, cheat by duplicating items or complete certain areas or chapters to unlock content.
This Resident Evil 5 PC Cheats article will include some of the unlockables available, a way to duplicate items to help you out and a link to the trainer released by the people at Cheathappens.com. The trainer should provide you with most of what you need, but in case you want to know about unlockables we'll include that too.
Read on to find out about the Resident Evil 5 PC Cheats you need.
Trainer by Cheathappens.com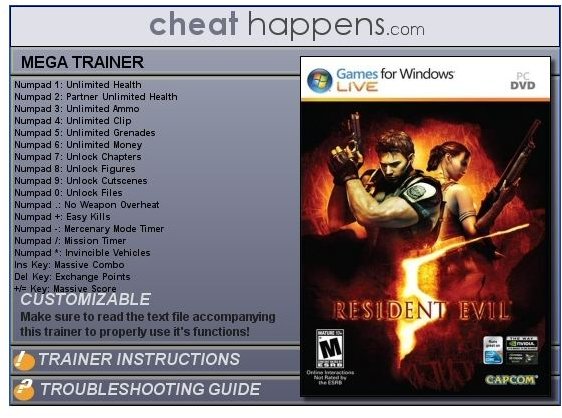 As mentioned, Cheathappens has a trainer available for the game – specifically the work of "PWizard" and "Caliber" – which has a number of options to help out your game if you want an easy way to complete it.
Just download the trainer and run it behind your game, then use the NUMLOCK keys in order to activate the various options. The trainer works for DirectX10 but some have reported problems when using DirectX10 (i.e. Crash-to-desktop when activating Mercenary-Mode). The RAR archive includes a "Read Me" with instructions.
Some of the trainer options include:
Unlimited Health – Keeps your health-bar full
Unlimited Ammo – Reloading does not decrease ammo
Unlimited Clip – More useful than "Unlimited Ammo" since you don't waste time on reloading your weapon.
Unlimited Money – Always useful
Unlock Chapters – Unlock and play through any chapter
Duping Items
You can duplicate items if you are in multiplayer mode and have someone else who is willing to be your "partner in crime." You can use "duping" to replicate expensive items and sell them on.
Hand the items you want to dupe to your friend, then have him/her leave. The game will ask if your friend wants to save progress: have him/her select "No". Next, the game will ask if your friend wants to save statues: have him/her select "Yes."
Now quit the game yourself and select "No" to all saving options the game prompts. Log back in and you'll have "duped" items.
Unlockables
Here are some unlockables by category. These are not Resident Evil 5 PC Cheats, but it is helpful knowing what each play-through unlocks in the game, and what each unlockable does. Just so you can decide to play a particular way to unlock the one you want.
Filters – Achieved by completing the game on "Amateur" difficulty. These alter the look of your game; "Classic horror" filter looks black & white, "Retro" adds sepia tone and "Noise" adds a slightly fuzzy-effect to the game, so it looks like a bad VHS camera.
Outfits – Dress up your character with some unique outfits. To unlock all outfits in the game, achieve "A Rank" in these areas: Experimental Facility, Ship Deck, The Village, Ancient Ruins, Public Assembly, Missile Area, The Mines and The Prison.
Uber Weapons – You need to fully-upgrade the following weapons (if you want use "unlimited money" from the trainer or item-duping): M92F Pistol, S&W M29, Ithaca M93, VZ61 Machine Gun, S75 Rifle.
These upgrades unlock (in order with the above): Beretta 83R, S&W 500 Magnum , Hydra Triple Barrel Shotgun , Gatling Gun (Chris), Longbow (Sheva).
For more tips and a comprehensive list of achievements, visit this Resident Evil 5 PC Cheats page.