V-SCREEN Review For The PSP: Augment 3D Reality You Can Carry With You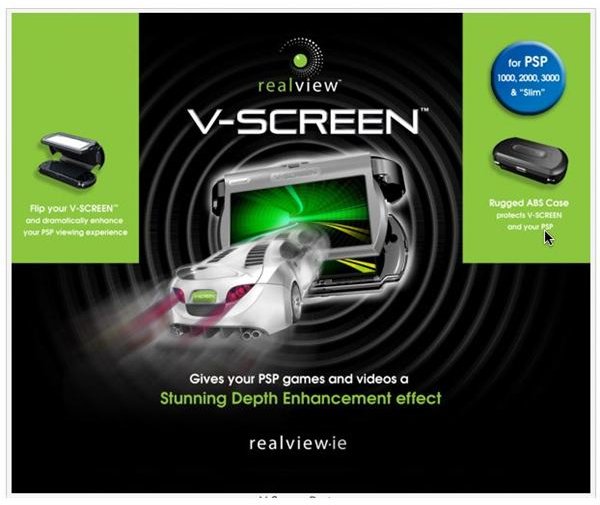 3D For the PSP
Everyone wants 3D these days - but not everyone wants to be sitting at home watching 3D on their television. They want it on their portable game consoles - specifically they want it on their PSP! V-SCREEN listens to what people want (at least those with PSP's who want 3D), which is why they amde the V-SCREEN a hardware accessory that doubles as a case to carry the PSP around safely. How the V-SCREEN works isn't a mystery and in fact who cares? THAT the V-SCREEN works is what makes it cool to have and use.
PSP Setup
The V-SCREEN looks almost like an oversized eyeglasses case. It's made of rugged and resilant ABS plastic so you could drop it without fear - though anyone who does so with a PSP inside of it does so at their own risk! You open the V-SCREEN's case and put the PSP inside where it sits snugly. Should you have the PSP Slim - a silicone insert goes in first to help grab and hold the PSP. Otherwise any PSP model fits nicely - except for the PSP GO which is too differently shaped to include (a PSP GO-specific model is being readied so users of this latest model need just be a bit patient).
Once the PSP is inside, you release a latch on the top lid to spring the speciasl reflective lens up and out. Looking through this lens is what the V-SCREEN is all about. You don't need to wear any kind of funky glasses or play only special "3D" games on the PSP - just play the game you normally would and watch it enhanced to "3D" by the V-SCREEN. The only batteries that are needed are already in the PSP so that's the end of that.
V-SCREEN and PSP Games
The makers of V-SCREEN call what the lens does "Depth Enhancing Screen Technology." I just call it cool. It's a process that has been attempted before - and by before I mean I remember something of this kind over 20+ years ago - but V-SCREEN gets it done right. It also helps that the PSP's screen is nice and bright since you lose some light (and a bit of contrast) looking through the lens. Of course that's kist normal physics.
I used V-SCREEN with a lot of games and my opinion is as follows: first, I like it - it's a fun view and the "3D" effect (or augmented reality if you prefer) works best when the game has fast moving objects that zip across the screen. So shooters and action titles work best with the V-SCREEN, while games that are more sedate (Brain games for example) tend to exaggerate the effect and appear a bit silly. Car racing games are really effective to use with V-SCREEN, especially when the cars are moving away from you towards the horizon.
Playing PSP Games in 3D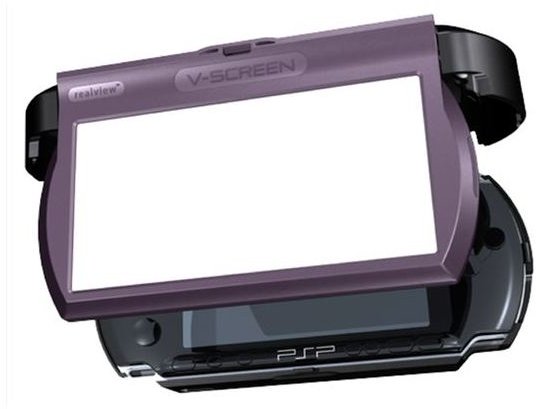 Now I was worried that the V-SCREEN's "3D" would make playing games more difficult because my attention would be taken away by the effect the lens is generating. No worry there - the larger image actually makes playing easier (for us oldsters with poorer eyesight than a 15 year old), although those wearing glasses might find removing them "brightens" the image a bit. Keeping the screen clean helps the V-SCREEN work at its most efficient, so it's a nice touch that the company includes a cleaning cloth. Given the choice between a cleaning cloth and a little instruction pamphlet, I'll take the cloth. Which is just as well since there is no instructions included, it's all on the box. Obviously it's simple enough not to need instructions and about the only thing that takes a moment to get is how to release the lid holding the lens.
The V-SCREEN may not be "real' 3D, but PSP gamers will find it more than fun as it augments what they see and transforms it from the normal and boring 2D world.