Some of the Best PC Games Are Now on Steam - Why PC Gaming is Not Dead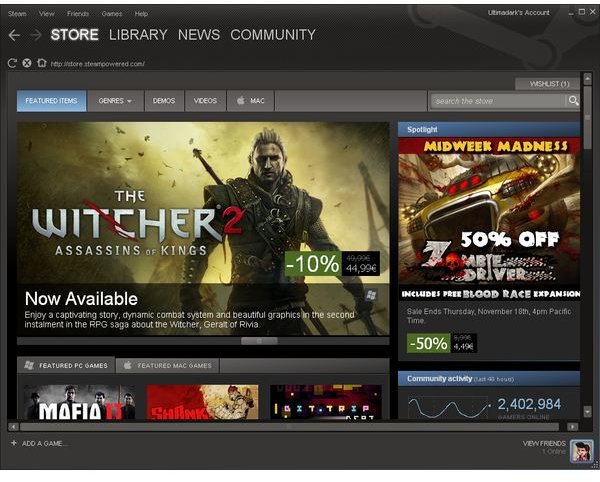 Introduction - Why PC Gaming is Not Dead, It Is Thriving
PC games just aren't what they used to be. You won't find them dominate the gaming shelves at retail, and even more game changing is that for years now, many studios who started out on the PC have now shifted their business more towards consoles instead, with Epic (Gears of War 2) and Lionhead Studios (Fable II) having great success there.
While this may be unfortunate for PC gamers, I still think that people are unaware of some of the great things going on now with PC games. Here are five reasons why PC gaming is not dead. In fact, PC gaming is growing as a total percentage of market share compared to consoles. With the rise of social and web games, online games, MMORPGs, and digital distribution, PC gaming is thriving more than ever.
1. Steam
With millions of players each day logging into Steam, Valve's digital distribution outlet, it's a testimony to one of today's success stories in the PC games industry. You just don't get millions of users playing your games on your service unless you offer some compelling products and features; Steam has clearly shown they can bring that to the table. One reason for Steam's success is Valve's commitment to establishing strong multiplayer experiences for their games. Steam exclusively owns some of the best-selling multiplayer PC games right now, such as Left 4 Dead 2, Team Fortress 2, and Counterstrike: Source. You combine those rich multiplayer games with Valve's own Steam achievements, cloud gaming, community features, and friends list, their service is going to be a hit.
While they may be known more for bringing big franchises to consoles, some of the top publishers in the gaming business have also jumped on the Steam bandwagon (as well as on other digital distribution services). The publishers realize that if Steam has millions of users, it's a no-brainer to bring some of their best franchises to the service. Games already on Steam include Electronic Arts' Mass Effect 1 and 2, Bethesda's Fallout 3 and Fallout: New Vegas, and the prime example being Activision's Call of Duty: Black Ops, one of the most popular Steam games being played online right now.
2. Indie Games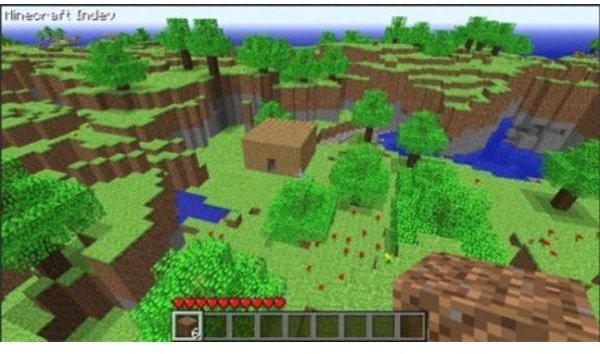 Some of the best games to come out of this generation isn't just from big studios, but also from independent development teams or individuals who are just passionate about making original creative products you won't find at retail stores. For most of these indie developers, the PC is the home for their games, and the results have been fantastic for many of them. One way some PC indie developers have succeeded is how they managed to get a deal to have their games on consoles. Whether the reason was because of good sales or critical praise, it's now a fact that indie games have gotten the attention of Sony, Microsoft, and Nintendo. Now PC indie games like Darwinia, Defense Grid: The Awakening, and Cave Story can be played on Xbox Live, Playstation Network, or Wiiware.
The Strength of Indie Games on Flash Portals
Indie games have also found a perfect home on popular flash portals like Kongregate, Adult Swim, and Newgrounds. Kongregate is one of the giants of flash based gaming, with over 10 million users monthly. Flash gaming has become a hit for gamers mainly because they're free, unique, and accessible; they include features like leader boards and achievements, backed by an active online community; but probably best of all, you can get a satisfying and full experience with many of these flash games during a short playing time. These websites have earned enough of a good reputation that even the mighty Gamestop has jumped into the flash gaming business by buying Kongregate this year. Adult Swim Games is another one of the best flash portals lead by some pretty good independent developers; and it definitely showcases how creative some of these indie games can be. Take for example the excellent satirical game, HRmageddon, a bloody strategy game that takes place in an office room; the goal is take over as many territorial hot spots (cubicles and coffee room for example) as you can; it's pretty much in the line of Fire Emblem, only this time you won't play as knights and magicians, but as office employees with pens and staples for weapons.
The Amazing Story of Minecraft's Success
The story of the year for PC gaming in 2010 is probably Minecraft, where it has already sold over half-a million copies in its first year, which makes the guy who made the game, Markus Persson, a very rich man. Not only were the sales spectacular, but the buzz on the internet was very strong, on Twitter, on Youtube, and the gaming press, as Minecraft received a lot of positive headlines from popular websites like Kotaku, Destrucoid, and IGN. It's nice to see an indie game get so much love from so many different places.
3. GOG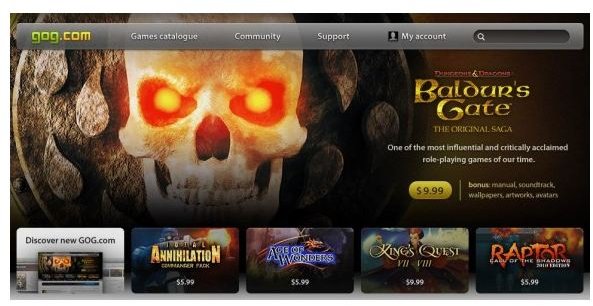 Gamers love nostalgia, and CD Projekt's digital distribution service called GOG (Good Old Games) has provided a great niche for people who want to go back and play some of the best classic PC games of all time.
The reason for CD Projekt's success lies in some advantages that their service has: they continue to build a library of classic games that are just hard to find anywhere, even online; that gives them more leverage than any other competitor out there, because no one else can deliver the games that they do. Best of all, the games are DRM free, cheap (they sell for either in $5.99 or $9.99), and includes extras such as soundtracks and avatars; and downloading the games is easy to follow and get over with.
GOG's Library Just Keeps Getting Stronger
The service will only continue to get better and more popular as CD Projekt continues to convince more publishers in bringing some of their excellent classic PC games to GOG. Two of the best moves so far is first, the deal with Activision, which means GOG users can now download the King's Quest and Gabriel Knight series for very low prices. Another great move is convincing Atari to bring in their games, so now GOG finally has some of the greatest CRPGs in their library, including Bioware's Baldur's Gate I and II, along with what many say is the best PC game of all time, Planescape: Torment.
How exciting it would be in the future if GOG added to their library Sam & Max: Hit the Road, System Shock 2, or Grim Fandango.
4. Blizzard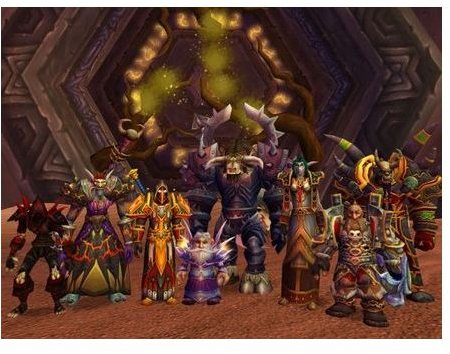 With the three headed monster of Starcraft, World of Warcraft, and Diablo, Blizzard continues to be a dominant player in PC gaming. Even though their franchises go back more than a decade, they still maintain a loyal fanbase even today, as every new game they release continue to sell in the millions. How relevant is Starcraft still after all these years? In the first month of Starcraft II's release, the game had already shipped over 3 million copies; 1 million copies were sold on day one.
World of Warcraft, while more than six years old, is still the dominant MMORPG. The Guinness Book of World Records says that WoW is the most popular Massively Multiplayer Online Role-Playing Game, with more than 12 million subscribers playing. World of Warcraft right now has no real competitor in sight to dethrone it, as the game continues to steamroll with best-selling expansion games in The Burning Crusade and The Wrath of the Lich King.
5. Facebook and Social Games
Social games are now the real deal, with more than 200 million people playing them every month; and the face behind this new way to play games is Facebook. It's the most popular place to social games because it simply has some of the best games there, including Mafia Wars and Bejeweled Blitz. Facebook is the world's most successful social network so it makes sense for it to be the perfect platform for friends and family to communicate, interact, assist, or compete with each other on these games. You can immediately invite a friend for assistance in decorating your fish tank in Fishville; or you can compete against them in a game of poker in Texas Hold'Em; or you can ask for their help in raising your farm in Farmville. The social interaction combined with the accessible and entertaining games is a formula that has worked very well for Facebook and other social networking sites.
While social games may be alien to more traditional gamers, it shouldn't be too hard to understand the appeal that it brings.