How to Buy Computer Games: Tips on Purchasing Best Buy PC Games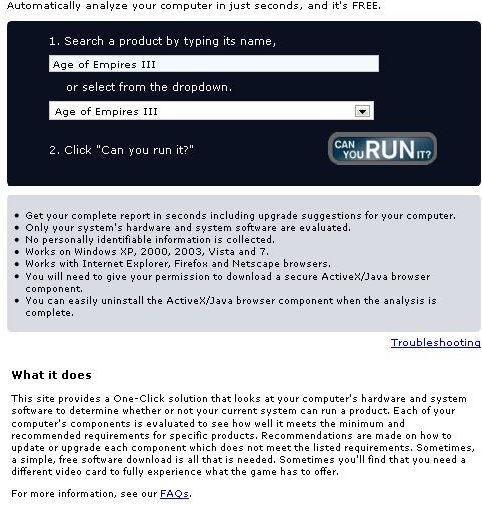 Best PC Games to Buy
You will find plenty of reviews, previews and in-depth information on popular and not-so-popular PC games over the Internet. You may also be inclined to a particular genre including FPS, RPG or Puzzle. While this may help you choose your favorite PC titles, there are other aspects, including the best places to buy computer games, that need to be ascertained before buying one. Here are a few points to note:
PC Specifications
This is the most important aspect that determines whether your favorite videogame will run on your PC. In every boxed videogame, you will see a "minimum system requirements" label at the back of the box cover. Minimum specs are also displayed in most PC game reviews or on the official website.
Before you buy PC games, first find out whether your computer meets the requirements of the games. The minimum specs include the amount of RAM, processor speed, hard drive space, operating system and most importantly—the graphics card. Check the back cover of a boxed PC game or visit the official website and note down the requirements.
There are some sites that can tell you whether your PC can run a game or not. Sites like www.systemrequirementslab.com are useful tools to automatically analyze the system specs. Just select the videogame from the drop-down menu list and click on "Can You Run It". The site analyzes your PC and suggests whether your PC will be able to run the selected game or not.
Buy Computer Games: Online or Retail?
Avid gamers can buy PC games:
From a videogame retail store
Online direct downloads
A game retail store may be the best place to buy PC games, but it has some disadvantages. You cannot pre-order a brand new PC game. All you have to do is to wait for a PC game to hit the stores after getting released in your country. Some stores may fall short on PC games, making you wait for weeks before they re-stock. Moreover, some gamers are of the opinion that newer titles are only available in retail stores, but sites like Steam sell brand new titles the same day they get physically released. On rare occasions when there are problems with manufacturing or delivery of physical media, direct download sites will often beat the traditional product to market.
Some gamers still find retail shops as their first choice to buy computer games. They just love to collect the outer shell (box) of their favorite title whereas others look out for special editions full of maps, figures, and other tangible goodies. Nevertheless, there are very good internet alternatives to retail stores. They offer older titles at affordable rates, offer special editions at competitive prices and also allow you to pre-order games. Leave your computer and the download client on, and you will have the game as fast as you can download it after release, no waiting for a store to open or finding time to get there. In the next page, you will find some of the best places to buy and download PC games over the Internet.
Best Buy PC Games Online: Steam and Other Alternatives
Steam: A popular site for all your direct download needs, Steam not only offers popular titles at competitive prices, but also sells new titles. What's more, you can pre-purchase unreleased PC games. You don't have to wait for the game to get released first and then form queues to purchase it from retail stores. Just pre-order it and download the game on the release date.
There are many other advantages of Steam. The site sells older titles at cheaper prices than the retail versions. Take the example of Deus Ex: Game of the Year Edition. If you purchase it from internet shopping sites like Amazon.com it will cost you between $40 and $50, but the same game costs only $9.99 on Steam. Steam also offers good discounts on slightly older PC games. Always check out the Weekend Deals for some great PC game discounts.
While gamers can purchase slightly older, PC games from Steam for very low prices, the price of a brand new PC game is similar to the boxed retail version. However, once you have purchased it, you can download the same game any number of times without paying a dime. On the other hand, Steam checks to make sure you own the game every time you play, so you if your internet goes down, you are out of luck. Every site has its own advantages and flaws, even Steam. To learn more about this digital distribution hub, check out the in-depth review of Steam.
Steam Alternatives to Buy PC games Over the Internet: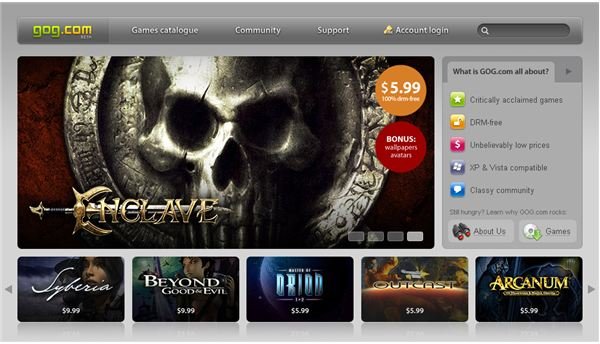 There are some very good alternatives to Steam that offer the best PC games at competitive prices. These include:
GOG.com (aka Good Old Games): this site lets you buy and download PC games, including classic and popular titles like Fallout, Ground Control, Duke Nukem 3D, Rainbow Six at a very less price. You can buy popular titles at $5.99-$9.99. Unlike other direct download sites, there's no need to install some special software and there are no DRM problems. What's more, users can also download extra materials including hi-resolution wallpapers, maps and screenshots without paying any additional costs.
Direct2drive.com: this online download service offers mega-hit titles at competitive prices. You will first need to buy the game and then download. You also get great popular and new titles including Aion, ArmA, East India Company and other titles at reasonable prices. If you are looking for the best place to buy PC games, latest or old, then this site will certainly help you.There are many other good Steam alternatives that can help you buy PC games over Internet without any delays, and without Eurodollar at par pricing.
Buying Games from Internet Shopping Sites
eBay and Amazon are good options to buy PC games. You just need to order, checkout and the boxed game will be delivered to your doorstep. These sites also offer auctions on new and used titles. You can even check out their used games section. While buying used games is a good idea, make sure you check user reviews and feedbacks before purchasing them. The price of used PC games may be cheaper, but you may receive damaged CDs or DVDs. Nowadays, you wont have to worry because there are online avatars of popular retail stores such as Walmart and Best Buy, but the main disadvantage is that gamers have to wait for days or weeks for the PC game to be shipped.
Before you buy computer games from internet shopping sites like eBay, remember that such sites are affiliated with different video game retailers. There are many retailers who sell pirated PC games through eBay, particularly brand new games. eBay provides many ratings and options to contact the seller before buying PC games. Therefore, it would be wise to ask questions before ordering PC games from the seller. You can clear your doubts on the packaging, the shipping terms and conditions, discounts, game documentation, etc. and then purchase if you are convinced with their answers.
Due to the growing demand of best buy PC games, internet shopping websites are trying hard to create opportunities for the best gaming deals. A few good websites such as CAG and Gamer Hotline are great platforms that gather cheap gaming deals from popular shopping sites like Best Buy, Amazon and Buy.com, so you can see what's on sale and what the best prices on the web are.