What Is AMD's Eyefinity: Explaining ATI's Eyefinity Multi-Monitor Feature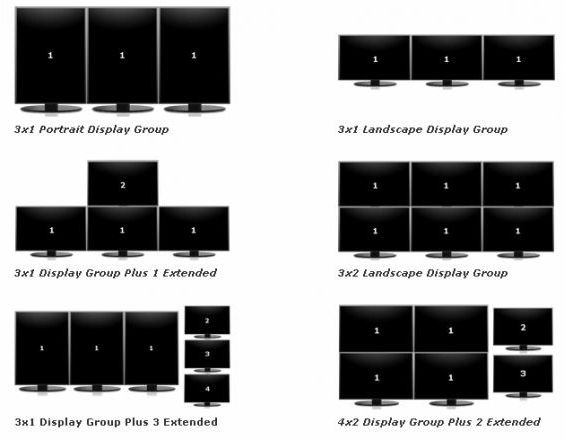 Six Monitor Gaming?
Multi-monitor gaming has been spoken of often in the past, and occasionally a game such as Supreme Commander will come around and make use of more than a single monitor if the gamer has it available. Generally speaking, however, games do not take advantage of the multiple displays many gamers have access to.
However, ATI is now offering Eyefinity, a technology aimed at multi-monitor gaming. If you want to know how to use up to six monitors with your favorite games, read on.
What Is Eyefinity?
Eyefinity is a feature ATI debuted in its new 5000 series video cards. All 5000 series video cards currently available have access to the feature. Through controls accessed in the drivers ATI makes available for these cards, users can control multiple monitors for displaying games. Up to six monitors can be used, and in a variety of layouts. For example, three monitors could be laid out vertically across a desktop or could be stacked. They could even be turned 90 degrees and then placed together.
ATI's new Eyefinity has gained the most press as a feature for gamers, but it also has ramifications outside of games. Most video cards on the market today can only support two displays, so a second card must be purchased to support any additional displays. Eyefinity, however, allows up to six monitors on one card, making it much easier for those who need a large number of monitors for productivity reasons or have several monitors set up in a retail or exhibition context. Gamers may love Eyefinity, but stock traders and commercial space decorators will also find it useful.
How Does Eyefinity Work?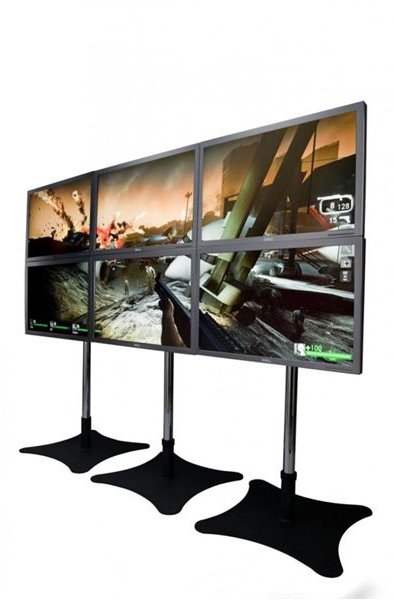 Eyefinity is controlled by the driver. When used in games, the drivers attempt to render an image as the total combined resolution of all monitors and then send the correct data to the correct display. At the software level, it isn't ground-breaking, but certainly gives ATI an edge over Nvidia for certain customers.
On the hardware level, Eyefinity works through a combination of connections. Six displays will need someplace to connect to, afterall. Most high-end 5000 series Radeon cards are shipping with at least 4 connections, usually two DVI, one display port, and one HDMI. To obtain use of five monitors one will need to purchase an adapter that can split one connection into two. Two adapters are necessary to achieve full six display functionality. Alternatively, multiple video cards can be used.
Potential Problems
The main problems which users of Eyefinity will encounter are glitches in the driver. Eyefinity is a brand new feature, and a relatively innovative one at that. Although it is simple in concept, it has to deal with multiple displays using multiple connections. Users of Eyefinity have occasionally reported that displays are not recognized in certain games. Also, some games seem to suffer from stretching issues. These issues can sometimes be worked around, but ultimately it will be up to ATI to solve the bulk of them as the drivers mature.
The second, more preventable problem is performance. Using two displays (of the same resolution) will require that the video card render twice the number of pixels as using one display. Using six, then, will require that six times as many be rendered. This is extremely taxing on a video card. Although the Radeon 5850 and Radeon 5870 have the chops for at least a three display setup, users of less powerful Radeon 5000 series cards should keep in mind the limits of their card before purchasing more displays for use with Eyefinity.