Best Gaming Monitors: Displays for Hardcore Gamers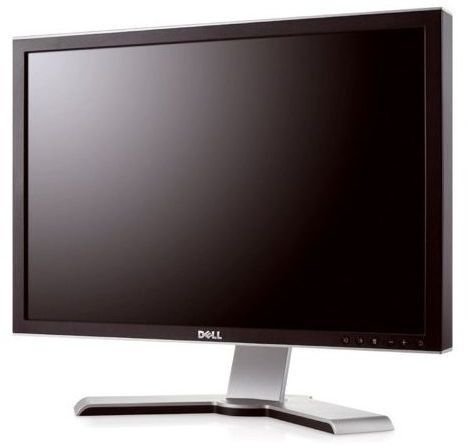 Better, Not Faster
When most people think of upgrading the graphics on their desktop computer, they think about buying a new video card. But graphics quality isn't just about the piece of hardware inside your desktop. It is also about the display being used with the PC. A bad display will rob an image of its life, while a good one will make an image appear as if it is about to pop off the display. Gamers also have to worry about issues like input lag and ghosting which can make the gaming experience less impressive.
With these factors in mind, the three gaming monitors listed here are good bets. Note that while I have focused on 22"-24" models, many displays have various versions available in various sizes. Keep this in mind when buying a display do that you don't eliminate one for your list simply because the size desired isn't in this roundup.
Dell Ultrasharp 2408WFP 24" Monitor
Dell's Ultrasharp monitors have long been a critical darling, and for good reason. While most monitors used a TN panel, which is known to have poor viewing angles and less than perfect color reproduction, the Dell Ultrasharp uses a PVA panel. This means better viewing angles and sharper colors, which in turn results in a monitor that displays games are very high level of detail with colors that appear more realistic than on the most monitors. The difference in viewing angles is even more apparent. Viewing most TN panel displays results in some degree image degradation when viewing the display even slightly off center, but the 2408WFP doesn't have this issue. This makes it more pleasurable to play games when not sitting bolt-upright in front of the screen.
There is also a wealth of connections available. DVI, VGA, HDMI, Composite, and Component options are available. The 2408WFP is a 24 inch display, and its resolution is a predictable 1920x1200. If the 2408WFP was a pizza, it'd have to be a supreme. There isn't anything missing, and quite a bit more than you may want and/or need. Of course, the wealth of features does come at a price. Currently the Dell Ultrasharp 2408WFP runs $449 on Dell's website, which is at least $150 more than you could expect to pay for a TN panel monitor. The 2408WFP also has had complaints of input lag filed against it. These problems are said to be fixed in newer revisions, but I would still hesitate to recommend this monitor to someone who games on a competitive level.
Samsung Syncmaster XL2370 23" Monitor
The new Samsung Syncmaster XL2370 has an immediate claim to fame - its size. The display of the XL2370 is razer-thin, much like the new LED HDTVs which Samsung has been heavily pushing. It is light, too, at only 8 pounds. This makes it easy to move about and adjust (although its only real adjustment is a 25 degree up-down tilt) but it also can make the display wobble quite a bit if it is not put on a desk that is solid.
Size aside, the XL2370 really stands out in image quality. It uses a glossy screen which allows images to show a lot of color and detail. In fact, it is one of the most colorful TN panel screens available today, easily better than mid-level matte screen displays found at most retailers. The XL2370 doesn't fall down anywhere critical, either, as it has virtually no input lag and no ghosting. The full line of connections are available, too, including HDMI, DVI, and VGA.
Viewing angles are still a problem, but that is to be expected for a display with a TN panel. The only gripe which I can lodge against is its resolution of 1980x1080. Manufactures have begun to make 23 and 24 inch displays with this resolution because it matches the resolution of HDTVs, allowing monitors to carry a "Full HD" label. However, the screen has less actual space than a 1920x1200 pixel screen. Even so, the XL2370's price of about $330 dollars makes this easier to forgive.
Asus VW246H 24" Monitor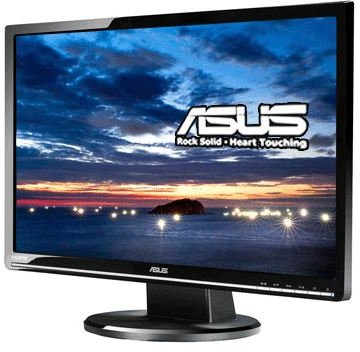 When it comes to monitors, Asus is a relative newcomer, and most of the monitors are value options. This is no different with the ASUS VW246H, which retails for as little as $219.99. It should be said straight away that the Asus VW246H isn't as colorful as the other two competitors, and its viewing angles are certainly nothing to brag about. That said, the ASUS VW246H is clearly better than most competitors, particularly those in this price range. More importantly, the Asus VW246H has a fairly robust set of connections and good response times. There is no input lag or ghosting to be seen. It is not better than the other two monitors on this list, but it isn't worse, and the VW246H is a much cheaper option. I should also mention that the VW246H has built-in speakers, though they're of poor quality.
In other words, the Asus VW246H is the value option. It does not excel in any particular area, but it has everything one would want in a gaming monitor, and the price makes it easy to consider. The only major knock I have against the VW246H is the same one I have against the XL2370 - it uses a 1920x1080 display rather than a 1920x1200 display, robbing pixels in order to maintain a marketing logo. Still, for the price there is nothing better. Buying two would still be affordable, and there is even a 25.5 inch model, the Asus VW266H (full length review here), which can be purchased for less than either the Samsung or the Dell but offers a larger 1900x1200 screen.