Roundup of the Best Joysticks for PC Games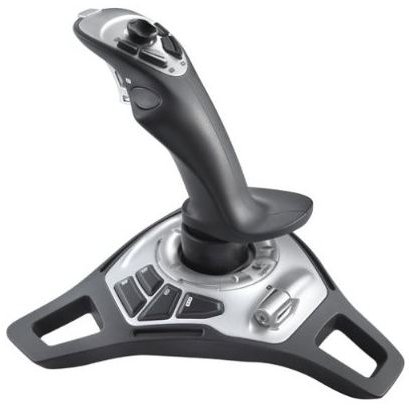 Fighting the Good Fight
PC gaming joysticks have fallen from the glory days. Once upon a time there were quite a few great joysticks available from companies like Microsoft and Logitech which combined all the buttons needed with a decent force feedback setup. Some still use their old Microsoft Sidewinder joysticks to this day.
Alas, the drastic contraction of the retail PC Sim industry took the gaming joystick industry with it. Today one will be lucky to see even one joystick on display in the gaming section of a big-box retailer, and if there is such a product available to try it will likely be only a $29.99 budget model. But this doesn't mean great joysticks no longer exist. They're just a little harder to find.
Logitech Freedom Wireless Joystick
Logitech is probably the most widely known PC peripheral company operating today. They make some of the best keyboards and mice on the market, and they also have an extremely competent specialty gaming division which has designed acclaimed products like the G25 Racing wheel. The Logitech Freedom Wireless Joystick is another quality protect from Logitech, and with a price tag around around $55 dollars it easily takes the budget recommendation of this round-up.
The Logitech Freedom includes 10 programmable buttons, an 8-way hat switch, a twist handle and a throttle. In covers the basics, in other words, though the number of available buttons is a little better than some competitors. Gamers of all stripes will appreciate its easy setup and wireless connectivity, both of which make the joystick extremely easy to use.
On the downside, the Logitech Freedom's base could be weighted better and its shape sometimes gets in the way. The joystick also uses batteries rather quickly, so be prepared to change them out about once a month if you're an avid gamer.
CH Products Fighterstick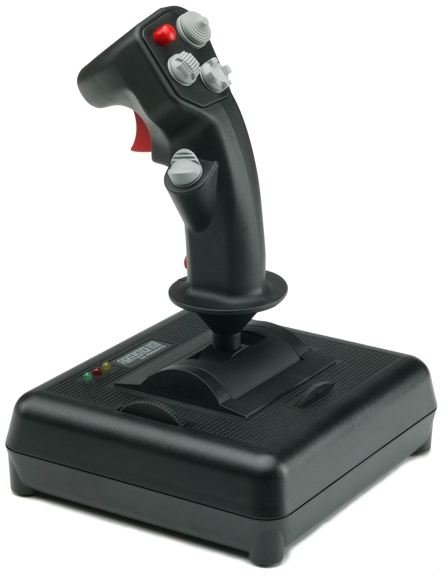 At first glance, the CH Products Fighterstick doesn't look like much. Its simple black finish, complete with equally unexciting gray and red buttons, gives the Fighterstick a understated appearance that makes one wonder if the makers simply couldn't bothered to design the joystick any further.
Using the Fighterstick, however, quickly banishes any questions about build quality. Gamers who use joysticks frequently know that constant use can wear out a cheap joystick in just a few months, but CH Products backs the Fighterstick with a two-year warranty. That said, I doubt many gamers will need to use it. The Fighterstick feels more like a shifter from an automobile than a normal PC joystick. It seems rugged, mechanical, and ready to go for the long haul. It has 24 buttons, as well, and a modeled grip which is supposed to replicate the stick in an F-16 fighter.
Which leads up to the only problem with the Fighterstick - the tension of the Fighterstick feels too stiff for the first week or so of use. The Fighterstick also has less kit than one might expect considering its price of around $120 dollars, as one can buy a Logitech or Saitek set with separate throttle for this price. That said, there is no real comparison in build quality. The Logitech Freedom is good for the price, but it is inferior to the Fighterstick when it comes to durability and feel.
Thrustmaster HOTAS Cougar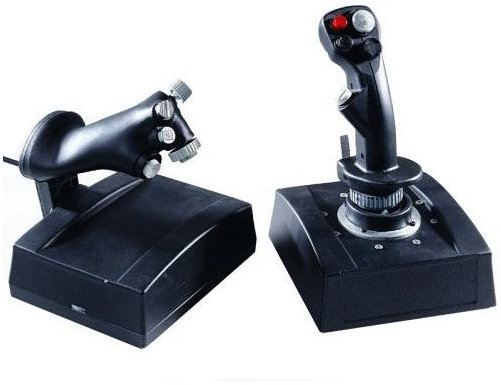 Thurstmaster, like CH Products, is a company well known in the Sim community and virtually unknown everywhere else. The Thrustmaster HOTAS Cougar is one of their premier sets, and it is generally considered one of the best joystick/throttle setups one can buy before going into the realm of setups which cost three hundred dollars or more.
In fact, at a price of around $200 dollars the Cougar seems like quite the steal. It may seem a bit much to spend on a joystick, but for that price one receives not only one of the best joysticks around but also an excellent throttle. Like the Fighterstick, the Cougar is supposed to replicate the controls of an F-16, and it also comes in any color so long as its black. But the Cougar's joystick includes even more buttons and seems better planted. And then there is the throttle, which makes any game using a joystick feel much smoother and more realistic.
The only problem with the Cougar is that it can be a pain to set up. It isn't aimed at casual users, and nothing on it is made to be simple or intuitive. Programming the buttons can take quite some time, even to gain basic functionality. Those looking for plug-and-play quality will prefer the Fighterstick.