Office Star Chairs Review: Offier Star AirGrid Staples Chair for PC Gaming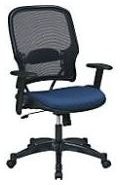 A Gaming Throne
When it comes to gaming chairs, there are plenty of options. Problem is, they're mostly for console gamers. While the common on-the-floor gaming chair works just fine when playing in front of a TV, it isn't very useful for PC gamers. With few exceptions, we're sitting in front of monitors, which means we need to sit upright. There are, in fact, some gaming chairs built with PC gamers in mind, but the cheaper versions - the ones most of us could afford - aren't the most solid of products.
What we want, then, is a computer chair which has the durability of an offer chair but is still comfortable to sit in while playing as a gamer. With that in mind, I'll review the Office Star Space Deluxe AirGrid Manager's Chair, which for brevity's sake I'll call the Office Star Space Chair, to see how it might work for a PC gamer.
Aesthetics (4 out of 5)
While the looks of a chair doesn't make it feel any better to sit in, let's face it - no one wants to have to look at a butt-ugly chair day in and day out, even if it is just a place to put your butt.
In comparison to many other chairs found in office stores the Offer Star Space Chair looks quite high-tech and cutting-edge. But the Space Chair is in fact a copy of a copy of the Herman Miller Aeron, a classic mesh chair which ten years ago was considered the icon of upcoming dot-com businesses. Today the basic design of a high-back chair with a mesh back and wide seat remains one of the most popular chair designs for mid-priced office chairs.
There is good reason for this. While this Office Star Space Chair isn't nearly as beautiful as the Aeron, it is still more attractive than average. The mesh back looks sophisticated compared to most cloth-back chairs, and the cloth seat is thankfully adorned with a rather plain blue-and-black colored pattern rather than the strange, tacky patterns pastel colors often found on computer chairs. Make no mistake - this chair doesn't look as cool as some dedicated gamers chairs with their race-car inspired design. But it doesn't look like Honda Civic with a four-foot tall wing, either, which is a common problem with gaming chairs.
Editor's Note: A mesh back with upholstered seat is a great for gaming: avoid leather or mesh seats - they look great in the office, but your thighs will look like you have a rash if you sit on them in anything shorter than capris or board shorts.
Comfort and Design (4 out of 5)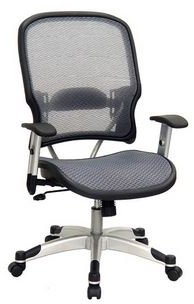 The first thing that most people will notice about the Space Chair is that it's big enough to accommodate a sumo-wrestler. The seat is extremely wide and the chair's arms are also placed quite far apart. The seat back is also larger than one would expect. Looked at from afar, the chair appears to be a typical mid-back computer chair, but the back is tall enough that most users will find the back comes up to the neck or higher. This is all well and good for those of us wearing XL t-shirts, but those shopping in the petite section will probably find that the chair swallows them up and that the arms are too far apart to be used comfortably.
The chair's most visible feature - the mesh back - is also the chair's most impressive. There aren't that many mesh chairs available in this price range, and those that are available use extremely cheap cloth mesh which easily rips. The Space Chair's mesh is the real deal. It provides excellent support by flexing with the user as she moves while also providing enough tension to keep the user's back supported. This is extremely important for PC gamers. We're a squirmy bunch out of necessity, hoping back in forth in our chairs as the action changes. The firm but flexible support this chair offers is ideal. The chair also uses a syncro-tilt mechanism which makes it easy to lean back, and the adjustable tension allow the chair to be used in the upright position without it being locked into the position. The mesh completes the experience, warding off the sweaty-back syndrome that plagues leather and faux-leather chairs.
Lower down, things are less spectacular. The cloth seat could use more padding. Gaming sessions of longer than an hour without standing up left me squirming in my seat, a problem I don't run into when using a much plusher leather chair which costs a comparable amount. This is made up for somewhat by the arms, which feel wonderful. They're height adjustable, which is essential for long-term gaming comfort. Once I positioned them to match the height of my desk I was able to use the mouse with great accuracy without constantly lifting my arm. This is a huge advantage over chairs without adjustable arms.
Value and Verdict (4 out of 5)
The Office Star Space Deluxe AirGrid Manager's Chair can be found at Staples, either online or in stores, for between $199.99 and $249.99. Those who are used to buying cheap office chairs may think this sounds expensive, but it is in fact a very cheap price for a chair with these features. Most chairs of this price range are leather chairs which, while extremely plush, lack lumbar support, adjustable arms, or other important ergonomic features. Ergonomic features may sound boring, but they're incredibly important for anyone who is planning to spend multiple hours playing games in front of a PC, especially if you've already spent part of your day at a desk doing somthing more mundane. Because of this, the Office Star Space Chair is highly recommended.