Arx Fatalis Review: Awe-Inspiring Dungeon Crawler Styled Role Playing Game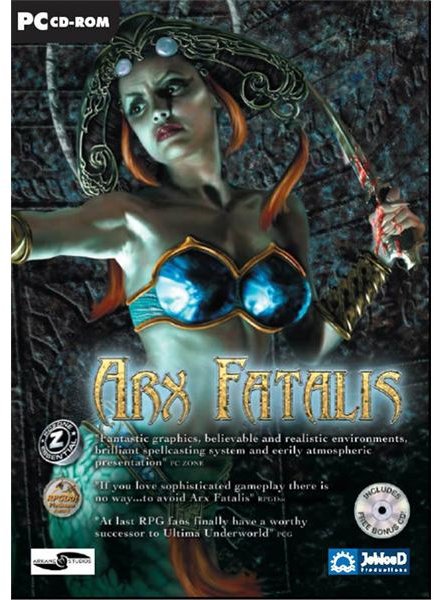 Arx Fatalis: A Dungeon Crawler Styled Game for Serious RPG fans (5 out of 5)
Arx Fatalis is an interesting role playing game played from a first-person perspective. It follows a non-liner style of game and various quests filled with one-on-one combats. Inspired from the early-90s classic RPG Ultima Underworld, the game is far more entertaining and engaging than any other Dungeon Crawler game available.
Gameplay (5 out of 5)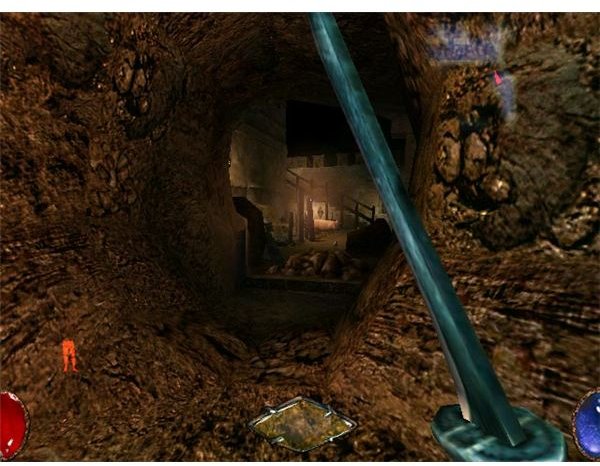 The game's storyline follows a typical dungeon crawler theme. Your character wakes up in a small dark cellar in a bewildered state of mind, without having any knowledge about his past life. He escapes the cell, but confronts a guard whom he kills immediately with a heavy bone lying on the cellar and then embarks in his quest for survival.
Arx Fatalis' setting takes place only in eerie dungeons and caverns. This means, there's no sunny-side village or town nor any other tourist attraction, but cold dark tunnels. At first, you may think it is pretty bland, but once you embark on your dungeon journey, you will interact with gnomes, elves, and orcs and find yourself in a completely mysterious environment, filled with secrets and magical runes.
The game's character creation interface is similar to new and old role playing games. You create your character by applying various skill points as well as ability points. Different abilities range from close combat tactics and artifact knowledge to stealth and magic. The game has an equal focus on combat elements as well as magic, so choose your abilities wisely. You can refer the game manual for help, but sometimes the referring it may hamper your gameplay experience because it contains too much info about the character creation process.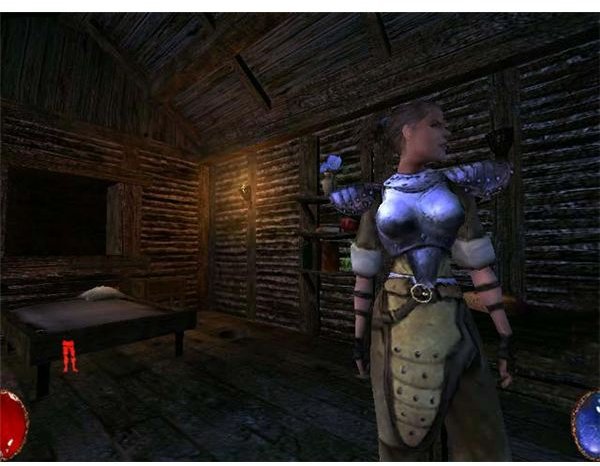 After creating your character, it's time to set out for your journey. The initial levels serve as a great tutorial for players to get well-acquainted with magic, close-combat and some useful puzzle-solving elements. The in-game interface has a cluttered inventory section, a detailed map so that you don't get lost and a diary that automatically jots down important aspects of game. You will also have a chance to interact with a variety of dungeon inhabitants including orcs, goblins, gnomes and elves. An interaction with these non-player characters will help your character know more about himself and his purposes.
An interesting, or rather irritating aspect of the game is the compulsion to nibble food crumbs to stay alive. This feature is inspired from the Ultima series and becomes very frustrating because your character has to be fed too often. The combat feature is akin to other role playing games like The Elder Scrolls III: Morrowind. You will use different weapons such as swords, axes and clubs to have a close combat with your assailants. There are few long range weapons available. I would have expected more long range weaponry for stealth attacks because close combat elements make it more of a hack and slash game.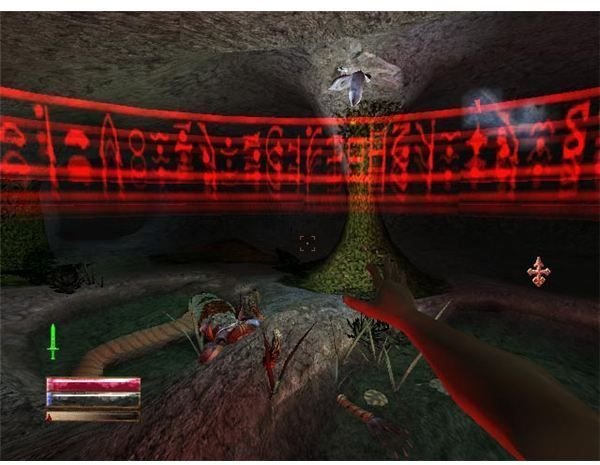 One of the best aspects of Arx Fatalis is the magic system, which consists of runes having mysterious symbols. The symbols have to be memorized and used in situations where only magic can help you survive. If you successfully match the symbols then you can easily cast a spell. The magic system is more puzzle-based and has more than 50 different spells. Some spells eliminate enemies while some are very useful to heal your wounds. There are also special spells that teleport you to another cavern or tunnel in case you need to flee from dangerous enemies.
The game has many missions and side quests. You do not have to follow a straight path to play the game; instead you can venture into a totally different area and begin your quest. However, it does follow a strict storyline, so you need to observe each interaction, mark important places in the map and have a keen eye on the environment. This will help you to gain expertise and have your quests fulfilled. You can refer to Bright hub's Arx Fatalis Secrets and Hints article to gain more expertise by fulfilling quests.
Graphics (4 out of 5)
This RPG's 3D engine is developed solely for the game. You must have a solid graphics card and a faster system to avoid any frame-rate problems or frequent lags. The developers recommend a minimum 16 MB DirectX 8.0 video card and a 500 MHz Intel Pentium processor as a good combination for playing it.
The game's visuals are at par with Morrowind. You will experience different-looking environments, and will certainly feel the detailed settings employed in it. The rust infected weapons, fogs and other visuals will certainly make you feel you are in some dark dungeon fighting for survival. However, compared to the realistic looking environment, the characters lack any detailed facial or body features.
Sound (5 out of 5)
Just hear the sound of blood spatter the tunnel walls and you will know what I am talking about. The game truly has some of the best sounds I have ever heard. The sounds of taunts, war-cries and death shrieks uttered by different creatures are impressive. The diverse environment sounds are one of the core features of Arx Fatalis. As the game has a stealth mode, the sounds of footsteps play an important part. You will have different boots to wear and each has its own distinct sound. The dialogues are good, but the characters' lip-syncing will disappoint many players.
Overall (5 out of 5)
Arx Fatalis has an easy player interface and a very nice spell casting system. It certainly compensates the simplified combat elements of the game. There were some minor technical problems, especially with the retail issue being said to have some compatibility issues. But all is fixed as the developers released two bug patches for it.
Visit the Arx Fatalis Official Site
System Requirements
Operating System: Windows 95/98/2000/XP
Processor: Intel Pentium 500 MHz (recommended: 900 MHz CPU)
Hard disk Space: 750 MB
RAM: minimum 64 MB RAM (256 MB RAM)
Video Card: DirectX 8 compatible 16MB video card (minimum, recommended 32 MB)
DirectX compatible sound card