Retrospective: Mark Ecko's Getting Up: Contents Under Pressure


Note - Hopefully this will become a fortnightly series where I systematically pick apart games from a bygone age, doing a bit of a gaming retrospective as it were, even if they are only 4 years old, although that will change if I can get another one of these retro looks out!
Gaming Retrospective
It seems hard to reconcile Mark Ecko's eponymous entry into video gaming, with the awkwardly named Getting Up: Contents Under Pressure, as being anything more than an 6 out of 10 game. It certainly won't be featuring on any top 10 lists, however the combination of an intensified and focused graffiti grappler with Orwellian overtones makes for a novel experience all the same.
The delays, the Australian banning, the decidedly buggy code and relatively late release date make Getting Up feel like a game that missed its supposed impact. Coming out in early 2006 certainly didn't help satiate anything, with the Xbox 360 coming the previous winter and a host of developers now focusing on the new PS3 and Wii coming by the end of the year, its this lost in translation motif that becomes surprisingly quite humbling while playing through the game
Getting Up: Trane's Story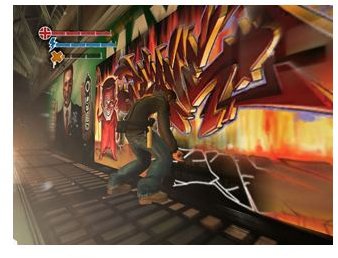 You take the guise of a graffiti newcomer named Trane, whose anti-government attitudes have him tagging various spots around New Radius as a budding revolutionary artist. Unfortunately for him, not only are the government and their CCK undercover officers after Trane, graffiti's own new kids on the block the Vandals of New Radius are set up as early antagonists in the graffiti community.
After being attacked by the VaNR, Trane sets his sights on a revenge plot with incidental romance and an inadvertent but welcomed creation of his own crew (Still Free Crew, SFC for short) thrown into the mix, with the inevitable turn around coming when the bigger fish of the government take over as the antagonists.
Setting the story arc in motion with an almost cliche corrupt mayor, a totalitarian regime hunting dissenters and the illicit discovery that graffiti artists are being actively hunted and killed by the CCK (the governments own militant undercover anti-graffiti force), the events move at a steady pace and the overall adventure is never out of focus due to the linearity on offer.
Retrospective Homage
Its almost a shame games like Prince of Persia: The Sands of Time and to a lesser extent games like God of War or Enclave had already captured the 3D action platformer revival in the past couple of years leading into Getting Up's release.
With players minds set on the critically acclaimed Prince and other luminaries like Kratos, Dante and Carl Johnson, it seems unfortunate for Trane that he was in a gaming vacuum of sorts, trying to wade through these already established characters to create his own identity and resultant cult following.
Although the story falls somewhere between a poorly implemented GTA effort and Mirror's Edge inspiring near-future dystopia, it does a good job of introducing characters, making their motivations and cues known to the audience and displaying some decent dynamics between the various people Trane encounters. Its never quite where you want it to be in terms of pacing or conversational flair, but it services the genre and "urban" aesthetic the game stays closely to.
Mark Ecko's Graffiti Gameplay
While the fluidity of platforming is there, almost expected to be standard fare given Sands of Times previous success, the combat feels rigid and unyielding in comparison to a more fluid and naturally difficult combat system (I'm looking at you God Hand).
The camera controls become painstakingly obtrusive for the player whenever fights are initiated and the constant analog stick rotating you have to utilise to combat the problem only furthers the disorientation.
A fixed camera could be beneficial, if you can tolerate the first couple of Metal Gear Solid games, but it seems like the problem comes when Trane finds himself against a wall or in a corner during fights and even open platforming. This problem further magnified others also, with the camera in a constant limbo between swinging and getting stuck in corners, the clipping and other graphical problems begin to take prevalence.
Problems With Spray Cans
Surely its the job of the game to mask and hide the bugs or glitches you shouldn't be privy to, unfortunately Getting Up does a better job of showing them and nonchalantly asking you to ignore or greet them. This approach, if I'm being honest, is actually intriguing and quite enjoyable.
Reminding me of my experiences with buggy games such as Rise of The Argonauts is never a bad thing and fortunately my own personal tolerance towards this makes it quite entertaining to notice and then internally find myself laughing at said bug or glitch (although I'll admit that isn't for everyone!).
Music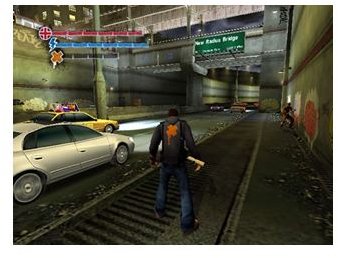 With all this being said there is a certain je ne sais quoi about the game that holds the players attention and certainly kept me till the finale. The soundtrack is solid, containing tracks from hip-hop luminaries such as the underrated Phaoroahe Monch, the legendary B.I.G, Eric B. & Rakim and Trane's voice actor Talib Kweli.
Not to mention the use of, at the time, some British Indie enthusiasts Bloc Party and Kasabian with a dash of Nina Simone to give more emphasise on the activist/revolutionary nature of the characters and setting.
Furthermore, the original score was created by RJD2 (DJ and producer) and provides a great atmosphere for the context of the story and its aesthetic touching upon some of the great hip-hop influenced music from people such as Nujabes.
Audio
The voice cast is superb and well used even if some of the dialogue feels rushed, with the aforementioned Kweli taking the lead and support coming from a whole plethora of actors in Adam West, Rosario Dawson, Brittany Murphy, Giovanni Ribisi, RZA and even P. Diddy. In addition, the spray painting mechanic is good and perhaps surpasses its contemporary counterpart, Jet Set Radio.
The unlocking of new skills and abilities through in-game text explanation gives a sense of progression and you do feel that Trane is becoming better at dealing with the scenarios and hardships he faces. With the knowledge of these skills, the game amplifies the action, as you utilise what you've learned and start to solve the platforming each level tries to showcase.
Getting Wrapped Up
There is certainly a place for Mark Ecko's Getting Up in gamings vast annals of time, especially given the specific area of interest it aims toward. However, the vacuous place it dwells is due to its missed release date, gratuitous use of previous action platformers mechanics and Mark Ecko's nigh criminal naivety towards gamers attitudes and culture.
What it comes down to is that Getting Up is an average game in context to others out there in the same genre or type. That glimpse of something great is within this title however and words of a film or even sequel could have me quietly revelling in the news if it were ever to happen.
As always, feel free to leave any comments or experiences you had with this game. Also, any suggestions for future game can be placed here, although I have a few ideas myself!
This post is part of the series: Gaming Retrospective
Retrospective looks at games that have either slipped under the radar, been lost in time or have a cult following without gaining widescale reknown. Here is a fornightly look into these games from ages past and their respective faults and accomplishments.