Half Life 2 Fan Projects - Movies, Comedies And Mods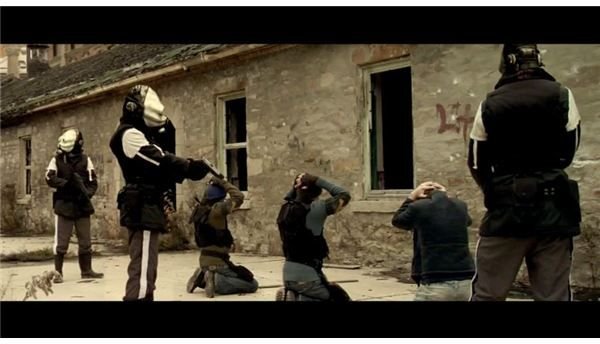 Escape From City 17
Being a fan (in the sense of fanatic) of anything usually ranges from a deep appreciation to wanting to engage with the subject matter in some deeper way.
Fans of Half Life 2 have gone beyond the call of duty in their attempts to express their love of the game and have embraced in the most wonderful ways - most notably in short movie spinoffs set in the horrific City 17.
Most notable of these is Escape From City 17 - Part One by the Purchase Brothers (available to view on YouTube). Shot on a budget of $500, this is a remarkable short movie that details the escape attempts of a couple of resistance fighters in Half Life 2's "capital city", City 17. Complete with huge video screens, Combine forces, Striders and aerial attack craft, Escape From City 17 looks nothing short of a big budget Hollywood movie.
The film attracted around 1.5 million views on YouTube following its premier - an impressive tally for a remarkable piece of film.
Half Life 2 Comedy
Another fan made production, Civil Protection: Morning Patrol is the seventh installment of a machinima comedy series. It utilises in game graphics and the game scenery to create a consistent look and cleverly alters camera angles and utilises editing. best of all though is the content - this installment of Civil Protection features two agents Mike and Dave on patrol through City 17, stopping off at a Donut shop and discussing super powers.
A very funny take on the Half Life 2 world, Civil Protection: Morning Patrol and the rest of the Civil Protection series can be viewed on YouTube.
While you're there, you might also catch Half Life in 60 Seconds which tells the story of both Half Life games in the style of South Park.
Fans of Alfred Hitchcock with definitely need to check out Half-Life 2 Anxiety and its sequel. Both are clever, simultaneous homages to the master of suspense, and the master of the crowbar.
Half Life 2 Mods
The Half Life 2 online community is one of the web's most creative, with fans of the hugely popular FPS science fiction adventure game creating a vast array of mods and extra levels utilising the revolutionary Source engine on which the game is built.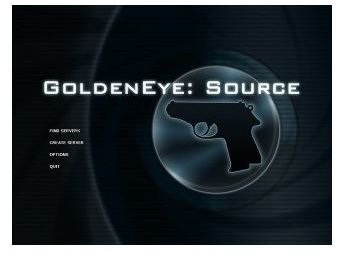 Some of these mods take the story in new directions, plunging Gordon Freeman into new adventures; some mods focus on other previously unseen characters from City 17.
Other mods flip the game on its head entirely, and others still ignore the game entirely, instead using the Source engine to run their own games.
One recent new development in the world of Half Life 2 mods is GoldenEye: Source, a version of the classic Nintendo 64 James Bond movie tie-in. Currently available as a multiplayer only mod, GoldenEye: Source looks and feels superb, retaining the design of the original game and enhanced by the Source gaming engine.
GoldenEye: Source and other Half Life 2 mods are available via www.moddb.com.
Half Life 2 Fan Fiction
The online repository of fan-written fiction, www.fanfiction.net, has a Half Life themed section in which fanfic writers throw their own spin on the Half Life 2 world.
One recent entry of note is Half Life Reborn, in which Dr. Lynn Stapleton takes the place of Gordon Freeman at the Black Mesa Facility in the first game and takes part in the events that lead to Half Life 2. The characterization and dialogue in this piece are excellent, and it moves along at a good pace; to be honest it's better than most fanfic, not uncommon for the www.fanfiction.net website as a whole!
Other entries among a considerable body of work are essays into reality inspired by the game as well as speculation on the plot of the games third episodic installment. It's remarkable to see how the game inspires so many talented writers!
Half Life 2 Comic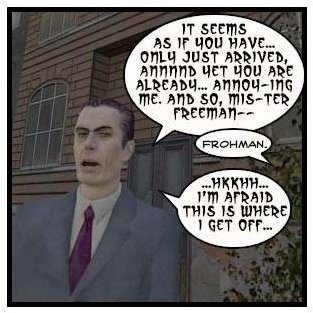 Another amusing take on Half Life 2 is Concerned, an online comic book which retells the Half Life 2 story from Gordon Freeman's entrance into City 17 on the train.
However in a Life of Brian-style turn of events, it isn't actually Gordon Freeman, but the similarly monikered Gordon Frohman who arrives in City 17.
Be warned - Concerned is hilarious. it cleverly mocks the Half Life 2 story and installs the main character Frohman in an office job in the Citadel at the centre of City 17. One particularly good moment is when Frohman accidentally orders 100,000 explosive barrels which are then left all over CIty 17 as there is no room in the Citadel, thereby satirising the proliferation of such objects within the actual game.
Visit www.hlcomic.com to read Concerned
Stuff We'd Like To See
For some reason, Half Life 2 inspired fashion hasn't quite kicked off (the Steam Store sells Headcrab hats that are quite dapper, but there are no HEV suits in my local fashion outlets, but some make their own ) while constant checks of the gadget websites continue to frustrate attempts to buy a gravity gun.
With literary works also available, the only real thing missing in Half Life 2 fandom is a real movement of fan-made music inspired by the game. One guy who has started the ball rolling in this field is Jonathan Lewis whose song G-Man's Last Breath plays like an excerpt from a rock opera, and features the lyrics:
Did you ever wonder why
G-Man's what they call me
Just take the "G" from you first name
And from you last drop the "Free"
Gordon drop the "Free"
Hopefully there will be more to come along those lines - after all, Harry Potter has Wizard Rock (WRock), so why not HLRock?