Half-Life History from the original Half-Life up to Half-Life 2: Episode Two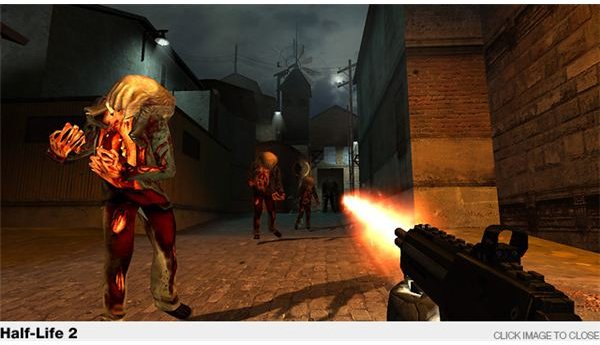 The Half-Life game series has been one of the best game series on the PC since it debuted in 1998. Since then there have been a number of Half-Life games that have taken PC gaming, even console gaming, to new heights thanks to their innovation and design. As such, the Half-Life series has millions of fans. The history of Half-Life can be traced back to 1996.
The Rise of Valve
The founding of Valve in 1996 by Gabe Newell and Mike Harrington marked the beginning of the Half-Life series. After Valve was founded the Valve team began to draft plans for a new 3D action game that would be titled Half-Life, although it was originally codenamed Quiver. This would be a debut game for Valve, and the Half-Life project would continue throughout 1997. The first public preview of the Half-Life game followed at an E3 convention in '97, but a complete game would not emerge until the following year.
Half-Life is here!
In November 1998 Half-Life made its debut through Sierra On-line. This first Half-Life game laid the foundations for the Half-Life story that continues today. The game began with the Meta physicist Gordon Freeman on his way to the Black Mesa research base via a tram ride. After the tram ride Freeman enters Black Mesa, is kitted out with his HEV suit, and heads for the Anomalous Materials chamber. Here minor test discrepancies are ignored by the science team, and then disaster strikes as a resonance cascade is sparked off which opens a portal between Earth and planet Xen.
All of a sudden Black Mesa is crawling with aliens who stand in Freeman's path as he sets out to escape Black Mesa and reach the surface. US marines are also sent to Black Mesa to clean up and silence any witnesses of the alien outbreak. Fortunately, there is a wide variety of weaponry at Black Mesa for Freeman to use such as pistols, shot-guns, machine guns, bazookas, lasers and Freeman's reliable crowbar. During the game Freeman also gets help from Black Mesa's security team and fellow scientists trapped at Black Mesa.
This first Half-Life game was one of the first FPS that had an interesting plot and story set alongside the action. Half-Life also included scripted sequences throughout to expand the game's storyline. Unlike most FPS games of the time Half-Life did not include any specific levels, but instead was divided by chapters. Such innovation gained Half-Life many fans and over 50 publications rated Half-Life as the best game of 1998. The game was later included in the Guinness Book of Records as the highest grossing FPS game.
Half-Life Expansion Packs
After the success of the original Half-Life further Half-Life games had to follow. But the next instalment to the Half Life series was not Half-Life 2. In fact, Half-Life Opposing Force was the second game in the Half-Life series which would be the first Half-Life expansion pack. Half-Life Opposing Force had exactly the same setting as Half-Life; however it starred one of the US marines that were sent in to clean up Black Mesa after the resonance cascade. As such, the marine Alan Shepherd arrives at Black Mesa is pursuit of Freeman, and has a variety of new weapons at his disposal. Overall, Half-Life Opposing Force was a good expansion to series.
This was not the only Half-Life expansion pack as _Half-Life Blue Shif_t followed in 2001. This expansion pack starred Barney, one of the security guards that were also stranded at Black Mesa. Blue Shift was not especially long, and did not add a great deal new to the series. Half-Life Decay, which starred Freeman's fellow scientists, was the third expansion pack that made up a triumvirate of Half-Life expansions. Although this never saw the light of day on the PC until unofficial Windows ports emerged in 2008. Where was Half-Life 2?
Half-Life 2 Annoncement and Arrival
Expansion packs filled the void between Half-Life and Half-Life 2 until 2003 when the sequel was announced and previewed at an E3 show. Half-Life fans rejoiced, but then delays and further delays would follow largely due to the hacking of Valve and leaking of subsequent Half-Life 2 source code. During this period Valve also revealed that Half-Life 2 would need Steam activation to play it, and it was the first game to require online product activation. Half-Life 2 emerged only in late 2004, but fortunately it was a great sequel to the original. As such, Half-Life fans rejoiced again!
Half-Life 2 provided the sequel most fans had likely hoped for. The destruction of Black Mesa (which was nuked) had failed to prevent the alien break out from spreading, and Freeman arrives at City 17 years after a Combine alien invasion of Earth. Here Freeman is reunited with former Black Mesa survivors such as Barney from Blue Shift, Eli the scientist and daughter Alyx who is a new sidekick for Freeman to battle it out with the Combine.
Half-Life 2 had a number of highlights such as the game's physics and physic engine. Half-Life 2 was included in the Guinness Book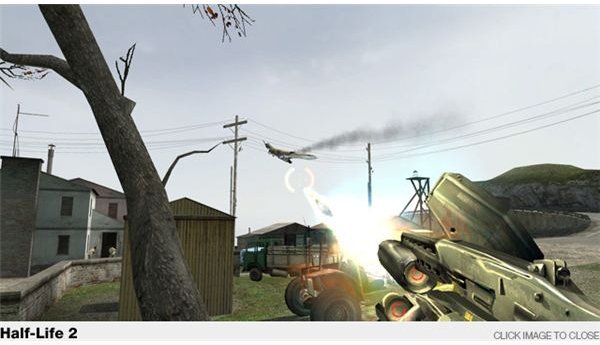 of Records for its innovative gravity gun that perfectly demonstrated some of the game's advanced physics. It was also one of the first Valve games to include the Source 3D game engine. Like its predecessor Half-Life 2 scooped more of its fair share of game of the year awards, and picked up six further BAFTA awards in 2004. Six BAFTA awards were presented for animation, best game, multiplayer mode, action, best PC game and art direction giving Valve plenty to celebrate!
Half-Life in the Arcades
In 2006 the first Half-Life arcade game emerged in Japanese arcades with Half-Life Survivor. Half-Life Survivor included three modes: a story mode with events from the main game series, co-operative multiplayer mode, and a battle mode similar to Half-Life multiplayer death matches. It was a pity that Half-Life Survivor never saw the light of day in the west, and so the game remains a relatively unknown addition to the series.
Half-Life 2 Episodes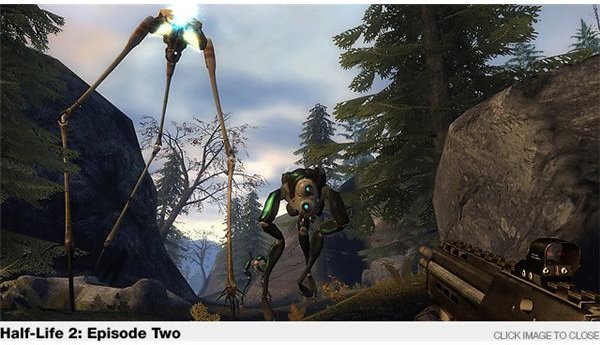 After Half-Life 2 the series was expanded with episodic sequels to Half-Life 2. The first of these was Half-Life 2: Episode One in 2006. This picked up from where Half-Life 2 left off with Alyx included as a sidekick for Freeman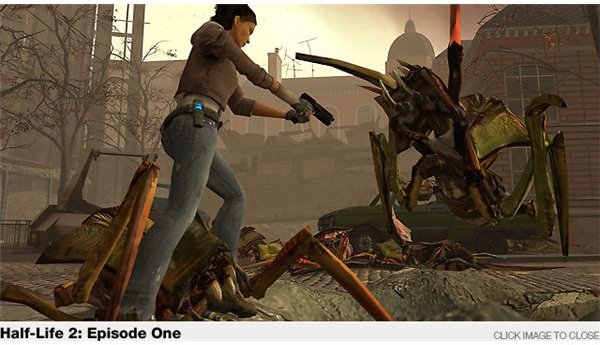 throughout the game.
In addition to this a Half-Life 2: Episode Two also followed in 2007 that was set in the surrounding countryside of City 17 as Freeman and Alyx are pursued by the Combine. Half-Life 2: Episode Two also included a car for Freeman to run down aliens with, and was less linear than previous Half-Life games. This remains the most recent Half-Life game today.
The Future
After Half-Life 2: Episode Two a new void in the Half-Life series has emerged. As of yet there have been no further additions to the Half-Life saga. However, there will be another addition to the Half-Life series. The Half-Life episodes were always intended to be a trilogy, and so Half-Life 2: Episode Three is expected to be the final episode of this trilogy which Newell has confirmed to be in active development. Admittedly, little has been revealed about this next addition to the Half-Life series, but more should be over the next 12 months.
Valve has even hinted that Half-Life 2: Episode Three may not be the last game of the Half-Life series. As such, there could still be a few more new Half-Life games in the years to come. So Half-Life fans can rejoice once more!
Resources
Screenshots from publisher website.