Global Agenda Recon Skill Guide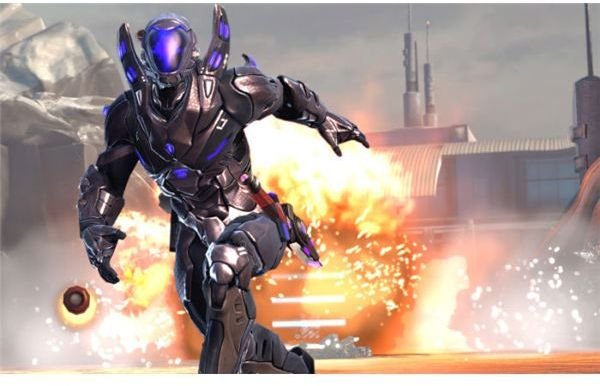 Build a Recon
What is the best build for the Recon? Good question, and one with no single correct answer. There are a few builds which are particularly noteworthy, however. These builds take a specific set of skills and use them together to work on a common goal. All Recon builds focus on mobility and deception - this is a Recon, afterall - but the ways in which they operate are dramatically different in some important ways.
The Meleecon
To those players who come at the Recon from the RPG angle, the Recon's ability to stealth immediately screams "BACKSTAB!!!" Like a Rogue in WoW or a Thief in Baldur's Gate, the combination of the ability to stealth and the ability to backstab makes the Recon an obvious choice for those who like to sneak up on opponents and ruin their day. Here is an example of a Meleecon build which has reached level 50.
Balanced Skills
Passive Protection
Adv. Passive Protection
Jetpack Power
Health
Damage Increase: Melee
Infiltration Skills
Melee I
Melee II
Melee III
Athletics
Stealth Protection
Stealth Restealth
Super Ninja
Marksmen Skills
The Meleecon is one of the most contentious skill builds and probably always will be. A Meleecon fully specced up in this way can do a lot of damage very quickly and can do so from angles where the enemy will least expect it. The Meleecon is arguably the best spec for killing Robotic players which are making a nest because the Robotic player will not be able to take cover behind a wall and simply heal his turrets to offset incoming damage. Meleecons can also be exceptionally good at disrupting Medics. This can become a game-winner at times. Even if the medic can't be killed - and it can be hard sometimes - you'll force the medic to switch from healing his buddy Assault and deal with you. Your team can take out the Assault in the meantime.
Even so, this remains the most difficult build to play well. However, it for some people is also the most fun. It requires a lot of twitch action, so if that sounds like your bag it's worth a go.
Remember this build is just a suggestion. A lot of Meleecons will forgo some less critical skills like Athletics and Jetpack Power and instead choose skills which increase the usefulness of bombs, like Recon Offhand Recharge.
The Snipercon
The Snipercon is probably the most popular Recon build in Global Agenda. This is probably because it is fun to use and is relatively easy to use effectively. Snipercons tend to have long lives and great kill/death ratios because they do a lot of damage and do it from a safe range. Achieving a good kill/death ratio always feels good in a shooter.
Balanced Skills
Jetpack Power
Power Pool Increase
Team Boost Increase
Power Pool Return
Damage Increase: Melee
Infiltration Skills
Marksman Skills
Recon Rifle Effective Range
Recon Rifle Accuracy
Recon Rifle Damage
Recon Rifle Power Cost
Recon Rifle Damage II
Recon Rifle Damage III
Killer Instinct
Super Sharpshooter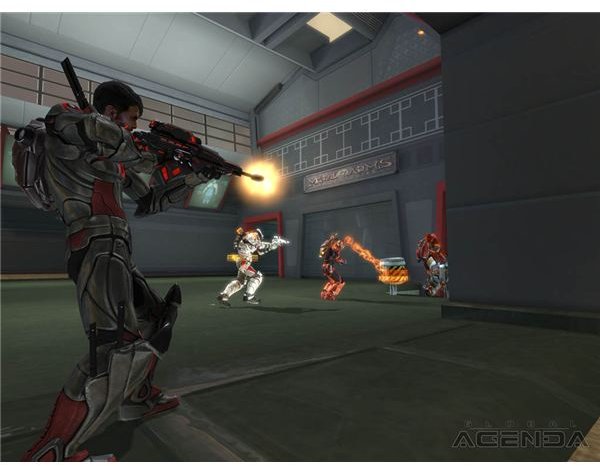 Snipercons are extremely good at taking out the enemy Respawn Beacon and pretty good at taking out Robotic deployables. A Snipercon with the damage upgrades can easily kill a Respawn Beacon before the other team has any clue what is going on, and they can also usually put out damage a bit faster than the Robotic class can repair, although it does depend on the skill build of the enemy player.
In any case, Snipercon is a good build for people who want to be able to help their team without putting themselves at too much risk. Unlike the other two skill builds, this one is pretty set in stone, and I don't recommend deviating from it at all.
The Bombercon
The Bombercon is an interesting build. More of a surgical strike artist than the other two builds, the Bombercon is all about waiting for the moment and then lashing out for massive damage. A failed bombing run can result in nothing but some recharge timers to stare at, but a good one can very literally change the entire game.
Balanced Skills
Passive Protection
Adv. Passive Protection
Power Pool Increase
Health
Damage Increase: AOE
Infiltration Skills:
Explosive Area Increase
Explosives Damage
Explosives Damage II
Bomb Effect Increase
Recon Offhand Recharge
Recon Offhand Recharge II
Stealth Restealth
Super Ninja
Marksman Skills
Surprisingly, the Bombercon is very versatile. Although most Bombercons run with no melee damage upgrades and a level one Recon Rifle, the Bombercon remains effective in almost any situation. Enemies on the point? The Bombercon can help. Enemies on your roof? The Bombercon can disperse them. Enemy Robotic setting up camp in your backyard? A Bombercon can vanquish him. The Bombercon can do just about anything - he just has more downtime. This is the must-have skill build if you like to use a lot of hit-and-run tactics.
There are many variations on the Bombercon build. Some people choose to ditch the defensive bonuses in the Balanced line and instead choose the Melee upgrades from Infiltration, making them something of a Bomber/Meleecon hybrid. Others forget about Super Ninja and Stealth Restealth and instead pick Offhand Recharge and Super Agent from the Balanced tree. The Bombercon is on the whole very flexible, and in my opinion these alternatives are extremely viable. It all depends on how you play.
This post is part of the series: Global Agenda Recon Guide
New to Global Agenda and want to know how to win with the Recon class? This guide gives you tips critical to your success as a Recon in Global Agenda.