Nintendo Wii Holiday Gift Ideas - Ways to Save Money This Season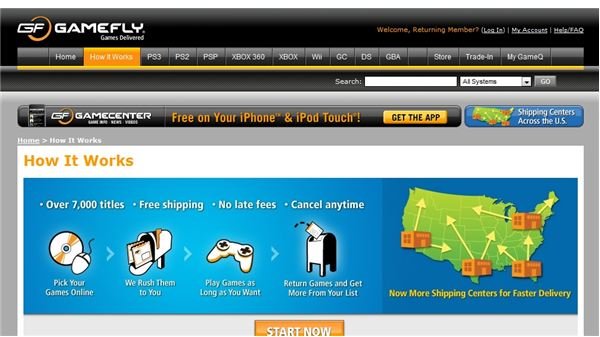 Best Holiday Gift Ideas
One of the best inexpensive gifts you can give a Wii gamer this season is the Wii Points Card. Every Wii Points Card lets players buy and download retro video games and songs for their Wii console. Classic games from older video game systems live on through the Wii Points Card. Play Nintendo, Super Nintendo, Nintendo 64, and Sega Genesis games on your Wii. New Wii Ware titles are also regularly being released. Game prices range from 500 to 1,000 points. Each Wii Points Card has an allotted amount of points. You can never get enough of these magical gaming credit cards. It's an ideal holiday gift idea for the Wii video gamer that already has it all. One 2,000 point Wii Points Card cost on average $24.98 USD. They are available everywhere Nintendo items are sold. Sam's Club and Wal-Mart feature the best deals for Wii Points Cards starting as low as $18.88. Ebay and a bit of good luck can snag a Wii Points Card for a steal at $12 with free shipping.
Game Rental Certificates & Subscriptions
Giving a game rental certificate or membership subscription is another excellent holiday gift idea to save money this season. Who wouldn't want as many games as they can play each month? A game rental certificate from GameFly.com is the perfect gift. The GameFly Membership Gift Certificate that features two games out at a time for one month will only cost $22.95. Gift Certificates can be printed out and presented in a Christmas card or emailed directly from GameFly to the recipient. This is a wonderful gift to give to teens and older gamers. They'll love you for it.
How to Save Money with Wii Bundles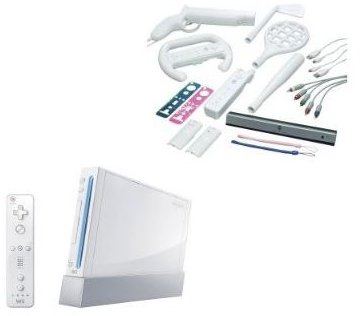 If you're buying a Wii Console for the first time to give as a gift this season there are a few ways to save money with your purchase. The standard Wii Console comes with one Wii Remote and Nunchuk controller. Each system also comes with a complimentary game like Wii Sports. Although, most games can be played using the Nunchuk and Wii Remote the system was designed for gamers to have an interactive experience. Nintendo Wii has various add-ons and accessories to enhance their virtual reality simulation game play. These items can be purchased separately, in bundles, or in a Wii Console bundle.
Games with Wii Accessories & Bargains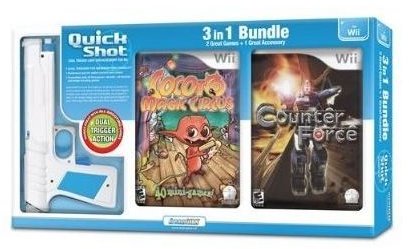 Bundles and the Wii Console bundle Kits are the best deals. The Nintendo Wii Console has a large assortment of add-on accessories including guns, steering wheel, baseball bat, pool stick, golf club, fishing rod with spin cast reel, ping pong paddle, and tennis racket. The Wii Fit and Guitar Hero bundles have a long list of special accessories of their own. There's a lot to buy when you go Wii. Investing in a bundle saves you money and time.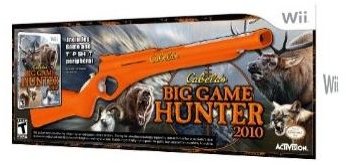 If your Wii will be used as a family gaming system than purchasing a Nintendo Wii Console Starter Kit Bundle or for an even better bargain and bigger family the 15-in-1 Family Pack Bundle with your purchase of a Wii console. Both packages can be found at selected stores for about $230. Another great holiday gift idea is to purchase a bundle centered on the recipient's gaming preferences. The shooter in your life might enjoy Wii Quick Shot 3n1 Bundle which includes a gun with two separate games. Cabela's Big Game Hunter 2010 Gun Bundle for Wii is another great deal for the adventure seeking hunter in your family.
Nintendo Wii Fit & Guitar Hero Deals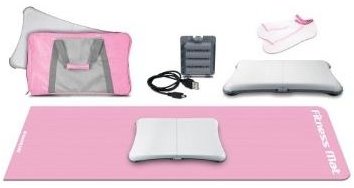 The high in demand Wii Fit can be purchased with the Console. Great inexpensive holiday gift ideas for a Wii Fit user are the Wii 5-In-1 Fitness Bundle Kit which comes in the color green or pink for ladies and Wii Starter Bundle 6-In-1 Kit. They both feature Wii Fit socks, sleeve, and yoga mat. The Wii 5-In-1 Fitness Bundle has a rechargeable battery pack that most users find very useful. When considering Guitar Hero World Tour on Wii it's best not to get the stand alone kits. Purchasing the Guitar Hero World Tour Deluxe Bundle Kit on Wii will get you the most for your money. If you take advantage of the Wii Console bundles and accessory bundles out there you can save anywhere from $10 to $50. Game rental membership certificates and Wii Points Cards are also inexpensive holiday gift ideas that give gamers the opportunity to play the latest games of their choice. Plus they are excellent gifts to introduce someone to the wonders of Wii gaming.