The Best Free Online Inuyasha Computer Games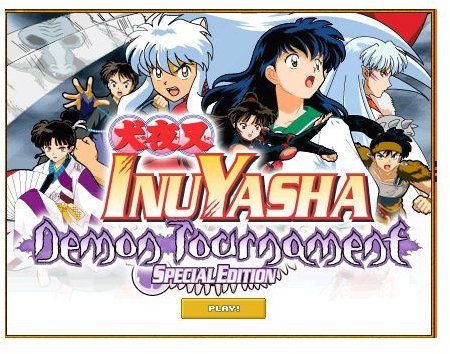 Inuyasha, a Feudal Fairy Tale, is a fantasy manga series set during the Warring States period in Japan. Written and illustrated by the affluent mangaka Rumiko Takahashi, Inuyasha is a nice tale about six different characters' struggle to defend the fragments of the Jewel of Four Souls from evil forces. The characters are very diverse and include a demon slayer, a monk, a fox demon, a half-human half-demon character, a ghost cat (bakeneko) and a time-traveler.
Inuyasha's well-written story and excellent illustration caught the eye of anime producers and gaming companies. The first Inuyasha game titled Inuyasha RPG was developed for the PlayStation on December 27, 2001 and since then there have been numerous games released for the PlayStation platform. Unlike console-based video games, online Inuyasha computer games are quite rare to find. Nevertheless, here's a nice compilation of the most popular online Inuyasha games for kids and teens:
Inuyasha Demon Tournament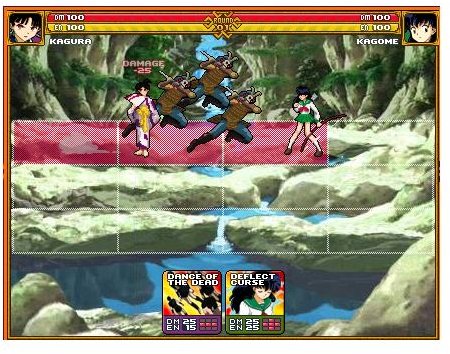 One of the most popular card battle games on the internet, Demon Tournament requires strategy to outwit enemies. On a chessboard-style battlefield, the objective is to fight against evil forces to defend the Shikon Jewel. A player selects three cards from a set of various attack, defend and directional cards. When the battle begins, the player and AI take turns to move and attack each other. The cards chosen determine the moves and attacks of the player, so choosing the right cards is important.
Players can choose a variety of characters, each having its own set of battle cards. What's more, one can switch characters after every completed battle! Gamers can employ different strategies of combat by using Defend and Energy Up cards. There are loads of unlockable mystery cards, which can be unlocked after winning a battle. The mystery card boosts the attack power, but can be used only once in any battle. Inuyasha Demon tournament is a fun, strategic and challenging card battle online game.
Play Inuyasha Demon Tournament
Flash Inuyasha Dress Up Game Online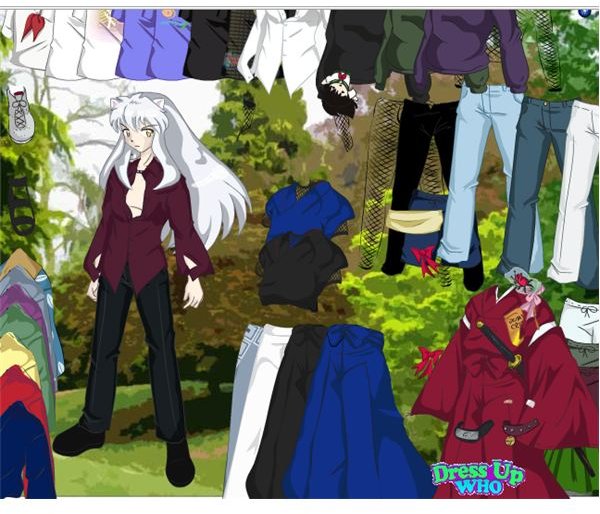 Dress up Youkai in any way, from traditional Japanese attires to modern clothing. But, the fun doesn't stop here! You can change the background, seasons and Youkai's facial expressions with a click of a button. Place the cursor on Youkai's face and press the left mouse button to make him laugh, smile and frown. To change the background all you have to do is click on a tiny green button located on the upper right corner of the screen.
There are different types of trousers, shirts and accessories to dress up and you can also change the hair color to make Youkai look more human! Dress Up games are really very popular among kids and an Inuyasha Dress Up game certainly is one of the favorite Inuyasha computer games on the internet.
Free Online Inuyasha Dress-Up Game
Online Inuyasha Memory Game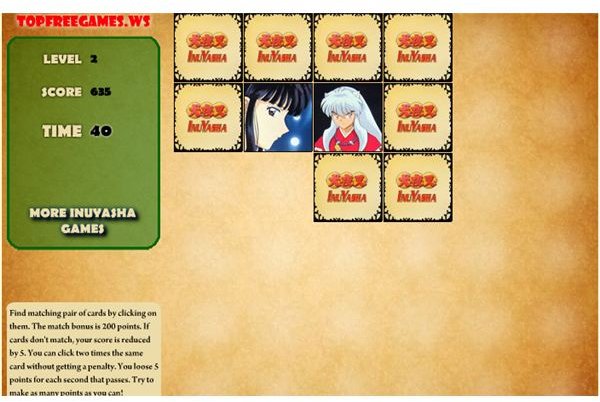 Memory games based on popular comic book characters are a huge craze among tweens. There are loads and loads of memory games that feature your favorite anime characters, including Dragon Ball Z, Naruto and Yu-Gi-Oh. There's just one Inuyasha online memory game that I found very challenging and appealing. The game boasts different levels, each with its own time frame. Initial levels have fewer blocks than later levels. The more quickly you match different blocks, the more points you score. The game is addictive, but you need to have a sharp memory to solve its difficult levels.
Online Inuyasha Memory Game
This post is part of the series: The Best Online Games Featuring Your Favorite Cartoon Characters
Your favorite cartoon characters are now online. And the best part is that you can step into their shoes and play a variety of action and adventure games online. Here are some of the best online Flash games featuring your favorite Tom and Jerry, Mickey Mouse and Bugs Bunny cartoon characters.