CoD5 Maps - Roundhouse Map Guide for Call of Duty 5: World at War - Online Multiplayer Map Guide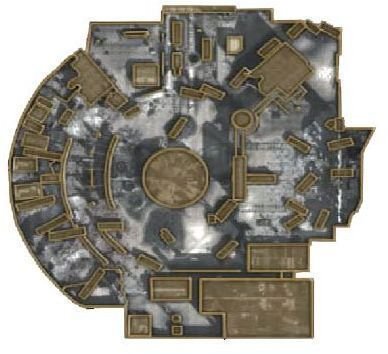 Roundhouse Map Guide
The PC game Call of Duty: World at War, which is also known simply as Call of Duty 5, currently has a total of thirteen different multiplayer maps of varied sizes in which you can go head to head against online opponents. This guide will describe each map in detail, plus provide some pointers as to where the best defensive locations and strike points can be found. This is by no means a definitive guide, however, and I encourage you to find your own favorite spots within the map.
The Roundhouse map is a really fun online map because of its circular layout and wide open spaces. The premise of this map is that you are fighting in and around an old train depot, so there are a bunch of broken down old trains strewn about the area. This map gets its name both from the large round building in the center. The tanks that appear in this map come up in the upper left and lower right corners.
At the bottom of the map is a large building which is often used as a spawn point. A wall separates it from the open area above it, so this is a pretty good defensive area. In a Capture the Flag match, the flag is located near it, so having some guys in this building is helpful to protect the flag. Otherwise, there usually isn't a whole lot going on in this building.
The left side of the map is a junkyard of train cars, and it navigates like a maze with tons of great hiding places. You put yourself at great risk by running through there, but any position against that far left wall is a great camping spot. The reason is that enemy soldiers like to travel along the outer edge for safety's sake, and this is where you'll catch them.
You might think that getting somewhere in the middle of the big round building in the center of the map would be suicide, but I have seen many occasions where a sniper dominated the game from a position within this building. The key is to find a spot on where you can cover as many entrances into the open area as possible, then just shoot really straight. I got shot down several times by one guy even though I knew where he was, and it was because I just couldn't get to him before he got me first.
The upper right portion of this map features a large platform and water tower that makes for a great high point for shooting unsuspecting enemy soldier, so always check up there before you step out in the open because I've yet to play a match where at least one person wasn't hiding up top.
CoD5 Roundhouse Map
This post is part of the series: Call of Duty 5: World at War Online Multiplayer Map Guide
Call of Duty 5 features 13 maps available for online play, and this series of articles goes over each map in detail, plus provides a graphic screenshot for reference.