Upheaval Map in CoD5 - Call of Duty 5: World at War Online Multiplayer Map Guide - CoD5 Upheaval Guide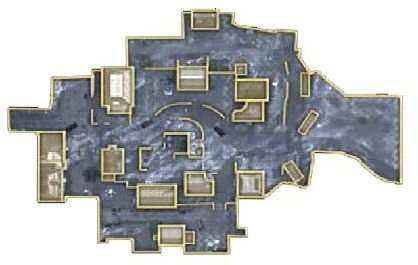 Upheaval Map Guide
Call of Duty: World at War, also known simply as Call of Duty 5, currently has a total of thirteen multiplayer maps of varied sizes in which you can go head to head against online opponents. This guide to the game's multiplayer maps will describe each map in detail, plus provide some pointers as to where the best defensive locations and strike points are found. This is by no means a definitive guide, and I encourage you to find your own favorite spots within the map.
The Upheaval map is a medium size map that may not be quite as popular as some others online, but is still a lot of fun. The premise of this map is that you are fighting in a city area, so there are lots of buildings to go into and hide. Basically, it's like a smaller version of the Outskirts map, and works great on a server where you have a limited number of players. There are no vehicles in this map.
Pretty much every time I've played this map, the action bottlenecks in the upper left corner, under that large building you see in the graphic. What happens is that a spawn point usually appears to the left side of the map, and that building is what many soldiers use to move into the other side of the map because it provides more cover than running out into the open center of the map. If you look just to the left of that building, you'll see a divider wall and it provides excellent cover for someone wanting to keep enemy soldiers from coming through the main entrance.
If the enemy units are spawning in that left side of the map, the best way to go at them is to work your way around the bottom part of the map and flank them. I've managed to take out several enemy soldiers at once because they were all so focused on what was in front of them that they didn't bother to check their side, and there I was waiting to take them out.
There are several divider walls located in the center of the map, but don't let them give you false hope for cover. They might help against another ground unit, but anyone up in a second story of a building can see you clear as day and will shoot you. I've found it best to just avoid that center area altogether, as it is far too open to even run across safely.
One last place to watch out for is an open area besides the building near the right side of the map, but in front of the abandoned railcars. There's a broken wall that extends out from the building, and this little area provides great cover for someone who wants to catch enemy soldiers coming around the corner. Just be mindful of grenades tossed into that area, because it is pretty small.
CoD5 Upheaval Map
This post is part of the series: Call of Duty 5: World at War Online Multiplayer Map Guide
Call of Duty 5 features 13 maps available for online play, and this series of articles goes over each map in detail, plus provides a graphic screenshot for reference.