Hanger Map Guide - Call of Duty 5: World at War Map Guide - Online CoD5 Multiplayer Maps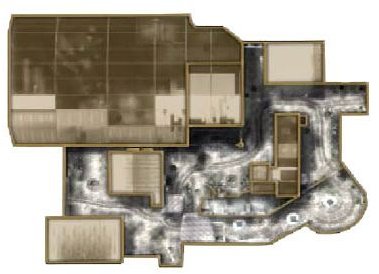 Hangar Map Guide
Call of Duty 5 is also known as Call of Duty: World at War and currently has a total of thirteen multiplayer maps of varied sizes in which you can go head to head against online opponents. In this guide, I will describe each map in detail, plus give you some pointers as to where to find the best defensive locations and strike points. This is by no means a definitive guide, and I encourage you to find your own favorite spots within the map.
The Hangar map is a fun multiplayer map with a lot of wide open spaces and places to hide. The premise of this map is that you are fighting in and around a large airplane hangar, so it gives you the big space of the hangar plus a few buildings around it. This is a medium sized map and there are no vehicles for you to drive, although there are plenty to blow up.
As you can see in the image of the map, the hangar part of this map takes up about a third of the total space. There are four separate buildings around the hangar, plus a good bit of open space for running around. I've found that most of the action takes place in between the hangar and the building in the upper right corner of the map. Snipers and campers like to get up in that building and catch enemy units coming out of the hangar, though it is not uncommon to get picked off while roosting up there.
The L-shaped building in the right center of the map is a great place for snipers to hide and wait for enemy soldiers to come out, though a breech in the hangar wall opposite this building provides the other side with the same opportunity. That hole in the wall is a major traffic area and always the target of grenades, so be careful. It's helpful to place a bouncing betty just inside the area to catch anyone who dares climb over the wall.
This is a great map for all types of gameplay and as much fun with a handful of players as it is with dozens. The hangar is so big and full of defensible positions that it makes for a great standoff, and trying to penetrate the hangar and take charge of it can last the entire round without any clear victor. Because of the open space outside, artillery strikes have the potential to be pretty effective, though calling in the dogs will also net you plenty of kills.
Since this map is full of second level areas, you need to really keep your eyes open both on the ground and in those upper floors. This is a map where you can find one good spot and stick to it for a while, but be careful of enemy soldiers slipping up behind you because there are so many different ways around the map.
CoD5 Hangar Map
This post is part of the series: Call of Duty 5: World at War Online Multiplayer Map Guide
Call of Duty 5 features 13 maps available for online play, and this series of articles goes over each map in detail, plus provides a graphic screenshot for reference.