CoD5 Cliffside Map and Graphic - Call of Duty 5: World at War Game Map Guide - Cliffside Map Guide and Graphic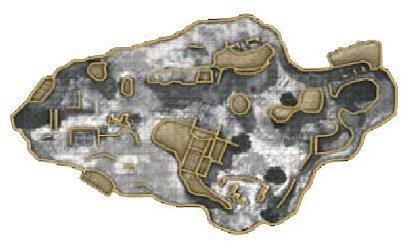 Cliffside Map Guide
The PC game, Call of Duty: World at War, also known simply as Call of Duty 5, has a current total of thirteen multiplayer maps of varying sizes in which you can go head to head against online opponents. This guide will describe each map in detail, plus give you some pointers as to the best defensive locations and strike points. This is by no means a definitive guide, and I encourage you to find your own favorite spots within the map.
The Cliffside map is a great map for multiplayer action because there are three main ways of getting over to the enemy side, and the action is non-stop. The premise of this map is that you are either attacking or defending a Japanese temple located on the side of a cliff, so you get a hilly beach-like scenario with some Japanese shrines and gardens. This is a large size map and contains no vehicles.
What I like so much about this map is that all the action takes place right in the middle of it. At the top of the map, you'll see a long pathway that runs into a small shrine. This area is always a major combat zone and there are some giant rocks that provide excellent cover no matter which side of the fight you are on. At the bottom of the map, there is another pathway that runs behind another shrine and it is usually occupied by some campers who wait for people trying to come to the other side.
The real source of action is right in the middle of the map. This is because the center has entrances from all sides, so it is virtually impossible to defend. It's all about numbers and accuracy. The temple portion, which is right in the middle of the map and extends toward the bottom, has a lower entrance that takes you up one more level, and there's always a fight to be found there. Snipers like to hang back and find cover on the far left and right sides of this map so they can pick off enemy soldiers who come into this middle area, so watch out. I always end up with a really high number of kills when I play this map.
Also of note is the waterfall located on the far right side of the map, inside the circular rock formation. Not only is this a very nice graphical touch to the game, but the pool of water it runs into is a great place to get the Challenge where you have to jump into a body of water from high up. Furthermore, the pathway that runs along the top of this area is a great sniper roost to catch enemy soldiers trying to come around the path that runs along the bottom of the map.
CoD5 Cliffside Map
This post is part of the series: Call of Duty 5: World at War Online Multiplayer Map Guide
Call of Duty 5 features 13 maps available for online play, and this series of articles goes over each map in detail, plus provides a graphic screenshot for reference.