Call of Duty 5: World at War Asylum Map and Graphic - CoD5 Game Map Guide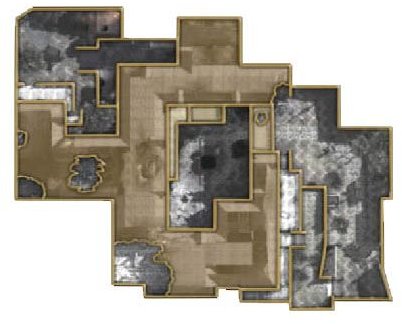 Asylum Map Guide
Call of Duty: World at War, also known simply as Call of Duty 5, currently has a total of thirteen multiplayer maps of varied sizes in which you can go head to head against online opponents. This guide will describe each map in detail, plus give you some pointers as to the best defensive locations and strike points. This is by no means a definitive guide, and I encourage you to find your own favorite spots within the map.
The Asylum map is another popular one because it combines close quarters combat with a couple of excellent 'camping' positions. The premise of this map is that you are playing in an old mental asylum and you'll see a bathroom and kitchen area, plus an outdoor park. It has a broken down old hospital theme going. This is a medium size map and contains no vehicles.
To me, it seems like the majority of the action in this map takes place in two main areas. First, if you look in the upper right corner of the map, you'll see a broken area. This is the entrance to a long hallway that extends all the way to the other end of the building. Enemy units always camp this hallway and you're almost guaranteed to get popped in the head if you step into it without first throwing a smoke grenade or flare to provide cover.
The second most common bottleneck occurs in the lower middle left portion of the map, right around where you see the big hole in the ceiling. There is a stairwell coming up just above there, plus openings leading from the top side of the map. It's a 90 degree corner right there and pretty hard to punch through no matter which side you are playing. People tend to lob lots and lots of grenades into the middle of the area because you are almost always going to get somebody on a busy server. Personally, I like to toss grenades down that stairwell.
Overall, I think the most effective place to rack up kills on this map is to lay prone behind the doorway at the opposite end of the hall that stretches across the upper part of the map. By lying down, it makes your soldier really tough to see and you'll be able to pick off a lot of enemy soldiers. Just know that artillery strikes aren't too effective on this map because so much of it is covered, but calling in the dogs will surely net you a lot of extra kills.
CoD5 Asylum Map
This post is part of the series: Call of Duty 5: World at War Online Multiplayer Map Guide
Call of Duty 5 features 13 maps available for online play, and this series of articles goes over each map in detail, plus provides a graphic screenshot for reference.