Call of Duty 5: World at War Game Map Guide - Airfield Map and Graphic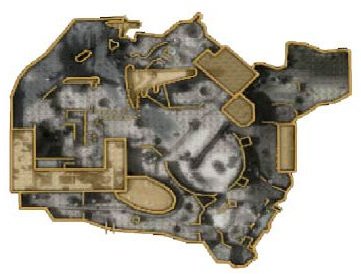 CoD5 Airfield Map
Call of Duty: World at War, also known simply as Call of Duty 5, currently has a total of thirteen multiplayer maps of varied sizes in which you can go head to head against online opponents. This guide will describe each map in detail, plus give you some pointers as to the best defensive locations and strike points. This is by no means a definitive guide, and I encourage you to find your own favorite spots within the map.
The Airfield map is a popular one online because the action tends to move along the outer ring of the map, while most people avoid the wide open center. It is full of great sniper positions and makes an excellent location for a tough Capture the Flag match. The premise of this map is that you are playing in a portion of a bombed out airfield and there's a large crashed plane in the middle. It is a large size map and contains no vehicles.
If you look at the graphic of the map, you'll see a large U-shaped building in the lower left corner. This building has crumbled walls and lots of open spaces, plus you can enter it from the front or back. You may occasionally find snipers hiding out on its upper floor, so you should watch out for Bouncing Betties placed on stairwells and around corners. In a Capture the Flag match, one team's flag is usually placed right behind this building.
Directly in front of the large building is a small bunker area with an underground tunnel that comes out just beneath the crashed airplane. If you look in the top center of the map, you'll see the plane's wing and part of the fuselage, as this is all that is left of it. You can partially enter the fuselage and hide there waiting for people to come out of the tunnel. As for the tunnel, it has a pair of burning barrels right in the middle that make for great cover because the flickering lights from the flame tend to hide enemy soldiers quite well. It's also a great spot to test your flamethrower.
If you look at where the tip of the downed plane's wing is pointing, you'll see two smaller buildings. The rectangular one has two main hallways and the action tends to bottleneck there because it is a great defensive position. In Capture the Flag matches, the other flag is located just to the right of that building. The other more round-looking building is a two story tower-type facility that makes for an excellent sniper roost, but be careful because it is small enough that most any grenade tossed inside of it will kill the occupants.
The left and bottom portions of the map are circled by a wall that only offers a few places to see into the open area where the plane is located, so keep your eyes open for enemy soldiers trying to slip around back. If you look at the bottom left of the map, you'll see a little gateway part sticking out, and this is an indented section of ground that makes for a great hiding place to gun down enemy soldiers as they come out of the building.
CoD5 Airfield Map
This post is part of the series: Call of Duty 5: World at War Online Multiplayer Map Guide
Call of Duty 5 features 13 maps available for online play, and this series of articles goes over each map in detail, plus provides a graphic screenshot for reference.