The Top 10 Free Scary Games Online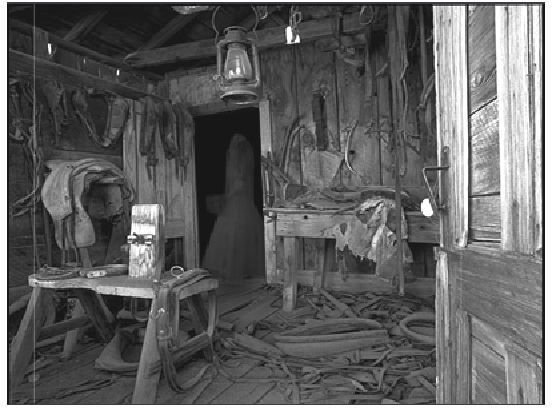 Vampires, werewolves, zombies or yurei – what scares you the most? Indeed, almost everything that's bizarre, horrific and outright gruesome will give you the creeps. And that's exactly what most game developers try to incorporate in their games, be it the best horror pc titles or free online horror games.
However, the best scary games are the ones that are available online. Most are short, concise and out-and-out scary. The online point-and-click scary games online are truly creepy, because you never know what will happen when you reach the end phase. There are no boss fights, just plain surprises and twists that will scare the daylights out of you.
There are also online zombie shooters, where you have to survive killing multitudes of the undead and scary games that involve black humor a la Tales of the Crypt! The best part is that all of them are available free, and require a Flash or an Adobe Shockwave plug-in and a good browser! Here are some of the ten best free scary games online, including bizarre point-and-click titles, zombie shooting games and online first person shooters:
10. Haunted House Massacre
This is a very short point-and-click horror game whose main intention is to give you the creeps. You will have to explore a creepy mansion to search for your lost friend. There are a very few puzzles to solve and areas to explore. The ending braches into a choice-based text game, where only one choice will help you save your friend from the clutches of the demon.
The graphics incorporate real photographs and have an old movie effect, which creates a scary atmosphere. If you want a quick scary break then get ready to venture into the secrets of the Haunted House Massacre.
9. Monster Basement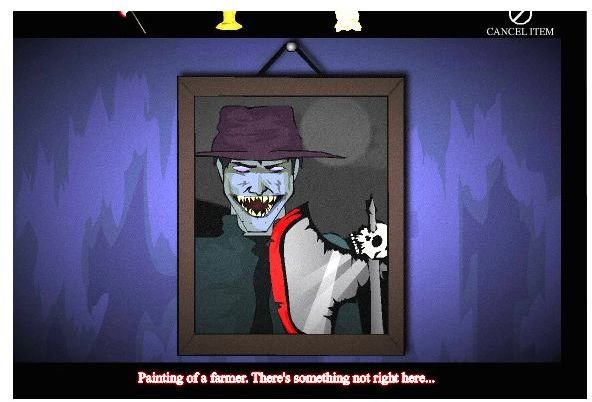 You find yourself trapped in a basement, which looks like a secret laboratory that has been hiding something for ages. Beakers, round-bottom flasks and reagents hold strange chemicals and a locked cage that hides your most unimaginable fears. Welcome to Monster Basement, where you are trapped and are looking for a safe way to escape – before the monster returns.
The game mechanics is similar to other point-and-click scary games online, which relies on inventory-based puzzles. You will have to use the right equipment from the scattered materials to help you escape from the basement. There's also a link to a walkthrough hidden somewhere inside the basement, which may be of some help if you get lost or cannot solve an inventory puzzle. The hand-drawn animation looks refreshing and will remind you of any cartoony flash game. Overall, a nice scary online game for point-and-click adventure fans.
8. Mutant Massacre (The Hills Have Eyes)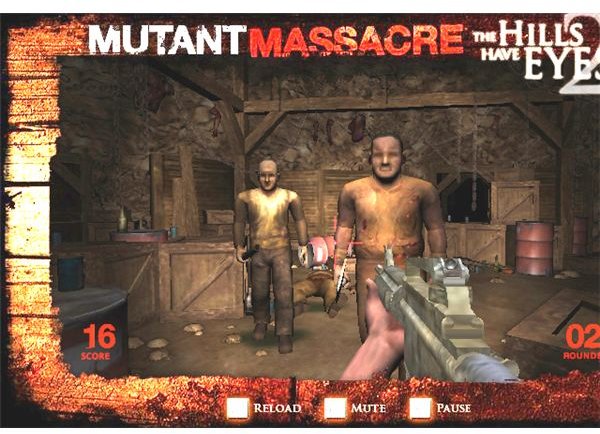 Based on the movie The Hills Have Eyes, Mutant Massacre is a creepy fixed first-person shooter. With quasi-3D pictures, the game lets you shoot hoards of strange mutants before they get you. Trapped in an abandoned mine, you and your injured companion must survive and get out alive. You have a sub-machine gun to eliminate these monsters and that's the only good aspect to save you from the clutches of mutants.
Mutant Massacre requires the latest Adobe Shockwave plug-in and does take some time to load at first. The game's scary, but not as creepy as other horror games out there. Nevertheless, it can be a good pastime if you are bored with point-and-clicks.
7. Sacrificium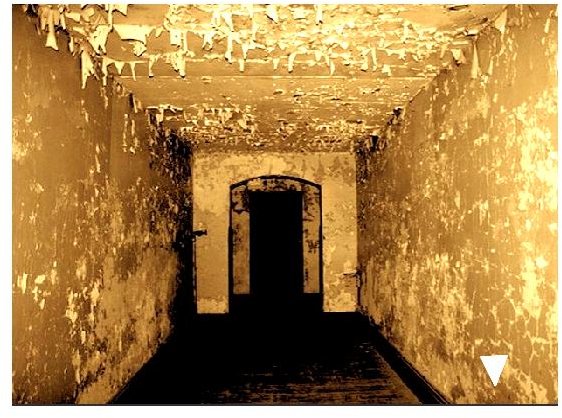 Another great point and click online horror game that incorporates real photographs. The brilliant sepia tone effect creates a superb eerie atmosphere. The game revolves around some age-old ritual involving sacrifices to raise the dead from hell. You will have to explore an old and scary house to uncover the truth, only to realize that the truth is far scarier than imagined. The game has some very disturbing scenes and creepy sounds, so make sure you turn off the lights and out on your headphones to witness sharp surprise ending!
6. Nightmares: Broken Bones Complaint (Part of the Nightmare Series)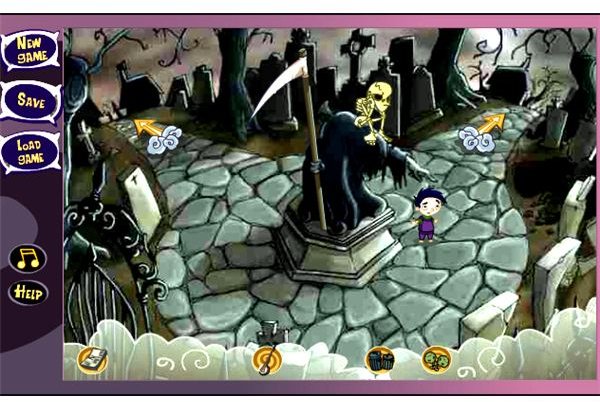 Well, you may complain that a light-hearted scary game doesn't fit in this list. But, this game is quite different than other scary games online. Broken Bones Complaint has humor, is creepy and has loads of puzzles. It looks more like a lighter version of Tales from the Crypt comic book, with visuals that will remind you of any kids cartoon flick.
In Nightmares: Broken Bones Complaint, you will have to help Victor overcome his nightmares by visiting nightmare land and complete some tasks. Complete the game with a few clicks to save Victor from the clutches of the nightmare devil. You will have to hurry up; else the nightmare devil will give the most scary wake-up call to young Victor, and this will end your mission. The game's short, but fun and scary, and is one of the few free scary games online that include a tinge of humor. There is also a second and third sequel, all equally creepy and hilarious.
5. Project Pravus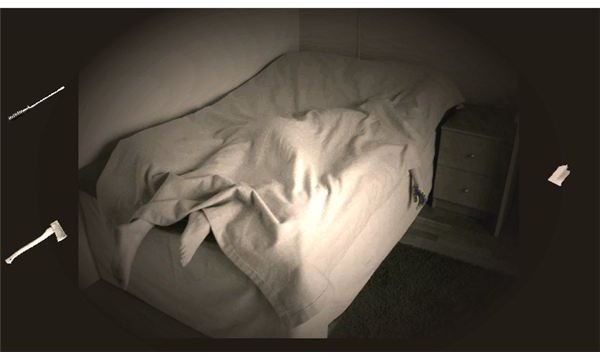 "Pull down your blinds. Turn off the lights." – The first few lines by the game developer tell you everything about the game's creepiness. Yes, Project Pravus is one of those strange horror games that have a rather queasy ending. You play Emily Mason, a real estate agent, who investigates a house to find out why the sellers are selling it at such a low price. But, what seems to be routine investigation turns out to be something scary.
Just like Sacrificium, Project Pravus too has mild disturbing scenes, and so it is strictly for grownups. The game's inventory-based puzzles are challenging. You will have to do some exploration to find items and then use them to solve puzzles. Expect some occasional surprises and be ready to encounter a scary truth about the haunted house.
4. Dead Frontier Series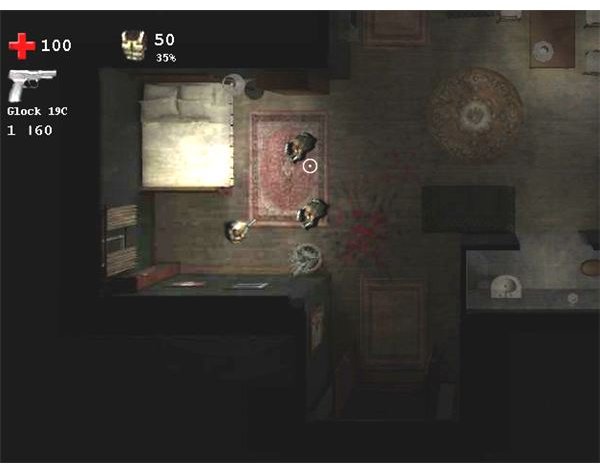 What began as a plain and simple online flash game series is now a hit MMORPG. But, it doesn't mean that these flash games cannot be accessed. You can play all three scary games online for free; thanks to those flash game websites that still host them.
All games of the Dead Frontier Series are top-down shooters and take place in various locales: an old abandoned cottage, a desolate wasteland and a deserted street. You play a special force combatant, the sole survivor who has to survive and kill all zombies and escape the streets. The series is divided into three nights. In the third night, you will team up with another survivor and eliminate all mutants and get to the helipad as soon as possible. Overall, it is a great game for all you online zombie shooting fans.
3. Hostel: The Killing Floor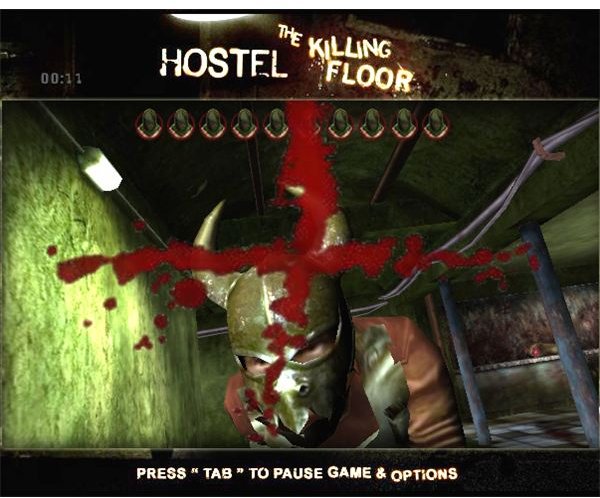 This is one of the best flash games that have good graphics and great sound effects. A 3D game played from the first person perspective, The Killing Floor is an online game spinoff of the original movie Hostel. You are one of the survivors of the Killing Floor, a place where gruesome torture techniques are inflicted on victims. The objective is to save as many victims as you can and survive the chainsaw massacres of the veiled guard before he slays the victims in the most gruesome way. Once you've saved them, you will have to quickly escape the place by using the elevator.
The controls in Hostel: The Killing Floor is similar to a standard FPS: press the arrow or WASD keys to move around and attack or open doors by clicking the left mouse button. You can also access a map of the killing floor by pressing the spacebar. This game features excellent 3D graphics, so make sure you have a 3D video card and the latest Adobe Shockwave player installed. At first, the game may take some time to load and you may experience some frame-rate problems. Right-click and select the right 3D renderer to avoid any sluggish game play.
2. Escape the Boogeyman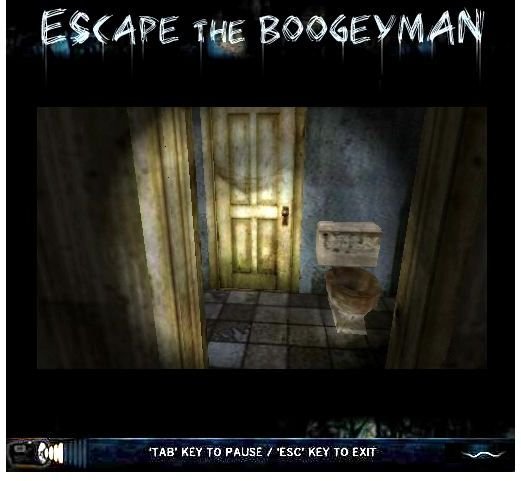 The Boogeyman scared the hell out of you when you were a kid. Witness a similar scary experience by playing Escape the Boogeyman, a room escape game with nice 3D graphics. You will have to escape the house before the batteries in your torch run out of power (and that happens pretty quickly). The bottom left-hand side displays the battery status. Once the status reaches zero, darkness creeps in and the Boogeyman drags you to hell with shouts, painful shrieks and death. When you open doors, make sure you access only those that don't move. Opening moving doors will unleash the Boogeyman and this will result into inevitable death. If you really like scary games online that feature the room escape theme, then Escape the Boogeyman is just for you.
1. Exmortis 2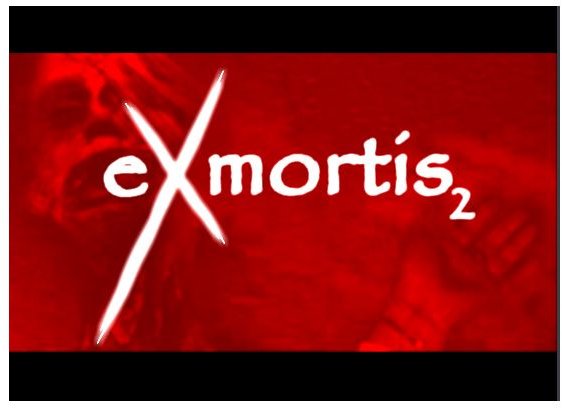 In the online graphic adventure game universe, the Exmortis series is revered as one of the best scary games online. Developed by Ben Leffler, this Flash interactive game will surely send chills down your spine with its morbid graphics and macabre story.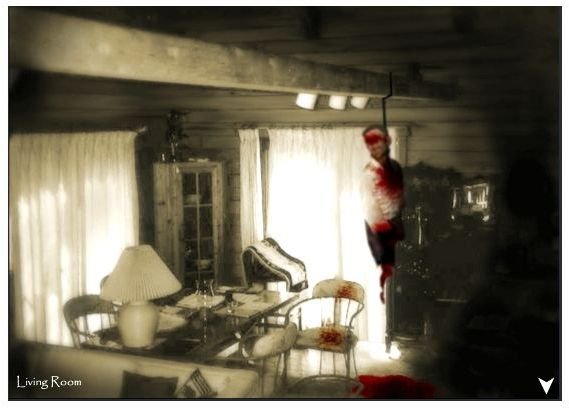 Exmortis 2 is more terrifying than its predecessor. It incorporates quality audio and visual and crawls into your skins with an immersive narrative. Some of the sound effects are quite creepy, courtesy of the actual EVP recordings. Some of the images are taken from actual haunted places in Australia. The graphic content can be very disturbing for the weak-hearted and children, so make sure this game is well out of your child's reach.
You will surely enjoy the attention to detail in the story, from newspaper clippings to scattered books that contain every bit of information, including myths and fictional history of the Exmortis. The game lets you solve numerous puzzles, including a Sudoku puzzle game and many inventory-based puzzles. Overall, Exmortis 2 is one of the most innovative online scary games available on the World Wide Web.
Note: Most of the games are for grownups. The graphic scenes may not be suitable for kids. Parental discretion advised.
References