Getting Started with PlayStation Home - Why This Is Something That You Should Not Miss Out On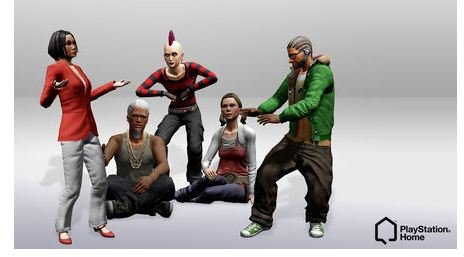 What is PlayStation Home?
PlayStation Home is a virtual world that Sony created as a free place for owners of the PS3 to meet up, play games, shop and chat. Everyone who owns a console and has an internet connection can access it. On release Home was a quiet place but as the months roll by it is growing and many big companies are beginning to take an interest. It is well worth getting online, creating an avatar and having a look for yourself. This guide will highlight some of the key features in PlayStation Home.
Creating a Character
The first time you load up PlayStation Home via the XMB menu on your PS3 you'll meet your character in the wardrobe. You have to create a character that will represent you in the virtual world. The character editor allows you to change every detail from hair colour and style to chin size and nose length. You can create a character that actually looks like you or you can go daft and create a fat bloke with a big moustache and spiky hair (no offence if that's you). There are a number of generic pre-sets which you can use if you don't fancy creating your own. Remember you can always change your character by going to Personal in the menu and choosing Go to Wardrobe.
As part of your character set-up you can also select clothing. The free range on offer in your wardrobe is quite limited but there are stores at the in game mall where you can pay small fees for new outfits. There are real designer brands available as well as fantasy outfits and accessories.
Your PlayStation Home Apartment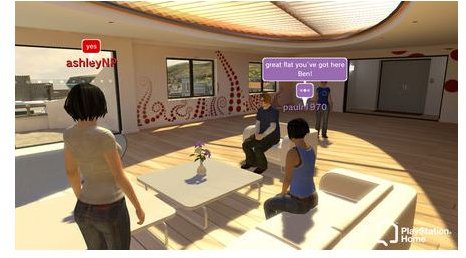 When you first enter the world you will find yourself in your apartment. Everyone in PlayStation Home has their own house and you are free to decorate and arrange it as you see fit. The default house is the Harbour Studio. This compact attractive apartment has a balcony with views over the harbour. You can redecorate or rearrange the furniture if you choose.
If you decide you don't like your apartment at all you can shop for new furniture and art or you can purchase an entirely new property. These personal spaces are just for you. The real fun in PlayStation Home is to be had in the public areas.
Home Square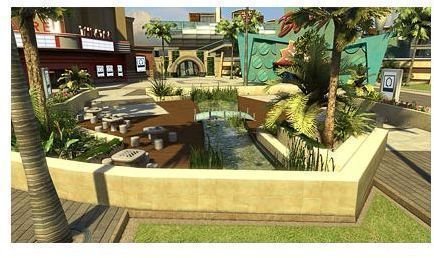 This bright outdoor area has a garden and links to the various other public spaces you can visit in PlayStation Home. It is a good place to meet people and chat. You can also see adverts for games and films on posters and there are even video screens. If you want to watch an ad or trailer you can walk over to the screen and press X when prompted for a full screen view.
In Home Square you'll also find games you can play. There are tables set up with chess and draughts. All you need to do is find someone to play against and take your seat to begin the game.
PlayStation Home is made up of separate sections housing different areas. When you visit a new area for the first time you will download that area. The downloads are fairly small, so it is generally a quick process. You can visit new areas by walking through doors in the virtual world. This will prompt a load screen. You can also select them directly via the menu system and skip directly there.
Bowling Alley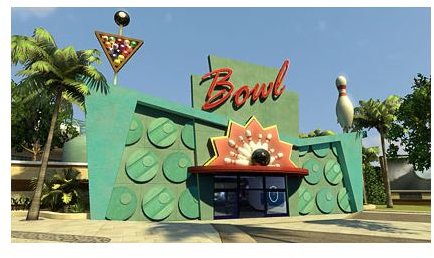 You can't really miss the bowling alley and it is well worth a visit. Inside you'll find a range of activities including, of course, ten pin bowling. You can play by approaching the lane and pressing X when prompted. If you are there alone you can have a practice game, when a new player joins the proper game will start. There is always a 20 second countdown to give other players a chance to join in.
The bowling alley is probably the best place to visit right now because it also has pool tables and a large arcade offering a range of free games. You join the pool or arcade games in the same way as the bowling, by approaching and pressing X when prompted. The arcade games go full screen and there is an impressive choice of fun titles.
Home Theatre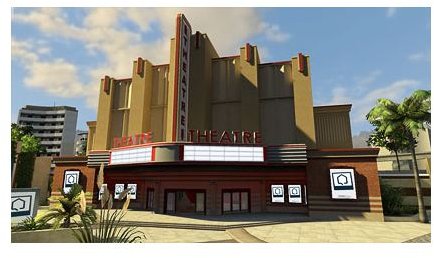 The Theatre is another towering structure off the Home Square and it houses ten screens. Inside you'll find you can go and watch game and movie trailers, lifestyle and technology videos on the big screen. You can watch yourself watching them or you can expand the cinema screen to fill your screen and watch the trailer close up. They have trailers of various upcoming films. In the future you can expect to find more content in here and it may become another way to access video on demand which has been launched on the PS3 network after the last PS3 firmware update. You'll find you can rent or buy movies in the PlayStation Store accessed via the XMB menu of your PS3.
Shopping Centre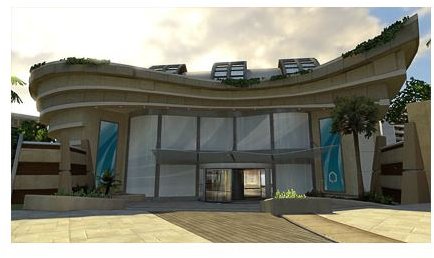 This is basically a big mall with a wide variety of stores. Actually the variety is quite limited right now but more and more companies are purchasing a space here and plying their wares. You can buy new outfits for your character, furniture, art, accessories and even new property. It will cost you real money though.
You can also find chess games in the shopping centre. Occasionally there are events here such as the SingStar events and you can join in the fun.
PlayStation Events Space
This exclusive venue is invitation only. Sometimes you will be invited to special parties, launch events and announcements at the big stage. There are also a range of games you can play with friends at this venue. You can't visit the Events Space normally.
Chat
It is easy to chat in PlayStation Home via the virtual keyboard and your text will appear in a bubble above your character's head. You can also use gestures to show how you feel. Voice chat is supported for those with headsets and you can even call a friend who isn't there. In fact you can easily access you Friend's List and invite friends to join you. You can also use PlayStation Home as a lobby to meet and then launch PS3 games and join together. It is even possible to make new friends in PlayStation Home via the Club system which lets people create clubs for different interests and meet up to chat.
PlayStation Home is an interesting virtual world which is worth a look for PS3 owners. It may be lacking in content right now but it is growing all the time. If you haven't visited yet what are you waiting for?