Atlantica Online - Introduction To Guilds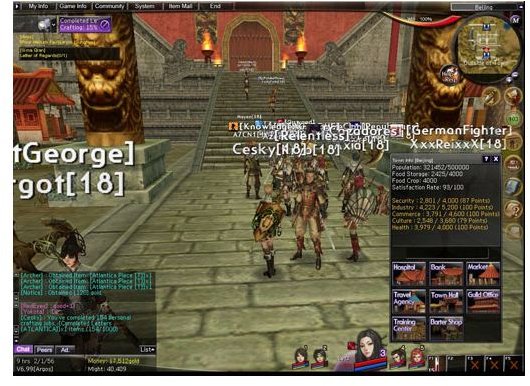 A Little Bit About Guilds
Finding a guild in Atlantica Online is a really simply process. Thanks to the guild ads you can virtually find a guild in no time. However, there are a few things you should know about guilds in Atlantica Online before you seek them out.
The first and most important is that you can not join any guild until you reach level 20 with your main character. Secondly, there is a guild maintenance fee that will be deducted from all guild members funds at the first of every month. You may think these are burdens but they are really not once you think about it. Atlantica Online is a free MMORPG and chances are most of the people who start playing the game and are new aren't even sure if they are going to like it or stick around. It prevents a guild from having hundreds of low level and inactive players after all, no body like a small empty or inactive guild.
Looking For a Guild
Finding a guild in Atlantica Online, as mentioned earlier, is an extremely easy process. There is a button located to the right of your screen that will pull up a window that is dedicated to help finding you a guild, guild recruitment ads button.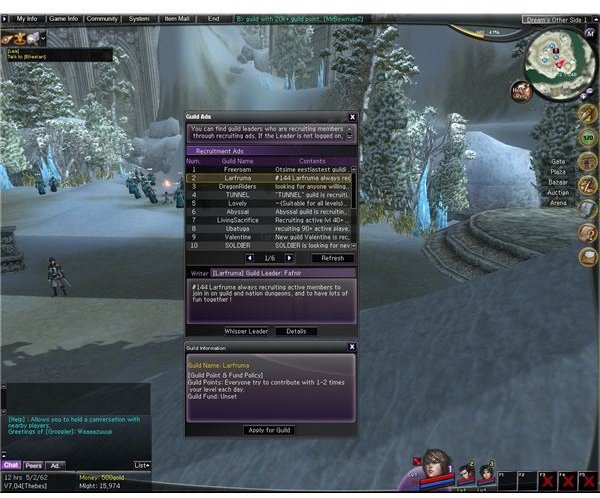 Once you click on it a small window pops up with a list of all the guilds who are looking for members and have posted ads. By clicking on a guild name in the window you can read a short description about the guild in the bottom section of the window. If you want more information about the guild you can just click the details button. To apply to the guild you can either whisper the leader or click the apply for guild button on the guild information window that pops up when you clicked the details button.
Guild Benefits
Aside from the social aspect and being able to meet new people a guild can offer so much more. The guild system in Atlantica is it's own living and breathing world and it becomes a whole new part of the game itself. Guilds can take control of virtually any city which allows them collect fees from buildings such as the market, the hospital, the travel agency and even the barter and trading shops. Anytime a player that isn't a member of the guild that controls the city makes a purchase from any of the buildings, a portion of it is deposited into the guilds fund.
Controlling a city in a guild opens up a lot of possibilities such as city management, political systems and economic systems. Cities are maintained and controlled exclusively by guild activities. The population of a city isn't directly related to the number of players online or in the city, rather a fictional number that is generated based on the satisfaction rating of the city. In order for your guild to attract a bigger population you can increase your health rating, security, industry, commerce and culture markets by completing town quests. Building new buildings can also increase a few of these stats. The tax generated from a town not only comes from real life players but the fictional population of the city as well. As you can see there is practically a whole new game that you can play once you become apart of a guild. Aside from the above, possibly the best benefit of joining a guild is the ability to quickly make a group to get additional experience points and items while you are questing or grinding. Typically this is what guilds do until they are ready to tackle the more challenging things like city control.
Pulling Up Guild Information
Once you have joined a guild in order to see your guild information and roster you must first enter any city and click on the Guild Office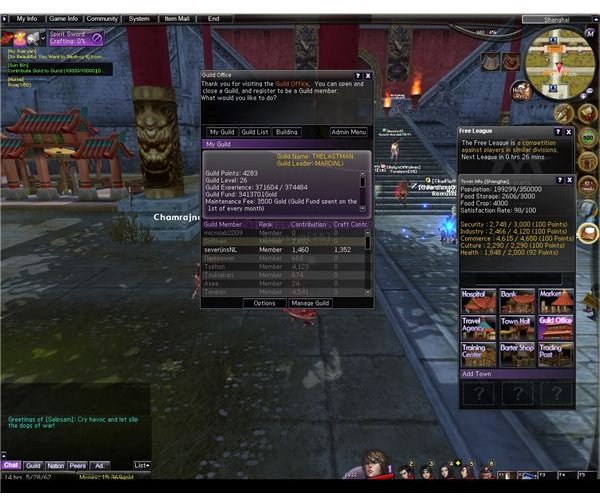 button or you can simply click the community button underneath the mini-map and click on the guild tab. Doing so will pull up all the needed information about your guild such as who is currently online, your guilds level, amount of experience, required maintenance fee, amount of current guild points, guild funds and much more. This window becomes very important if you are interested in the advancement of your guild.
Above all else, the guild system can offer you a lot of help that you simply will not find anywhere on the net. Atlantica Online is a fairly new MMORPG and there is a extremely apparent lack of information about the game. If you are able to make it to level 20 then I suggest you immediately joining a guild. Guild members will give you all the information and help you need to help progress through the game.