APB Pre-Order Bonuses and Unlockables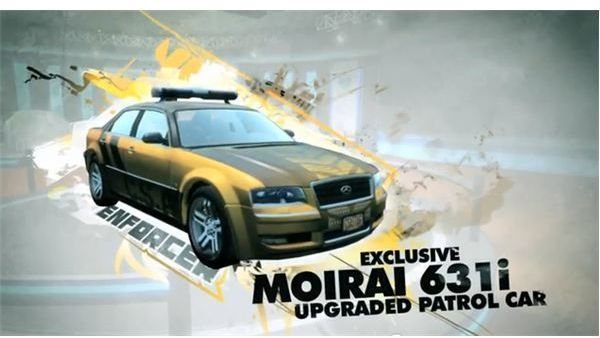 APB Pre Order Bonuses
Realtime Worlds' upcoming GTA-style MMO APB is poised to become a huge success. Scheduled to release this June, pre-orders are already beginning to ramp up.
Realtime Worlds recently announced several exclusive unlockables only available to those who pre-order the game. Bonuses include an exclusive car, outfit, and emote for both the Enforcer and Criminal elements within the game, as well as an exclusive decal and early access to the game.
APB Enforcer Pre Order Bonuses
Those who choose to fight on the side of law and order in APB will be rewarded with several exclusive pre-order bonuses. They include:
---
CSA Enforcer Preset Clothing**: for those who aren't interested in keeping their police affiliation a secret, this bright yellow and black outfit includes a hat and mesh shirt, along with a conspicuous shoulder holster.

"Strike a Pose" Emote: taunt those criminals with your Hulk Hogan-esque bodybuilder pose.
Morrai 631i Upgraded Patrol Car: track down criminals in style in this BMW-inspired souped up patrol car. It's also yellow, presumably to match your exclusive outfit unlock.
Full details on the stats of the Morai 631i have not yet been released, but you can bet it will be a very useful car, most likely superior to many of the in-game cars. You'll need the extra speed to take down criminals equipped with the other APB pre-order exclusives.
APB Criminal Pre Order Bonuses
Those choosing to walk a darker path, that of the criminal, also have access to some exclusive clothing, an emote, and a new getaway car.
---
![APB Pre Order Bonus Asylum Criminal Car](https://img.bhs4.com/8b/c/8bce98597731f1295f4e10b2b94ac2b54878b5ab_large.jpg)

Asylum Criminal Preset Clothing**: knock over that liquor store in style while rocking these exclusive duds, featuring a black hoody, mask, and shoulder holster.

Chicken Emote: show the law you're not to be trifled with by taunting them with your exclusive chicken emote.
Cisco JX01 "Asylum" Upgraded Criminal Car: get away in style in this black and white sports car.
Like the upgraded patrol car, full details on the Cisco JX01 have not been released, but it will certainly provide you with an extra edge when you're trying to escape from those pesky police officers.
Other APB Pre Order Bonuses
There are several bonuses that aren't faction-specific, as well.
---
![APB Pre Order Bonus Pioneer Decal](https://img.bhs4.com/4d/8/4d8bc5335df90bce1f1f0eb6a25b2ae92744d5f7_large.jpg)

Pioneer Decal**: a decal featuring a snake and mongoose arranged in a yin-yang configuration.

Early Access to the Game: not explicitly defined as of yet, but if MMO history is any indication, this likely means guaranteed access to the open beta, as well as a day or two head start on customers who purchase the retail version of the game.
Realtime Worlds certainly has a pedigree when it comes to open-world carnage. They are the team behind the original Crackdown, and their lead designer is David Jones, creator of the original Grand Theft Auto.
For more information on this highly-anticipated upcoming game, be sure to check out the Bright Hub MMO Channel's APB Preview.