Basic Xbox Live Support - Troubleshooting Tips For Your Xbox Live And Xbox 360 Games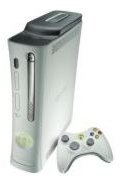 Xbox Live Support Basics
There are a few things that you can try at home if you find that your Xbox Live isn't responding to your router or if you're getting errors. Let's go through some of them that you can use to troubleshoot before you call Xbox Live Support.
Test Your Connection
If you find that there is a problem with your Xbox Live connecting to the Windows Media Canter, sharing media from the console to your PC, or just connecting at all, then you want to start by testing the connection that you have.
To do this, you need to go into the My Xbox screen and then go into the Systems Settings screen. From there, select Network Settings, and then you will get three different options of connections that you can test: Windows Media Center, PC Connection, and Xbox Live Connection. You can choose the one you're having trouble with. If the connections are working properly, you will get an updated screen where the Network Status says it's connected to each of the different connections, such as in the screenshot.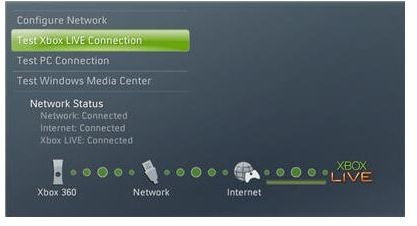 If any of them don't work, then you need to follow the directions for Connecting Your Console To Windows Media Center, Sharing Media On Your PC, or Trouble Connecting Xbox Live articles here on the Console Channel.
Restarting Your System
Sometimes a simple restart of your Xbox 360 will fix the problem, and will be one of the first things that any Xbox representative will tell you to do. To restart everything, you want to make sure that you know where to turn your different hardware pieces on and off. While many networks won't have a ton of connections, yours can include any, or all, of the following: Xbox 360, your PC, a bridge, a router, a modem, and/or a gateway.

To begin your restart, turn off your Xbox 360 and any other hardware on your network and then unplug everything for 60 seconds. First, turn your modem back on and wait for it to connect and get online. Then, turn on the next piece of hardware in your network line, such as the router, and allow it to be on and warm up for 60 seconds. From there, turn on each other piece of hardware until you get to the end, leaving each piece on for 60 seconds before moving on to the next. This gives each different piece a chance to completely warm up and get ready.
Once you have everything on and running, turn on your Xbox 360. Go to the My Xbox screen and then into System Settings. From there, select Network Settings and then test your Xbox Live connection. If you are still having problems, then you can head over to the Xbox Live website and use their connect solution.
Moving On To Harder Xbox Live Support Techniques
Ok, so if these two Xbox Live support techniques didn't work, don't fret. Let's just move on to some areas that are a bit more in-depth and see if we can fix your problem. The next step in troubleshooting your Xbox Live system is to check the network settings, change your router settings, check out the different error messages, and possibly update your console.
More Xbox Live Information And Tips
For those that fixed their problem with these simple Xbox Live support techniques, there are some other great articles that you can use to help set different family settings on your console. Here are some other great articles that you'll want to check out:
[Utilizing Your Family Settings On Your Xbox 360](/video- games/console/articles/60649.aspx)
[What Do The ESRB Ratings Mean For Your Xbox 360 Games?](/video- games/console/articles/60664.aspx)
[Helping Your Child With Online Safety Tips On Your Xbox 360](/video- games/console/articles/60672.aspx)